For years, Philip Morris (NYSE:PM) has seen some of its profits go up in smoke due to unfavorable currency translations. Surprisingly, given all the talk about the strong dollar, currency headwinds are rapidly abating, and as a result the stock has become increasingly attractive.
2016 marked the fifth straight year the tobacco company has sailed into a currency headwind. One of several bits of good news in last week's financial report is the negative effect of $0.46 per share was much reduced from the prior two years.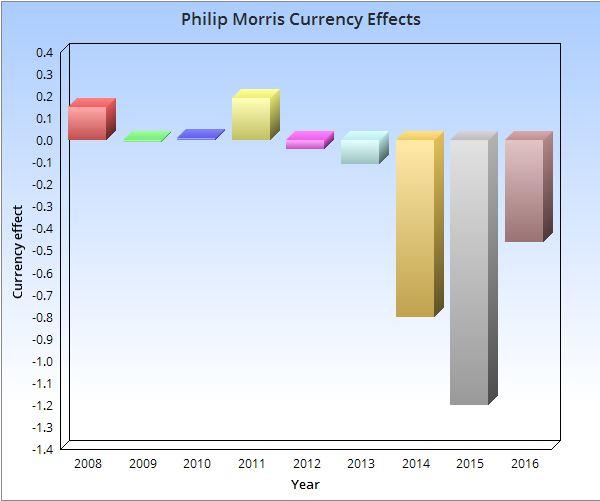 Source: Philip Morris annual reports
A year ago, the company had forecast a $0.60 currency charge for 2016, so the result was better than anticipated.
I've written that currency headwinds would persist because much of PM's sales come from developing markets in which the currency usually depreciates--Mexico is a classic example. This is still true over the long run, but the short-term outlook has brightened considerably.
The company last week forecast an $0.18-a-share unfavorable currency effect this year. That is only 4% of the midpoint of its earnings forecast, compared to 27% (ouch!) in 2015 and 10% last year.
| | | | |
| --- | --- | --- | --- |
| Year | PM earnings | Currency | % impact |
| 2012 | $5.17 | -0.04 | -1% |
| 2013 | $5.26 | -0.11 | -2% |
| 2014 | $4.76 | -0.80 | -17% |
| 2015 | $4.42 | -1.20 | -27% |
| 2016 | $4.48 | -0.46 | -10% |
| 2017 (est) | $4.78 | -0.18 | -4% |
Source: Calculated from annual reports
While the peso is still weak, it's up against the dollar in the last month, while the Russian ruble has been on a yearlong tear. The ruble accounts for a 10 cent gain in the company's earnings forecast for 2017, offsetting currency losses elsewhere.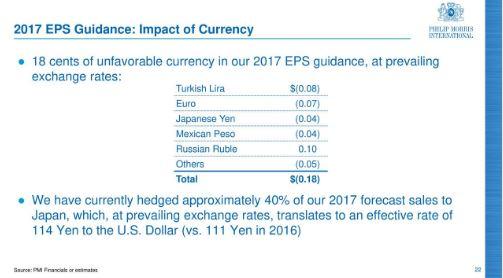 But even this forecast could prove too conservative. The U.S. Dollar Index (DXY), which measures it against a basket of trade partners' currencies, has gone down 2 percent so far this year, as President Trump's mercantilist policies favor a weaker dollar to boost exports.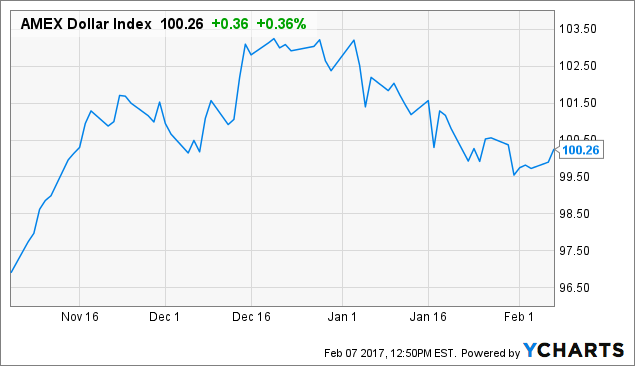 Even a neutral currency effect for the year would get PM to $4.96 a share earnings at the midpoint of its guidance, up 11 percent.
Philip Morris Vs. Altria
The persistent currency drag is a big reason Philip Morris stock has been stagnant, while its Marlboro sister Altria (NYSE:MO) has been hot for the last several years. Altria sells cigarettes only in the United States, and thus has negligible currency issues.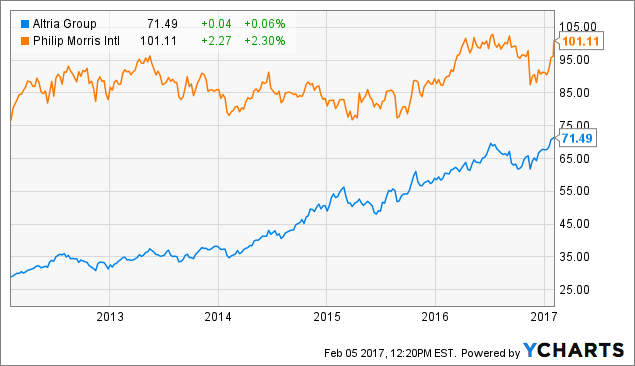 Philip Morris and Altria split up in 2008. Wells Fargo analyst Bonnie Herzog puts the chance the two companies will merge at 70% this year--partly because it makes sense to unite Philip Morris' promising IQOS heat sticks technology under one roof before possible FDA approval as a modified-risk product opens the U.S. market. (How hot is IQOS? The Japanese product is being marked up and sold overseas in the gray market.)
As one factor improving Philip Morris' share price, the currency turnaround will allow PM more room to make an all-stock offer without diluting its own shareholders' interests. That's bullish for both stocks.
Disclosure: I am/we are long PM, MO.
I wrote this article myself, and it expresses my own opinions. I am not receiving compensation for it (other than from Seeking Alpha). I have no business relationship with any company whose stock is mentioned in this article.