It is an unpopular opinion, but gold prices may be headed lower, which could push equities to historic levels. Gold has been unable to recapture its 2012 highs the past few years as the environment turns negative for the metal. Moreover, the Federal Reserve is actually embarking on a tightening cycle. Lastly, U.S. equities, relative to bonds, are strengthening, which is negative for safe-haven assets.
The chart below is of gold, tracked closely by SPDR® Gold Shares (NYSEARCA:GLD). From 2001 until 2012, gold was in a pretty unstoppable bull market. The Fed eased rates at any sight of trouble, and economic growth was slowing relative to the booming 1990s. As the credit cycle expanded, and equity markets became more volatile, gold was constantly in vogue.
The metal peaked in 2012 amid the most favorable environment. The collapse of the euro looked imminent, and U.S. government debt was being downgraded due to a political stalemate. The real economy had failed to show any real progress after emerging from the depths of the financial crisis. In essence, low rates and economic despair looked like the perpetual narrative.
In the years following however, the economy has improved, and we are currently in an economic/political environment that portends higher rates and quicker economic growth. Burdensome regulation may be eased, commodity prices and global trade are picking up, and the U.S. government seems more intent on initiating fiscal stimulus and tax cuts than at any point over the last decade.
All of this spells trouble for gold and gold bugs alike.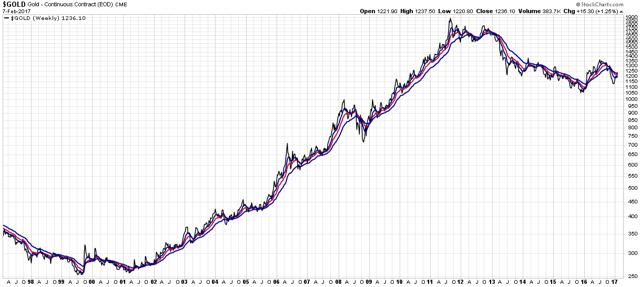 One of the key indicators to watch when analyzing interest rates is the 2-10 U.S. treasury rate spread. This measures the spread between the rate on the U.S. 10 year note relative to the rate on 2 year note. When the indicator rises it signals the Fed is tightening rates, while a decline signals easing.
Although the Fed has been on a massive easing kick the last few years, the trend looks to finally be reversing. Rising inflation expectations , led by increasing commodity prices and wages, are fueling the Fed's need to hike rates quicker in 2017. Although expected growth has not picked up as expected, the Fed wants to stay ahead of the curve, moving rates off of their zero-bound as quickly as possible.
If the spread continues to widen, it should fuel U.S. dollar strength, as well as lead gold to seem less attractive as the metal is a non-interest bearing asset. Similar to bond prices, when rates rise, the price of gold also falls.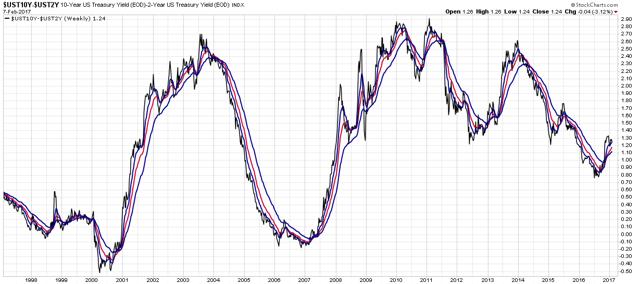 Lastly, investor optimism is on the rise. Although many stocks have risen to historic levels, there are certain sectors that have been out of favor for the last decade. Consider commodity producers such as copper and steel, as well as financial institutions, which have all lagged the broader market. Now that real economic progress looks to be in the works, these sectors are taking off, fueling the next leg of the equity rally.
The chart below is of an equal weight index of the S&P 500 relative to the U.S. 10 year bond. When the indicator rises it signals equities are outperforming bonds, and is thus bullish for riskier assets. The indicator has consolidated over the last three years, but looks to finally be moving higher.
As funds flow into equities and out of bonds, gold should trade lower. Although it may seem unbelievable, if equities rise another 20-30% over the span of the next few years, gold prices could decline by half, into the $700 range. This isn't too farfetched however, considering gold traded at these levels during the financial crisis.
The previous 10 years are truly a market anomaly. The "new normal" narrative sounds nice, but asset markets do not function at zero or negative rates, it is simply unjustified. The economy is much more productive and stable with cycles of rising and falling rates based on the economic cycle, with negative rates only coming in the direst of times.
This ultimately means that gold prices are extremely elevated in U.S. dollar terms. While I am not outright short gold currently, gold's weakness has led me to buy U.S. equities, short bonds, and go long the U.S. dollar. I do believe the U.S. dollar index will soon again trade at 2000 levels, which are roughly 20% higher from here. Gold cannot function in this kind of environment, and should be sold or significantly reduced in your portfolio.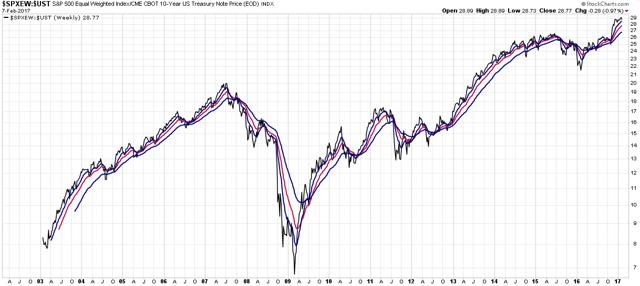 Disclosure: I/we have no positions in any stocks mentioned, and no plans to initiate any positions within the next 72 hours.
I wrote this article myself, and it expresses my own opinions. I am not receiving compensation for it (other than from Seeking Alpha). I have no business relationship with any company whose stock is mentioned in this article.