Shares of Ameriprise Financial Inc. (NYSE:AMP) are up about 53% over the past year, and in this piece I want to work out whether it makes sense to buy now, or whether the proverbial train has left the station. It turns out that there's more upside potential here, which is the result of the combination of the excellent quarter the company just reported and the current (still cheap) stock price. I outline my reasoning below.
Spectacular Quarter Just Ended Exemplifies the Financial Excellence of Ameriprise
Diluted Earnings per share grew by approximately 23% for the quarter just ended, compared to the same period a year ago. Admittedly 37% of this gain (~$.17) was the result of a tax settlement, but earnings are earnings.
Putting the most recent quarter in a broader context shows that this is a company that has managed to continue to return value to shareholders for years. The thing that has me most excited about the company is the large and growing dividend. Since 2011, the company's dividend has grown at a CAGR of 16%. There's nothing on the horizon that suggests that the dividend is in any danger.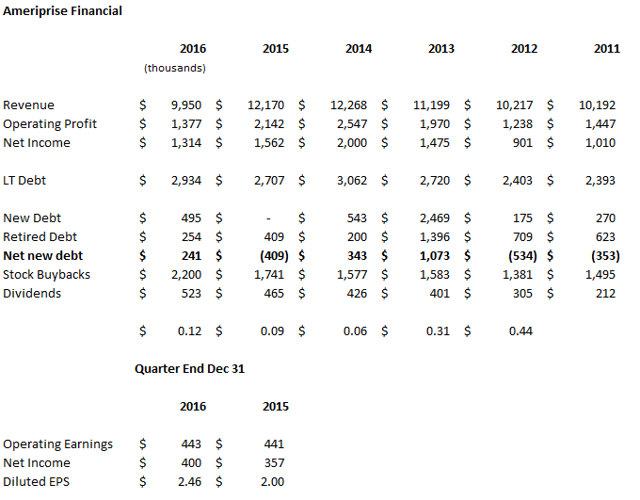 Forecasting the Dividend
The dividend growth rate has slowed, to "only" 12% in 2016, so we'll use this as a base case for our forecasts of the dividend for the next three years. I'll also do a "worst case" analysis of the dividend to suggest that even if the growth rate is cut in half, this is still a compelling dividend growth story. Even under the worst case scenario of dividend growth, it's reasonable to assume that the dividend will be 26% higher in four years than it is today. This, plus the aggressive share buyback program in place, should buoy the stock over the coming years.

Debt
I have to rain on every parade by talking about debt, and this is no exception. Although a great deal of debt was repaid in 2015, it's fair to say that indebtedness has been climbing slightly (at a CAGR of 3.5%) since 2011. This is normally troublesome for me, but the fact that fully 67.5% of the debt is due after 2020 assures me that the probability of imminent crisis is remote. For that reason, investors need not be concerned about debt levels for the next few years. Obviously it's something we want to keep an eye on in case it balloons, but for now debt is not a problem.
The Stock
As I've said repeatedly, identifying a great business is one thing, but acquiring at an advantageous price is most of the game. Because it represents an excellent combination of good underlying business and inexpensive stock price, I believe Ameriprise is a very good investment. Specifically, in spite of the recent excellent quarter, and strong financial position, the shares are currently trading at a PE of 15.78, with a forward PE of 14.27. In other words, this is a stock that trades at a 40% discount to the overall market. The relationship between current and forward PE implies an EPS growth rate of about 10.6%, which is arguably conservative in light of the recent quarterly result. Additionally, at an EV/EBIT of 10.9 at the moment, the stock has an implied yield of about 9.2%. I consider this reasonable given the risk present.
Technical Snapshot
As per our ChartMasterPro Daily Price Model the trend for AMP turned Bullish on February 3, 2017. The stock had formed a Bull Flag Pattern on the daily charts which started to form in November 2016 - it traded between $110 and $118 during this time. On February 3 the stock closed well above the $118 resistance level, signaling a bullish breakout. From here we see AMP rising to $138 over the next six months.
Today we purchased the AMP 16JUN17 125 Call Options which will provide us with approximately 11x leverage for our LONG trade. Our initial stop-loss exit signal will be a daily close below $118.00
For investors in the share we recommend holding for six months or $138.00, whichever comes first.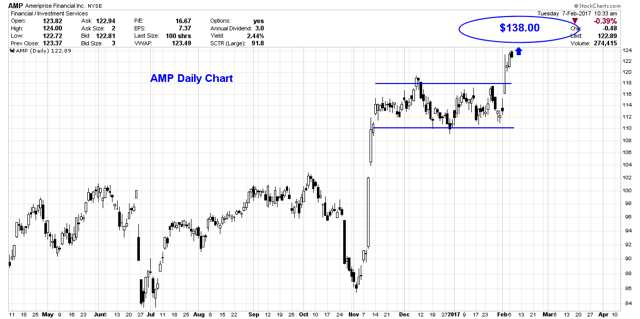 Conclusion
The shares of Ameriprise Financial Inc. are very inexpensive at the moment, relative to both their potential and to the overall market. The dividend should continue to grow, and the yield for people who purchase today will be exceptional by 2020 in my view. The share buyback program will only goose the dividend yield further. Finally, although there is debt present, it's not egregious and in any event most of it is due after 2020, giving investors some time to breathe. I rate this company a strong buy.
Disclosure: I am/we are long AMP.
I wrote this article myself, and it expresses my own opinions. I am not receiving compensation for it (other than from Seeking Alpha). I have no business relationship with any company whose stock is mentioned in this article.