Introduction
Now that the news surrounding the Dollar store space has quieted down and faded from public conscious, it is time to check in on one of the major players left, Dollar General (NYSE:DG).
Dollar General now principally competes against just Dollar Tree (NASDAQ:DLTR), and to a lesser extent the rest of the retail cohort.
I investigated Dollar General and found a company still managing to open new US stores and has been posting consistent growth for years now. Let's take a deeper look.
Safety from Apparel
2016 has been a brutal year for apparel. The carnage was widespread and virtually no one was spared whether they made the stuff or sold it. Even the holy grail of companies, Under Armor (NYSE:UA), had some weak earnings and got crushed.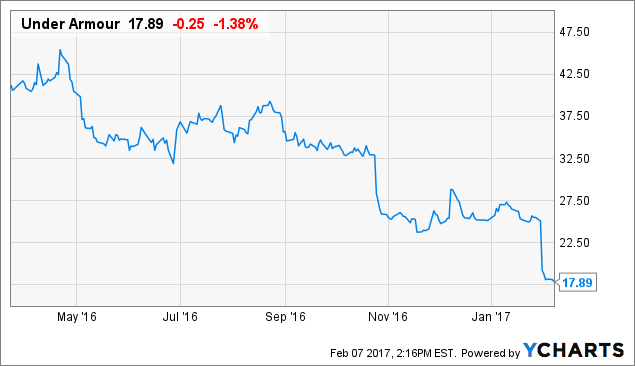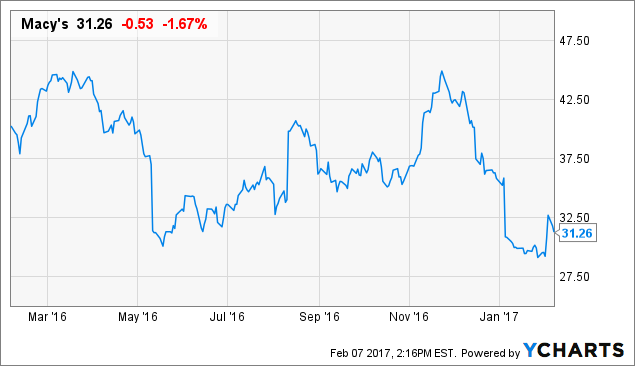 Dollar General has only a tiny exposure to this area. Their apparel sales are 5.4% of total sales.

Store Openings
I am not a big fan of retailers that do not have a solid plan, strategy, and a clear runway to open new stores. Simply trying to improve existing stores and continue to push higher same store sales does not cut it for me.
This is my biggest struggle with a retailer like Target (NYSE:TGT). The company is dirt cheap, well run, but I struggle to see where future growth comes from and home many more stores they can open in the US.
I was surprised by Dollar General's store growth. Below are the 2013 to 2015 numbers.

For Fiscal 2017, the company expects to open 1000 new stores and remodel or relocate another 900. That will bring their total stores to 14000.
This continued store growth helps the company continue posting strong results. Even during the latest quarter, when same store sales fell .1%, overall sales were up 5% because of new stores.
Obviously competition from Amazon (NASDAQ:AMZN) and the rest of the retail cohort is in play here, but it is hard to argue with the results. Dollar General appears to be going in the opposite direction of most retailers, even as Amazon grows its ever looming shadow over the retail industry.
Long Term Financials
Dollar General's long term financials are impressive. As the company reemerged from private KKR (NYSE:KKR) control, it has continued to grow like clockwork.
Revenue is up 72.6% since 2009. Net income is up 243% since 2009.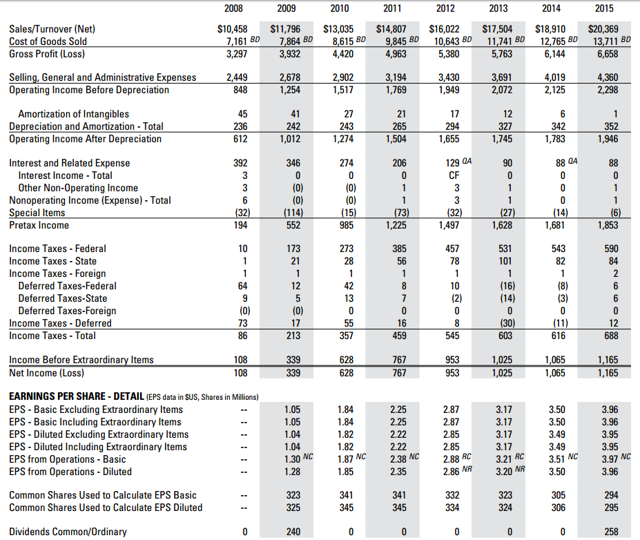 Diluted shares are down 14.5%. Gross margin has expanded ever so slightly from 66 to 67%.
Return on equity and Return of Assets have also strengthened for Dollar General. A ROE above 20% is a great level for me and the improvement since 2009 can be easily seen in both metrics.

Valuation
The company trades at 22.8 times free cash flow, a high but not unreasonable number given that FCF is growing.
The company trades at 18 times TTM earnings and 15 times 2017 expected earnings.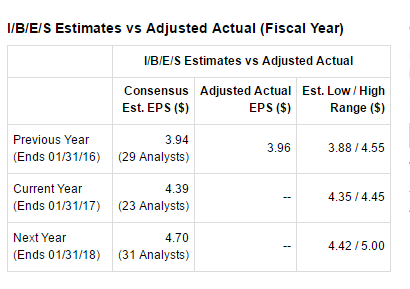 Walmart (NYSE:WMT) is slightly cheaper at 14-15 times forward and backwards earnings. Walmart is also expected to not grow earnings in 2017 as they spend heavily and sales remain flat or grow 1%.
Target is the cheapest of all non mall retailers but for possibly a good reason at 11 times earnings.
Costco (NASDAQ:COST) is the most expensive of this group as it is a market darling and has some of the fastest growth at over 20 times.
Dollar Tree is the most direct comparison, and is similar to Dollar General depending on how the new combined company does on a year basis.

With the market at 18-19 times earnings, Dollar General slightly cheaper than that with 10-15% eps growth and 5% sales growth seems like a pretty fair deal to me.
The Trump Boost
Dollar General can benefit from the president's reforms, whenever they might come, in a variety of ways. Being an domestic only retailer results in one of the highest tax rates of any company in the world. Retailers have few things to right off and do not benefit from R&D credits, environmental tax breaks, or anything of that sort.
Dollar General's tax rate was 36.1% in 2016.
Dollar General can also benefit indirectly from more manufacturing jobs in the US or simply just a better economy and business climate. The dollar stores serve a lower class of customers than say, Target or Costco, and those customers have more money to burn when the bottom parts of the economy is doing well, not just the financial markets.
A key way to measure this is wage growth. Wage growth has improved in 2016 but still has plenty of room to get even better.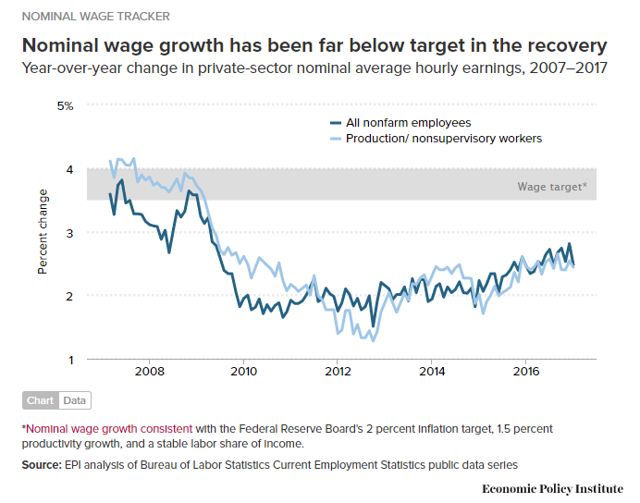 Conclusion
If you held me down and made me pick a retailer to buy, it would most likely be Dollar General. As stated, I like Target here because it is the cheapest of the whole group and not a department store, but future growth is much more murky than that at DG.
Virtually everything has improved since it was freed from private equity's grasp and the fact that they can continue to find places to open stores is very encouraging. The usual risks like e-commerce remain but have been present for many many years.
Disclosure: I am/we are long WMT.
I wrote this article myself, and it expresses my own opinions. I am not receiving compensation for it (other than from Seeking Alpha). I have no business relationship with any company whose stock is mentioned in this article.