Mutual funds that invest in Treasury Inflation-Protected Securities seem to be the rage these days, as inflation fears rise along with a record-high stock market and President Trump's plans for massive infrastructure spending.
U.S. inflation in December broke through the 2.0% barrier for the first time since June 2014. That has boosted interest in inflation-protected investments, especially low cost ETFs that invest in TIPS. Short-term TIPS ETFs - such as the iShares 0-5 Year TIPS Bond ETF (STIP) - are especially popular right now because of their lower interest-rate risk. They are even seen as a cash alternative by some investors.
But I am going to suggest that you take a look at an alternative to short-term TIPS funds: U.S. Series I Savings Bonds. I Bonds are similar to TIPS, but don't trade on a secondary market. They can be sold after one year with a 3-month interest penalty, or after five years with zero penalty. They pay a composite interest rate that combines a permanent fixed rate with a variable inflation-adjusted rate that resets on May 1 and November 1 each year.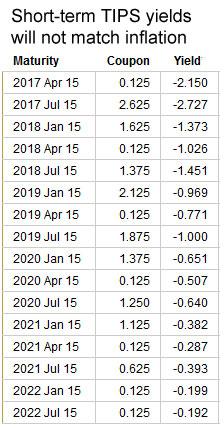 If you buy an I Bond today - and I actually recommend that you wait a bit - it will pay a fixed rate of 0.0% and an inflation-adjusted rate of 2.76% for six months. Even with that fixed rate of 0.0%, there is a strong possibility that an I Bond will outperform a short-term TIPS fund over the next few years.
Why? Because an I Bond paying a fixed rate of 0.0% will match inflation until you sell it or it matures. That is a real yield to maturity of 0.0%. Not exciting, but take a look at this chart of the short-term TIPS included in the STIP ETF. Every TIPS maturing in the next 5 years currently has a negative real yield to maturity. In the current market, a short-term TIPS fund won't match the return of an I Bond with a fixed rate of 0.0%, unless TIPS yields fall deeper into the negative. If you thinks yields are more likely to rise than fall, an I Bond is the better choice as a 5-year investment.
Another advantage of I Bonds is that the principal balance never falls, even in times of deflation. That isn't true of TIPS, which see principal balances decline when deflation strikes. And with a TIPS mutual fund, the net asset value will rise and fall with interest rate changes.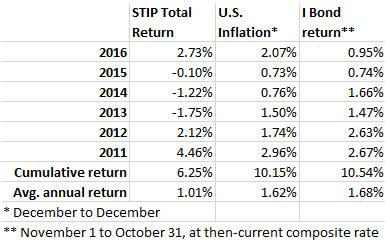 I took a look at how I Bonds have performed over the last six years, versus STIP and U.S. inflation. The result is: I Bonds outperformed STIP by a fairly large margin, with an average annual return of 1.68% versus 1.01%. While I Bonds slightly outperformed inflation (due to some months of 0.1% or 0.2% fixed rates), STIP trailed inflation by 61 basis points in average annual return. This happened because short-term TIPS have had real yields well below zero much of the time since mid 2011.
Short-term TIPS funds aren't a bad investment, and could outperform an I Bond if the economy declines and real yields fall deeper into the negative. But in the more likely scenario of rising rates and an improving economy, I Bonds are more likely to outperform.
If you are interested in I Bonds - which can be purchased through Treasury Direct with zero fees or commissions - I recommend that you read my January 9 article: "I Bond Investors: Here's Your Buying Guide For 2017." Because investors are limited to purchases of $10,000 a year per person, I suggest waiting until mid-April to make your 2017 buying decision. At that point we will know the variable rate that will go into effect on May 1 and have a better idea of the next fixed rate.
Disclosure: I/we have no positions in any stocks mentioned, and no plans to initiate any positions within the next 72 hours.
I wrote this article myself, and it expresses my own opinions. I am not receiving compensation for it (other than from Seeking Alpha). I have no business relationship with any company whose stock is mentioned in this article.