Acquirer Johnson & Johnson (NYSE:JNJ) has a market cap of about $309B and the target Actelion (OTCPK:ALIOY) (OTCPK:ALIOF) of about $28B. Actelion is based in Switzerland. Shares are mainly traded on the SIX Swiss Exchange under ticker ATLN, but also on German stock exchanges and pink sheets in the USA.
Attractiveness of deal
On January, 26 the definitive transaction agreement was announced. JNJ will make an all-cash tender offer in Switzerland for $280 per ATLN share. Immediately prior to closing shareholders will get one share of R&D NewCo as a dividend per share of ATLN. The NewCo will have ATLN's drug discovery operations and early-stage clinical development assets.
The value of the consideration is difficult to pinpoint. The offer price would be reduced by the gross amount of dividend payments other than the NewCo dividend. Because of this no dividend adjustments have to be made. The $280 per share is straightforward, but the realizable value for the NewCo shares will only be known when it is traded on the SIX Swiss Exchange, after closing of the transaction. Nevertheless even setting a value of zero for NewCo yields already a good, possible return:
| | |
| --- | --- |
| VTX:ATLN | $263.15 |
| cash | $280.00 |
| NewCo | $0.00 |
| total | $280.00 |
| spread | $16.85 |
| upside | 6.40% |
| expected close | 6/30/2017 |
| annualized | 17.17% |
JNJ will make a convertible loan to NewCo with a maturity of ten years. One day after closing the first of two tranches of the convertible loan will be converted for 16% of the shares of NewCo. The remaining portion of the loan shall be convertible by the Bidder at any time. JNJ is committed for a period of five years not to hold more than 32% of NewCo, subject to certain exceptions. As a result JNJ will initially hold 16% of NewCo and a convertible note with rights to an additional 16% on not yet fully known terms.
NewCo will have cash of CHF 1 billion from the start. This cash adjusted for the 16% stake of JNJ and the 16% convertible, which should show up as cash on the balance sheet, can be used as a rough estimate what NewCo might be conservatively worth. That is CHF 680MM divided by 107.8MM ATLN shares results in $6.33 per share.
| | |
| --- | --- |
| VTX:ATLN | $263.15 |
| cash | $280.00 |
| NewCo | $6.33 |
| total | $286.33 |
| spread | $23.18 |
| upside | 8.81% |
| expected close | 6/30/2017 |
| annualized | 24.05% |
The CEO of Actelion Jean-Paul Clozel and his team will stay with NewCo. This is a positive signal. For sure Dr. Clozel does not need the money after selling to JNJ. He has become a billionaire. He is very positive on the outlook for NewCo and $6.33 is a conservative estimate. You can find more easily digestible presentations on their pipeline on their investor relations page. The chairman of ATLN Jean-Pierre Garnier had this to say regarding NewCo: "So as a Board, we didn't want to lose the ability to leverage our pipeline, which we have great confidence in.[...] So we made it as a condition frankly to the deal and we are very excited that JNJ understood that not only this was a good idea, because it takes away the dark side of those kind of transactions, but also is very good for JNJ. Because honestly, if we come up with anything besides the ones that we have already collaborating on like 577, we will come to our natural partner with those drugs."
The successful ATLN insiders insisted on the spin-off of NewCo and can continue their shareholder value creation there.
Please note I used the Swiss traded shares (VTX:ATLN) converted to US dollars as a basis for calculation, because volume is best on the Swiss exchange:
| | | | | |
| --- | --- | --- | --- | --- |
| Ticker | Type | Volume (30d)* | exchange | country |
| ALIOF | Ordinary Shares | 2,733 | Pink Current | USA |
| ALIOY | Unsponsored ADR | 55,690 | Pink Current | USA |
| ETR:ACT | Ordinary Shares | 1,580 | Xetra | Germany |
| VTX:ATLN | Ordinary Shares | 1,044,824 | SIX | Switzerland |
Deal risk
Boards of directors of both companies have approved the transaction. One major condition is for JNJ to get at least 67% of all ATLN shares. There were no large shareholders per their last reporting date and management and directors will surely tender their shares.
| | |
| --- | --- |
| As of 30 September 2016 | |
| Management and Directors | > 5 % |
| Actelion | > 3 % |
| Rudolf Maag | > 3 % |
| Blackrock | > 5 % |
Also given this offer by JNJ represents a healthy premium, it is unlikely investors would speculate on a better offer and not tender their shares (see chart).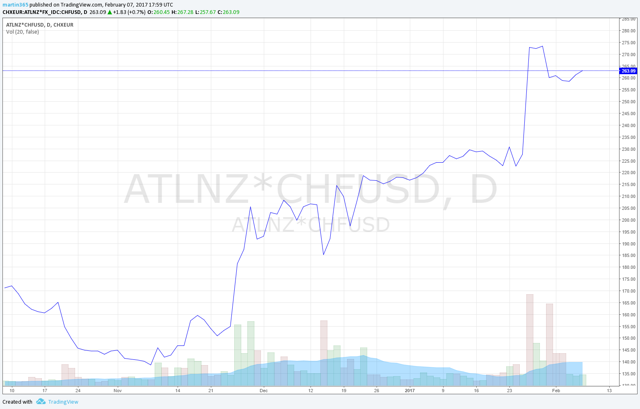 The distribution of NewCo shares needs ATLN shareholder approval. JNJ will fund the transaction with cash held outside the United States. Corporate marginal tax rate for the USA is 40% compared to 17.92% for ATLN's domicile Switzerland. This means not only saves JNJ tax would have to be paid on repatriation of money to the USA, but also on an ongoing basis JNJ's effective tax rate will improve (less tax) as their CEO Alex Gorsky has stated on the call.
Overall the deal does look more likely than not to go through. But the downside could be problematic here. As stated as an argument for the deal probably being approved, the premium paid by JNJ is high. Secondly, should a material adverse effect lead to cancellation of the deal by JNJ, the value of ATLN could even be lower than ATLN's trading range before rumors about a deal started. On the other hand another suitor could emerge. Actelion had contact with multiple parties before agreeing with JNJ on this deal. If we assume the $170 share price from October and adjust for the return of a big healthcare ETF since then (NYSEARCA:XLV) of about -0.6%, the downside would be 36%. The implied probability of the deal closing with my assumptions regarding the value of NewCo would then be 80.23% (see table).
| | | | |
| --- | --- | --- | --- |
| | Estimate | Probability | weighted |
| offer price | $286 | 80% | $230 |
| undisturbed price | $169 | 20% | $33 |
| | | sum | $263 |
Conclusion
This is a special situation with a market uncorrelated return profile. I like those for diversification and think the deal is more likely to close than implied and the NewCo has some upside to my estimate. As the deal size with about 30 billion is quite large, the price is probably more efficient than for some smaller deals I wrote about and therefore the risk-adjusted return is lower but still good enough to warrant a position for me.
Disclosure: I am/we are long ALIOY.
I wrote this article myself, and it expresses my own opinions. I am not receiving compensation for it (other than from Seeking Alpha). I have no business relationship with any company whose stock is mentioned in this article.
Additional disclosure: I may also go long the Swiss ticker. I went long the ADR, because I had the dollar and no Swiss Franc at the time and price was better than now.
Editor's Note: This article discusses one or more securities that do not trade on a major U.S. exchange. Please be aware of the risks associated with these stocks.