Welcome. Deluxe Corporation (NYSE:DLX)'s rocketed from a low of $7.54 per share in 2009 to Monday's close of $72.34.
I'll point out a few things which tell me DLX's price per share is too high. The company's earnings don't appear robust to economic slow downs, for one thing, and the market is asking for a large premium to my evaluation of the company's earnings at fair value.

DLX Business, Earnings Picture
DLX provides marketing services to small business and institutions.
The following chart displays the company's annualized revenues since 1984. Also displayed, the daily stock price as well as gray columns in the background of the chart which indicate periods of recorded U.S. Recessions. Two out of the three large declines and troughs in DLX revenues appear to foreshadow recessionary periods in the U.S. Economy: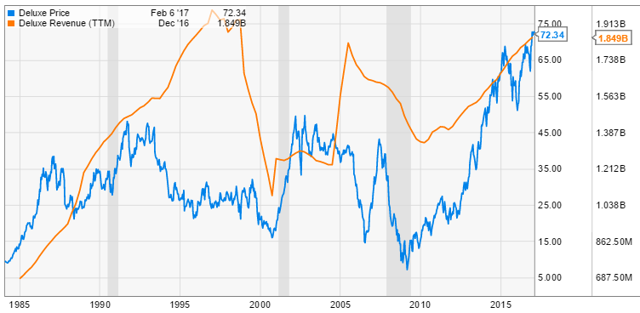 Source: Faloh Investment, YCharts
The company's income seems highly dependent on Main Street economic activity, especially new business openings.
In fact the company is also dependent on the large credit market. A lot of business opening activity depends on bank lending. The company's revenue is also threatened by Wall Street's credit markets, so there we have at least two unknowns which may at any time put DLX's business volume into decline. If volume dries up so will earnings.
Fierce Competitors
DLX derives substantial revenue through marketing services. This is not a high moat business, although it does have the benefit of repeat business once you earn a customer. Generally, marketing services consist of design and consulting.
DLX's small business services experiences lots of competition because of its low barriers to entry. Competitive market pressures keep profits down at DLX by threatening the share of new small business starts they will capture.
Other companies also have able sales forces.
DLX Stock Price Fragile
While all-time high revenues and no consistent history of being able to set new highs over anything more than couple of years at a time, the growth premium this company currently has built into the price appears ludicrous.
According to the FI DCF Model, DLX is trading at a 25% premium to its fair value. And that huge growth premium is based on a Fair Value estimate generated from an unrealistically optimistic earnings scenario. The scenario predicts the company will never have a spell of slow earnings again, and yet, still considers DLX 25% overvalued!
The valuation is calculated based on the projected future earnings discounted by 10% per year, to reflect that a dollar today is worth more than a dollar one, two, three, etc. years from now.
I believe DLX is substantially more than 25% overvalued, as the stock valuation model suggests the company to be: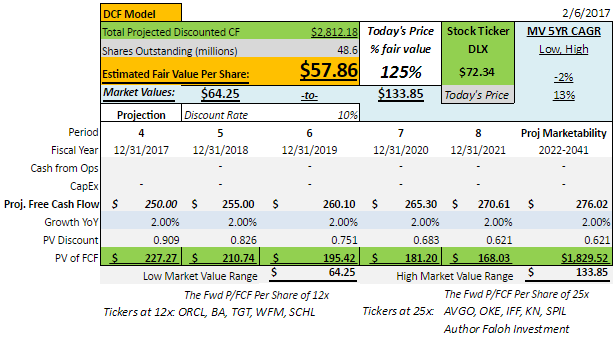 Source: Faloh Investment, YCharts
I rate DLX a sell. I believe today's price level is fragile to economic set back. This rally is overdone based on historical earnings trends. The company is in the same general line of business they always have been, so the market's request for a big premium above fair value has no justification.
My target price is the model's rating of DLX's fair value: $57.86.
Appendix: Deluxe Corp
Source: Faloh Investment, YCharts
DLX Chart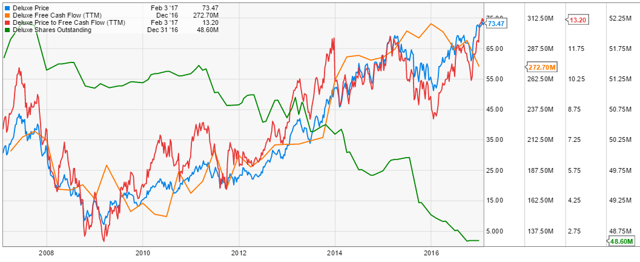 FI DCF Model
Trial YCharts and make charts like these.
Disclaimer: This article represents the opinion of the author as of the date of this article. This article is based upon information reasonably available to the author and obtained from public sources that the author believes are reliable. The author does not guarantee the accuracy or completeness of this article. This presentation is the author's interpretation of the information contained in the article. The author may close his investment position at any point in time without providing notice. The author encourages all readers to do their own due diligence. This is not a recommendation to buy or sell a security.
Please click the + icon next to my user name and follow me, Faloh Investment, as I work to keep you informed on further developments as the market continues to present major value opportunities.
Disclosure: I/we have no positions in any stocks mentioned, but may initiate a short position in DLX over the next 72 hours.
I wrote this article myself, and it expresses my own opinions. I am not receiving compensation for it (other than from Seeking Alpha). I have no business relationship with any company whose stock is mentioned in this article.