The upsurge of international commerce in recent years may owe something to the explosion in global internet usage, but the start of its upward trajectory can be traced back more than half a century to the beginning of containerized trade in the late 1950s. TAL International (NYSE:TAL) was founded in 1963 to meet the new need for standardized shipping containers to suit three methods of goods transportation: maritime, rail car and highway truck. Sturdy steel containers conforming to internationally uniform dimensions minimize freight and insurance costs by eliminating double handling and reducing breakages and theft.
TAL's enormous container fleet of over one million dry, refrigerated, tank, open top, flat rack and palletwide containers, as well as chassis and generator units, make it one of the world's leading container suppliers. The wide variety of flexible container leasing and purchase arrangements on offer enables shippers to have just the right amount of container capacity on hand, exactly where and when they are needed and at a predictable cost. The company's Trader division is the world's largest seller of used containers. Its Greyslot logistics service organizes the sea transport of empty containers back to where they are needed by acting as a broker between empty vessel space and containers in need of relocation. A wholly owned UK subsidiary, trading as Spacewise, specializes in the local supply of containers for static storage, accommodation, site offices and cold rooms. Worldwide there are 17 TAL offices and 225 depots. Corporate profile
TAL currently has a 12% global market share, and sees itself as a leader in a high-growth market, with a strong record of profitability and a cash flow possibly underestimated by investors. Its current excellent performance has been assisted by recent financial constraints favoring a customer shift from owning containers to the leasing model promoted by the company. Additionally, the low levels of container production in 2009-2010 led to a current utilization rate of over 98% for TAL's container fleet. At September 2011 long-term leases, with an average of 50 months still to run, represented 68% of TAL's lease portfolio. Its major customers have leased containers from TAL for an average of over 25 years, and the list includes four of the top five container shipping companies: NYK, CMA-CGM, Maersk and MSC.
The international container supply market is not a field open to entry by new, small players. The very nature of the business, requiring a global operating infrastructure from the outset, deters new competitors and their potential financial backers. For those already in the market there is limited risk from technological change, or from over-supply of containers since the buying cycle is relatively short. Assets age slowly, and even secondhand containers hold their value well, assisted in TAL's case by the business division specializing in their sale. TAL is, however, always exposed to the risk of reduced shipping activity as a result of global economic downturn, and attendant payment default by financially challenged shipping lines. Nevertheless, collections from debtors are currently strong. TAL's major competitors include Textainer Group Holdings (NYSE:TGH), CAI International (CAP) and Seacube (NYSE:BOX-OLD).
Approximately 65% of TAL's revenue comes from standard dry containers, where it occupies the No.3 position in market share; 22% of revenue comes from refrigerated containers, and 8% from specialized containers, for which TAL is the No.1 supplier. Revenue and earnings dipped in 2009 when global GDP fell, but recovered strongly in 2010 and soared in 2011. December 2011 Investor Presentation (pdf) For the 12 months ended December 31, 2011, total revenue was $517 million (87% from container leases), up 41% on 2010. Operating income of $304 million grew by 66%. Earnings per diluted share were $3.34 compared with $1.88 in 2010. Q4 2011 earnings news release
Information on the company's website includes a table showing that since 1985 containerized trade has grown at two to three times the rate of global GDP, and GDP should continue to grow at roughly the 2011 rate through 2012, and 2013, according to The World Bank. TAL's President and CEO Brian Sondey says the company's outlook for 2012 is strong, based on ongoing tight container inventories, continuing preference for leasing over outright purchase, and forecast moderate levels of containerized trade growth. TAL has invested heavily in stocks of its leasable assets ($775 million in 2011 alone) in order to position itself as a leading player as long as this growth continues.
On February 28, 2012, TAL announced a secondary stock offering for insiders associated with the company. TAL will not receive any proceeds from the stock sale. Insiders selling a company's stock is often an indicator the price of a stock has peaked out. This means the price of TAL's stock could be treading water for a while. A graph of TAL's stock price is shown below: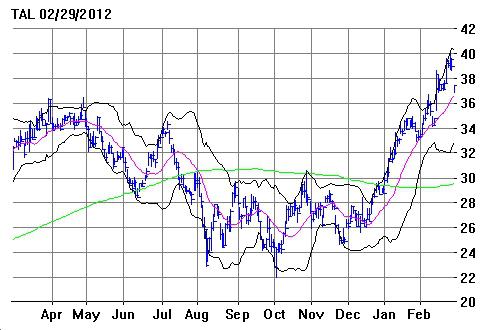 TAL's stock price has taken quite a run over the last couple months and the stock price taking a breather at this point would not be a surprise.
A way to generate income for a stock treading water is with the covered call strategy. A covered call may be entered by selling a call option against a purchased or existing stock.
Using PowerOptions tools, a covered call position was found for TAL with a potential return of 9.8% (15.2% annualized). The potential return includes receiving $1.65 of dividends during the holding time for the position. The specific call option to sell is the 2012 Oct 40 at $1.85. A profit/loss graph for one contract of the position is shown below: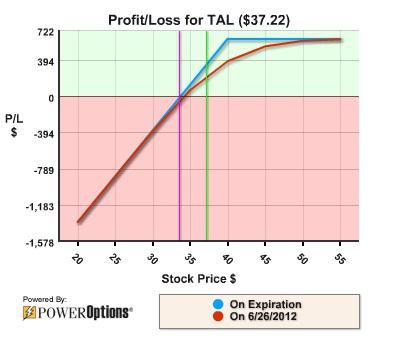 If the price of TAL's stock increases to around $45, there is a good chance the covered call can be rolled in order to realize additional potential return.
Disclosure: I have no positions in any stocks mentioned, and no plans to initiate any positions within the next 72 hours.