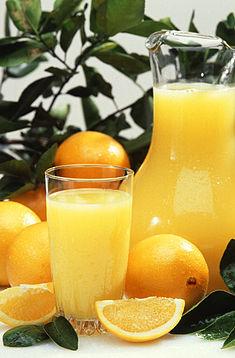 Last September I wrote about the bullish set up developing for orange juice, the fundamental reasons why, and I plotted a chart out to a potential future price high.
The high arrived late last year, and has and is correcting, (amid expected early season weakness). Now is an opportune time to revisit the situation, with forecasts for 2017-2018 season already circulating. The market is reacting to expectations of a bumper orange crop arriving from Brazil (due to unusually improved weather conditions), despite continually poor harvests from both China or Florida, and flat/lower supply from South Africa and Europe.
According to a news release from GFMag
The U.S. Department of Agriculture reported (pdf) this week, that a larger Brazilian crop is expected to more than offset smaller crops in China and the U.S. this season.

"Brazil's production is forecast up a whopping 27% to 8.2 million tons based on higher yields due to favorable weather," the agency said.

Florida, the world's largest grower of oranges for U.S. juice, has been losing ground to exporters in Brazilin Mexico as it struggles with an incurable disease that has afflicted groves and caused oranges to drop before they are ripe.

The smaller U.S. production (forecast down 470,000 tons this year to 4.9 million tons) boosted orange juice futures in 2016, which ended the year as one of the best performing commodities in a year when Brazil was also seeing lower yields due to drought.

The recovery in Brazilian orange production, the USDA says, means that production of oranges will bounce back above consumption for the first time since the 2013/2014 season. Orange juice consumption has been on a steady decline for the last decade as consumers turn to competing beverages like smoothie and energy drinks.
The following chart illustrates global supply/demand which we can see is back to 2013/4 levels. However not all of that is going into 'processing' juice (further detail in the pdf). It looks similar to the 2009-10 production spike, but from a lower level, comparing both charts, we can see that it's Brazilian weather which is creating the difference in both the global production and consumption of juice.
A fall in consumption can follow a rise in production. Maybe because consumption is falling in countries where juice has to be imported, so juice is becoming gradually more expensive, and maybe a poor local economy is complicit.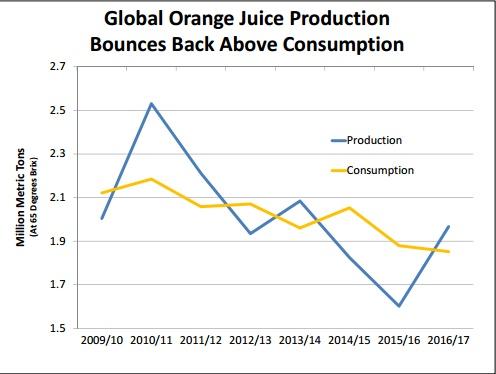 COT futures should provide further insight. Here's a chart by 'nowandfutures.com', which details the percentage of bullish orange juice positions by general category. Commercials have been reducing long and increasing short positions while specs (funds), are pretty bullish at this level, which isn't far off the early 2016 COT position.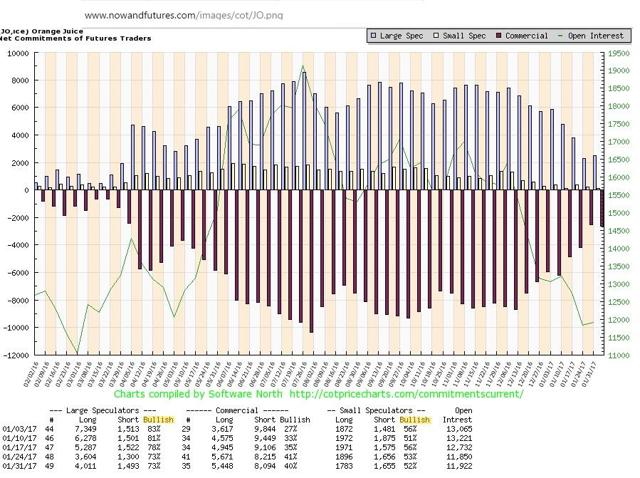 The contracts themselves, which are slightly weaker short term as even specs became more bearish as January progressed: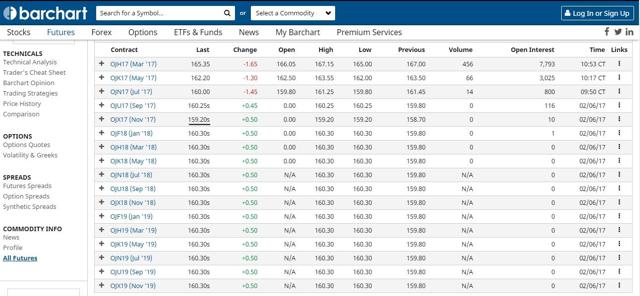 Orange juice can be charted technically to some extend on Barcharts.com. I've drawn in the descending channel and the current support area. While the green support area could hold, traders should be wary of the possible development of a more obvious ABC wave correction, which could develop as an initial bounce into a B, and then further correction. For an initial B wave rise, OJ needs to break the closest red diagonal selling resistance, and then there are potential reversal points on the horizontals which have to be broken on the way up.
Extreme market reversals have a COT signature like early 2016. There have been occasions when the market reversed up on less bearish positions, but that appears to be after having found an extreme position first.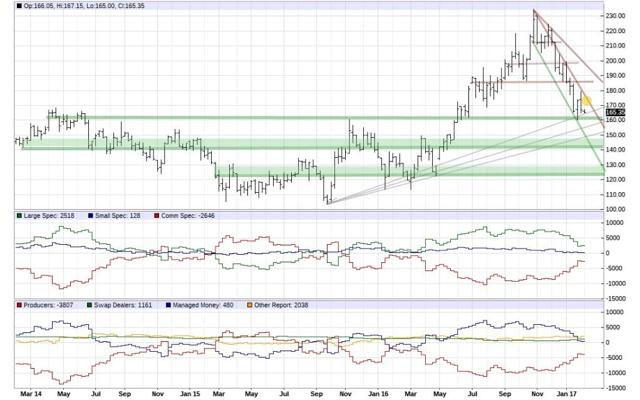 The RSI and fast stochastic below offer further insight. Both from barchart.com on the same technical link. The fast stochastic has found an extreme low, while the the RSI is still relatively high compared to previous similar occasions.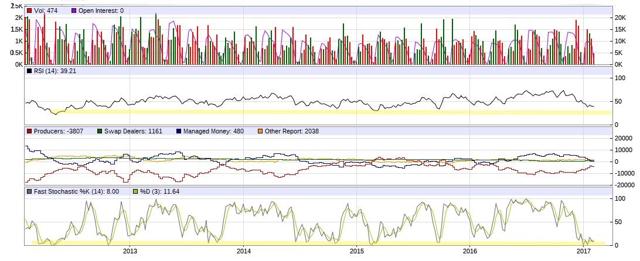 The MACD above is in negative territory but hasn't yet started to flatten off.
According to this chart by SeasonalCharts.com, orange juice futures tend to develop a winter high, and then sell off, with a January bounce, and a late February low, although in the 2014-5 season, OJ carried on selling off into an early March low, (double tested the next Sept'). Oranges tend to be juiced late season when they have a naturally high sugar content, so this makes sense.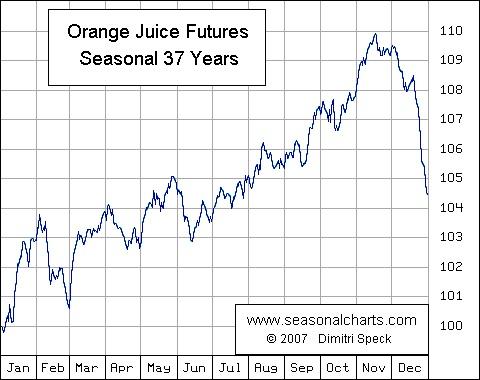 There should be some seasonal strength mid to end February, which could develop into a chart bounce, but the risk is further downside, with a weaker RSI, even following an initial bounce. The chart could hold from this technical low providing that if there is a further bounce (down) the current price low still holds on a test. The commercial short position suggests that possibility, as specs have also been shorting into this low. A slightly flattening MACD with trading crossing the red diagonal trend line on the technical chart, would indicate the expected bounce, and could offer a lower risk entry position, but from a risk perspective note that a retest of the low (maybe from a breakdown from the first red horizontal level), has to hold. Looking at the fast stochastic, only 2012 had a double test of over-sold conditions on that oscillator. A repeat of the wave 1 rise from the current level should see a correction from the high at about $210.00.
Disclosure: I/we have no positions in any stocks mentioned, and no plans to initiate any positions within the next 72 hours.
I wrote this article myself, and it expresses my own opinions. I am not receiving compensation for it (other than from Seeking Alpha). I have no business relationship with any company whose stock is mentioned in this article.