NY State recently made a surprising announcement; by committing to 2400 MW of offshore wind power by 2030. This is part of New York Governor Andrew Cuomo's commitment to get 50% of its energy from renewable sources by 2030. More recently Long Island finalized plans for a 90 MW offshore farm being developed by Deepwater Wind.
The US has been extremely slow to adopt offshore wind for a number of factors: Economies of scale are a large factor which creates both a cause and effect for too few domestic manufacturing facilities currently serving the domestic offshore wind market. New York's commitment could be a catalyst for change in this regard, and the more states involved, the cheaper it will get creating a virtuous cycle and a "neighbor effect" resulting in more states continuing to become involved, etc. Public sentiment is on the side of offshore wind and the market is likely to continue to grow from the East coast through the Great Lakes and to the West.
Government policy at the state level, growing public sentiment, and gains in technology and reliability give cause for optimism of the future of offshore wind in the United States.
So who stands to profit from this and how can someone invest in offshore wind? There is really no direct or easy answer here. The offshore wind industry as a whole is still in its infancy making it difficult to determine clear leaders. Demand is still low relative to other energy sources, and the company which may dominate the industry ten years from now might not even be playing in the space yet. However, there are some players which are positioning themselves for success as the industry begins to mature and adoption across the east coast continues to pick up.

For these companies currently in the space it's difficult to provide an exact material impact of offshore wind on revenue. There are no offshore pure-plays in the US and these recommendations are meant as fundamental investments based on anticipations of continued and increased growth in the industry.
GE: the Manufacturer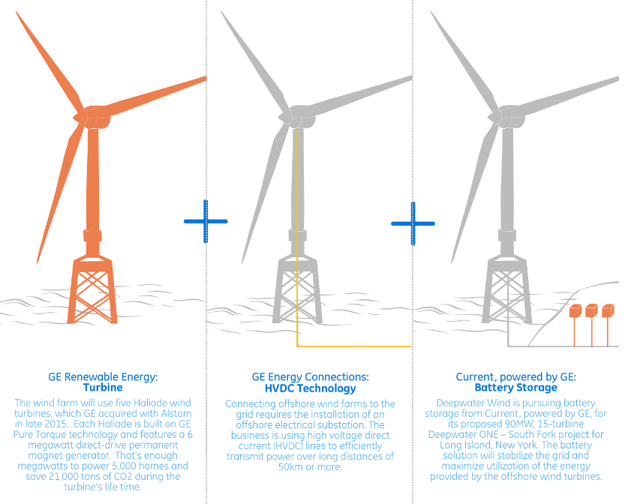 General Electric's (NYSE:GE) offshore wind subsidiary was acquired from Alstom in 2015 which allows it to offer the 6 MW Haliade offshore wind turbine. There is really no close competitor domestically meaning there is no reason GE won't win business the way it won the United States' single operating offshore farm: Block Island in Rhode Island.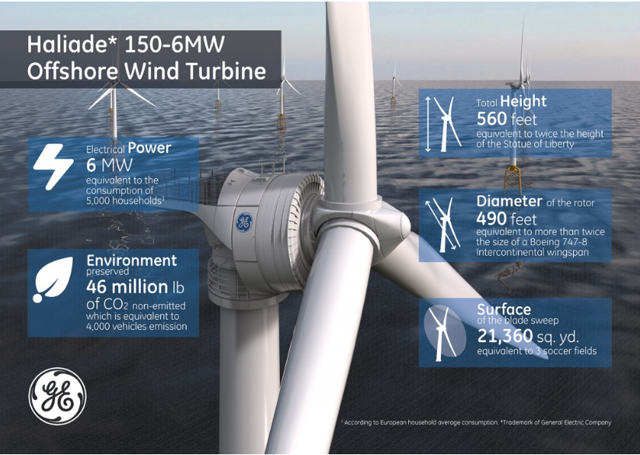 GE's Renewable Energy segment contributes with identified opportunity of 4,223 GW of offshore wind capacity in the US GE is poised to capitalize on a large portion of that.
If GE is able to capture just a fourth of this market it could have meaningful impact on revenue. GE's renewable energy segment generated $6.3B in 2015 off of 370GW of installed capacity, this represents $17M/GW installed. If GE can capture a quarter of the capacity (1 GW ) that could provide them almost $18B in incremental revenue. That would represent more than 25% increase to the renewables segment per year.
These are rough estimates of something which as I mentioned is very difficult to predict. GE has positioned itself as one of the best domestic companies to profit off offshore wind in the United States and a boom in offshore wind will definitely have a positive, material impact on GE's top and bottom line.
Vestas
Vestas Wind Systems (OTCPK:VWDRY) is a pure play wind company and one of the leaders in offshore technology. In September, 2013 Vestas announced the establishment of a joint venture with Mitsubishi Heavy Industries dedicated to offshore wind energy. The segment, now known as MHI Vestas, is Vestas's solution to the fast growing offshore wind segment. The company has now installed more than 580 turbines generating more than 1400 MW of capacity.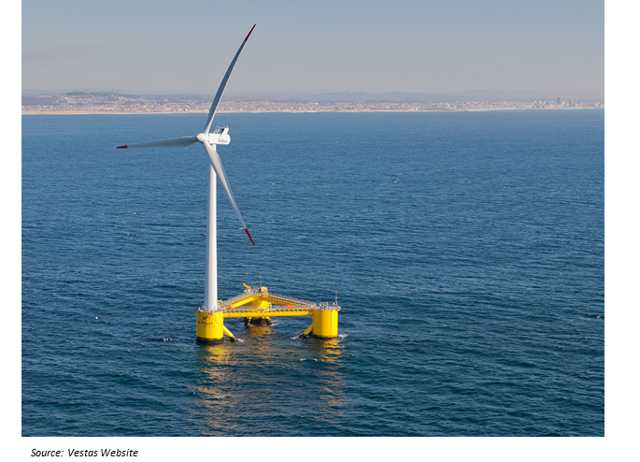 Vestas owns some remarkable technology which has the potential to revolutionize the offshore wind market. Its "WindFloat" system was the first offshore multi megawatt wind turbine to be installed without the use of any heavy-lift or specialized offshore construction equipment which reduces the costs of installation dramatically. There is currently just one WindFloat in operation off the coast of Portugal but it's impressive performance and low cost is likely going to improve its usage.
Vestas offers a compelling growth story and while it's 10.7x TEV/EBITDA might scare off high alpha seeking investors its rapid growth and promising future mitigate those concerns. Vestas has extremely minimal debt and is poised to expand its industry leading technology across the globe.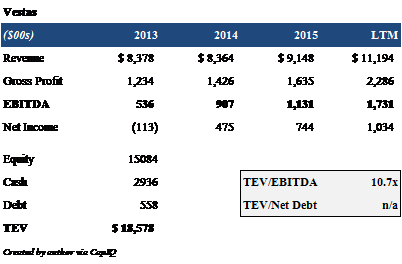 Vestas average growth over the last three years has seen a whopping 49%, if it's able to continue at that pace we could see an 83% appreciation to the equity value at current trading levels. Given the proliferation of offshore wind in Europe and the opportunity in North America a continuation of rapid growth is not unrealistic.
Vestas trades in the Nasdaq in Copenhagen although it does have a US ADR.
Bonus: DONG
DONG Energy (OTC:DONGY) (DENERG.CO) is one of the largest energy businesses in wind-rich northern Europe and has a over 3GW of installed capacity in the area. Seeking Alpha does not cover foreign stocks so this is just a brief supplementary analysis of a company relevant to this industry. DONG has seen substantial growth in offshore wind and is now responsible for roughly one third of the wind turbines now deployed around the UK coastline.
DONG has been running the project development of the wind farm off the coast of Massachusetts which could eventually generate more than 1000 MW of electricity. The rights had originally been assigned through an offshore wind auction held by the Bureau of Ocean Energy Management, to RES Americas Development Inc. who continues to support the development of the leads area. The Bay State Wind project represents the largest US offshore wind farm in terms of MW capacity and gives DONG solid credentials for future projects. DONG also acquired the leasing rights to waters off the coast of New Jersey which has the potential for as much as 3,400 MW of future installations.
The conditions are comparable to those of northwestern Europe making it easy for DONG to develop it using established technology and logistics. DONG has recently opened an office in Boston and announced ambitious plans to expand its operations to North America.
DONG IPO'd in June,2016 giving it fresh capital to continue expanding and investing in offshore wind technology. DONG has demonstrated its ability to quickly and effectively execute on its goals after undergoing one of the biggest transformations of any European utility in recent years. Once almost solely focused on power generation and oil exploration the company has quickly pivoted and has three-quarters of its capital tied up in the development and operation of offshore wind farms.
DONG's LTM EBITDA as of 3Q 2016 was 2.7B on 9.7B of sales representing a healthy 28% margin. The company trades at just a 6.4 EV/EBITDA and 1.7x Price/Sales ratio making it a fairly cheap play for those bullish on offshore wind's future. Business model transition as well as lack of historical performance data are keeping this stock low priced and investors and pose a healthy risk/reward investment.
Disclosure: I/we have no positions in any stocks mentioned, and no plans to initiate any positions within the next 72 hours.
I wrote this article myself, and it expresses my own opinions. I am not receiving compensation for it (other than from Seeking Alpha). I have no business relationship with any company whose stock is mentioned in this article.
Editor's Note: This article discusses one or more securities that do not trade on a major U.S. exchange. Please be aware of the risks associated with these stocks.