In a previous article, I elaborated on the reasons why I decided to sell Wells Fargo (NYSE:WFC) in light of reports that the bank had falsified client accounts in order to artificially inflate cross-sell figures.
The stock has since rebounded in price, from around $46 at the time I sold to a present price of $56.94: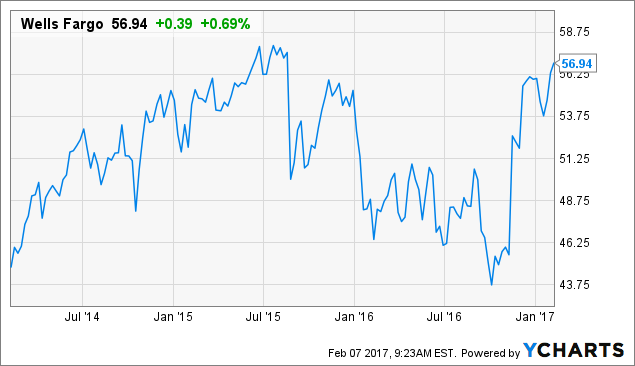 In spite of the stock's rebound, I had elaborated that I believe other banking firms such as Bank of America (NYSE:BAC) and Royal Bank of Canada (NYSE:RY) are superior picks in the current environment. Moreover, it was notable that for the three years I had held Wells Fargo, the stock had returned roughly 7% annually, which in my opinion was quite a low rate of return given the risk associated with financial stocks in the years after the financial crisis.
My opinion has not particularly changed since then. Firstly, given Wells Fargo's relatively larger exposure to the mortgage market, higher interest rates will likely place pressure on net interest income going forward. Granted, this has been growing throughout 2016, but net interest margin has not done so in tandem: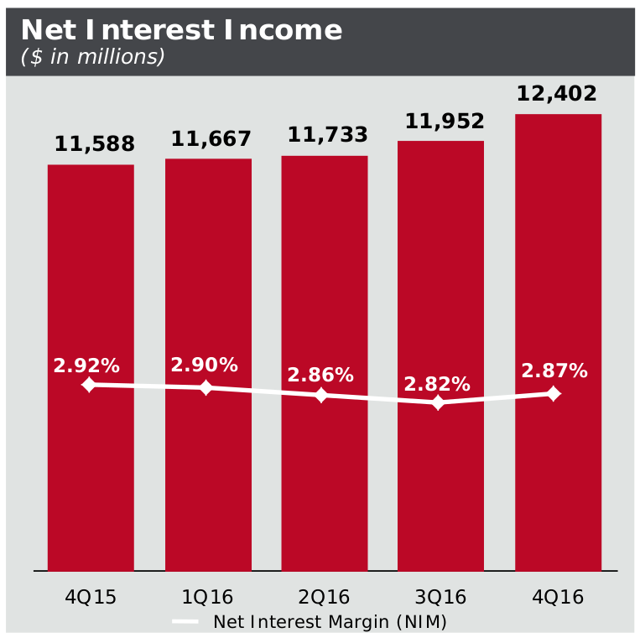 Source: Wells Fargo 4Q16 Quarterly Supplement
Moreover, we see that in the fourth quarter of 2016, non-interest income had actually fallen, along with net income itself as well as earnings having taken a dive: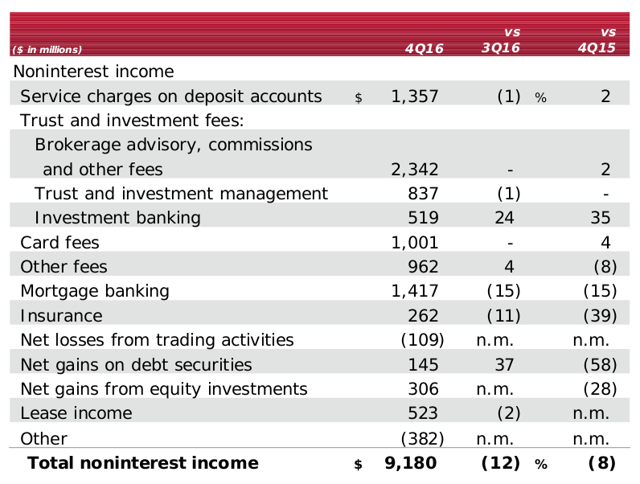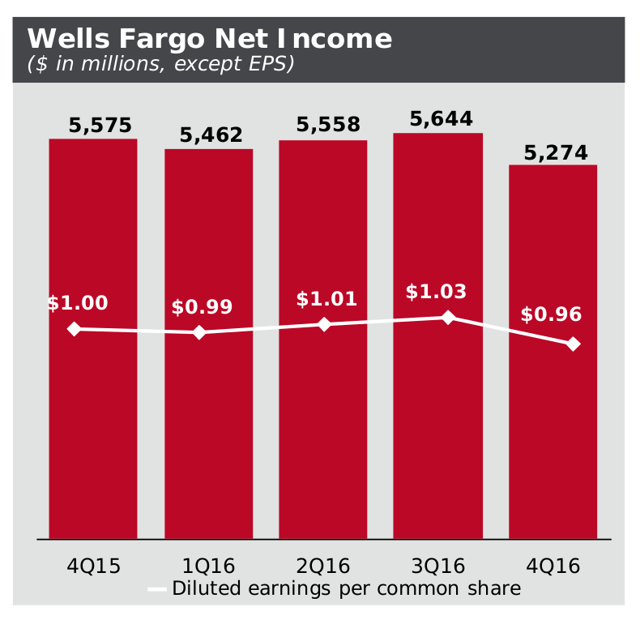 Source: Wells Fargo 4Q16 Quarterly Supplement
Moreover, with the stock now having risen to a price of just under $57 at the time of writing, I am unconvinced that the stock would be a buy at this price, even if fundamentals were to remain attractive. For instance, we see that the last time that the stock was trading at a P/E ratio of 14 was in mid-2015, when price has also hitting all-time highs: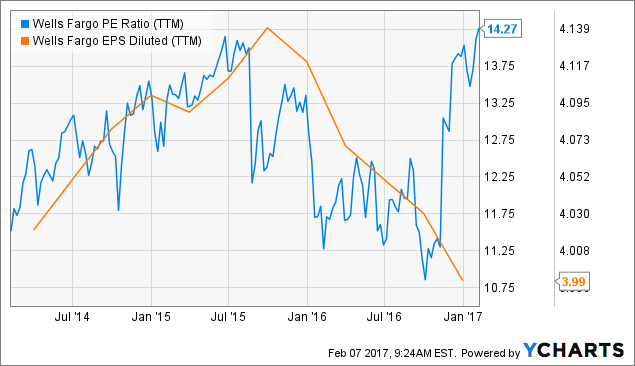 The fact that earnings per share has been falling means that Wells Fargo is likely overvalued at this price.
Additionally, the bank currently trades at the highest price to book value among its peers: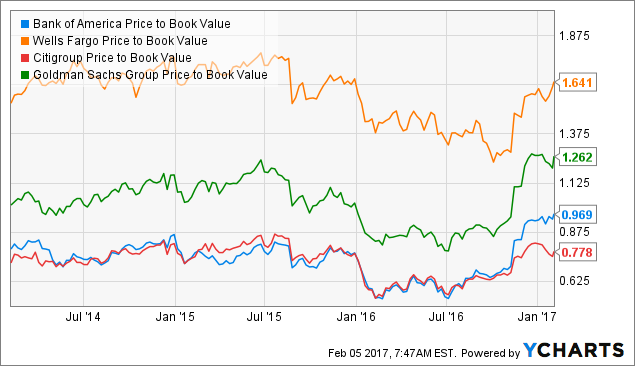 While I do not see Wells Fargo is necessarily being in danger of a significant business decline (average loans and deposits did in fact grow in 2016), I do not particularly see the appeal vis-a-vis other competitors in the financial industry. I made the decision to sell at a price of $46, and would definitely be selling had I been holding shares of the stock at this point in time.
Disclosure: I am/we are long RY.
I wrote this article myself, and it expresses my own opinions. I am not receiving compensation for it (other than from Seeking Alpha). I have no business relationship with any company whose stock is mentioned in this article.