Thesis
Activist investor Bulldog has a successful history of pushing management boards to embark on shareholder enhancing moves to close discounts to near zero. At an 11.38% discount to net asset value, Lazard Global Total Return & Income (NYSE:LGI) should be the beneficiary of Bulldog's ownership stake and active engagement with management on a number of possible shareholder-enhancing actions.
Any positive news regarding Bulldog's success can result in a very quick move towards NAV resulting in a 10%+ gain. While I would not consider LGI a long-term core holding, it's a reasonable one-year speculative play in which you get paid to wait for a positive event. LGI's underperformance versus the benchmark should be a risk worth taking given its payout and the gap up potential from a positive activist outcome.
LGI Strategy
LGI has been a consistent underperformer over the years hovering at around an 11% discount to net asset value. The fund's global equity and emerging market bond portfolio NAV has declined over the past three years as its discount remained essentially unchanged moving lower in lock step with the downward-trending NAV.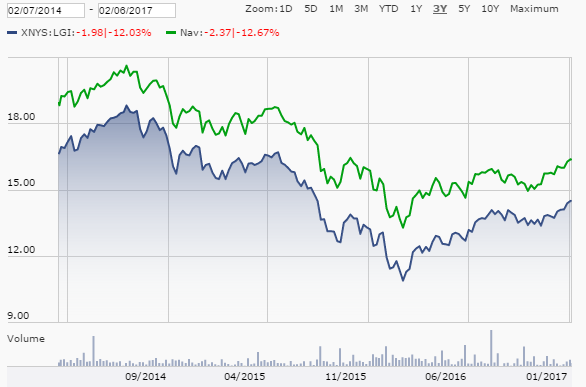 Source: Morningstar
Discount to NAV
The fund has traded at a consistent discount of roughly 11% over the years never coming close to trading at NAV. We believe the discount is excessive given the fund's tracking error is less than 1%. Apparently, Bulldog thinks so too. Management should be well incentivized with the threat of a hostile proxy battle to enhance shareholder value through Bulldog's own slate of directors that could conduct stock buybacks, a tender at NAV and/or conversion of the fund to open-ended fund.
The small size of the fund, $184 million, makes it a perfect activist play for Bulldog. At this amount of AUM, it's not a gigantic moneymaker given the operating expenses needed to support a fund with 7 managers. In fact, 7 managers for this size fund seem quite excessive. The negative publicity regarding its underperformance and the persistent discount attached to the Lazard brand might be enough to incentive the board, along with a little push, to turn things around.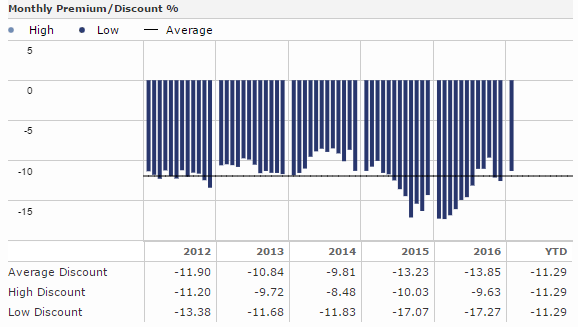 Source: Morningstar
Portfolio Yield and Distribution Policy
The fund has a managed distribution policy, which can result in distributions comprised of both income and a return of capital. Over the past several years, most of the distribution has been in the form of a return of capital. A recent dividend hike can be viewed as a small positive. Given the 11% discount and the large return of capital every $1 of capital returned only costs roughly .90 cents! We have no problem getting our capital back at over a 10% rate. Keep it coming!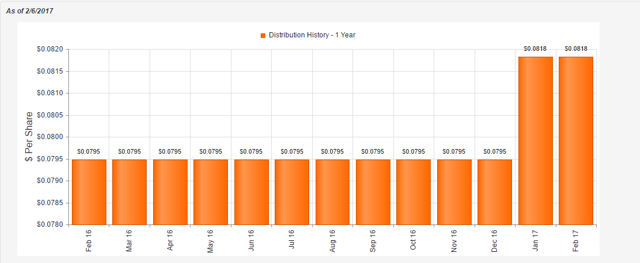 Source: CEFConnect
Bulldog Investors
Bulldog owns approximately 8.85% of LGI. The fund's strategy revolves around taking large positions in CEFs with large discounts and actively pressuring boards to effect a number of changes to narrow the discount to NAV. Bulldog has been in the past successful in pressuring boards to effect stock buybacks, tender for a percentage of outstanding shares, and even force conversion to open-end structures, all of which have the effect of lowering or eliminating the funds' discount to NAV. Position reported in latest 13D Filing.
Summary
LGI is a speculative play on a less than stellar fund that can see its share price trade at NAV due to the involvement of Bulldog Investors. At an 11% discount and with a distribution yield of almost 7%, we feel comfortable the risks of owning this fund are meaningfully mitigated.
Disclosure: I am/we are long LGI.
I wrote this article myself, and it expresses my own opinions. I am not receiving compensation for it (other than from Seeking Alpha). I have no business relationship with any company whose stock is mentioned in this article.