Between January 20th and January 27th, the US rig count increased by 18, surpassing 700 total rigs for the first time since the end of 2015 and completing the recovery for rigs lost during the first half of 2016 when oil touched $26/barrel. Rising rig counts indicate increasing investment by energy companies to extract oil and can be a leading indicator for oil production.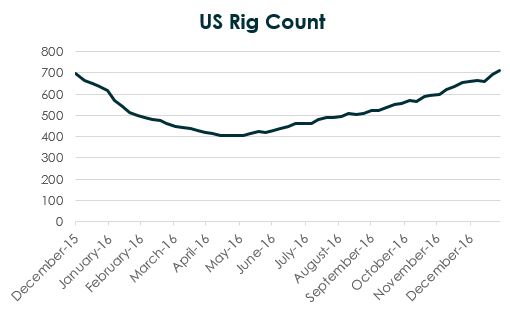 Source: Baker Hughes. Data from 12/31/2015 to 1/27/2017.
This material represents an assessment of the market environment at a specific point in time and is not intended to be a forecast of future events, or a guarantee of future results. This information should not be relied upon by the reader as research or investment advice and is intended for educational purposes only.
Global X Management Company, LLC serves as an advisor to the Global X Funds. The Funds are distributed by SEI Investments Distribution Co. (SIDCO, 1 Freedom Valley Drive, Oaks, PA, 19456), which is not affiliated with Global X Management Company, LLC.