Ford Motor Company (NYSE:F) has been falling behind peers for a number of years, the stock price has been stagnant and investors are asking if Mark Fields can lead the company in the same direction as his predecessor. With confidence in the company waning, perhaps 2017 is the year that Ford turns it all around.
There are three main factors that, if given the ability to materialize, could right the ship at Ford. First, the company is finally gaining momentum in China for the Lincoln brand. This is a key factor needed to increase operating margins in Asia (which remain relatively low given the nature of small vehicles sold there). Second, A revitalization of large SUV's in North America could reshape Ford's market position from a laggard to a leader in the category. Last, regulatory and tax changes from Washington (which are largely harmful to Ford) could actually have a less severe impact than competitors, thus allowing for the possibility of market share growth.
Ford entered China way behind its peers. That has long cost the company market share as peers had decades to build name recognition before Ford. The product assortment has traditionally been geared toward light vehicles for China's growing middle class. In 2014, that changed when Ford introduced Lincoln to the market. Input costs have been high as the dealer network has been rapidly expanding. With high price point products, Ford is seeing margins in the region increase. In 2013, prior to Lincoln's launch in China, Ford recorded 3.2% operating margins for the Asia Pacific region. That same figure increased to 7.1% for FY 2015.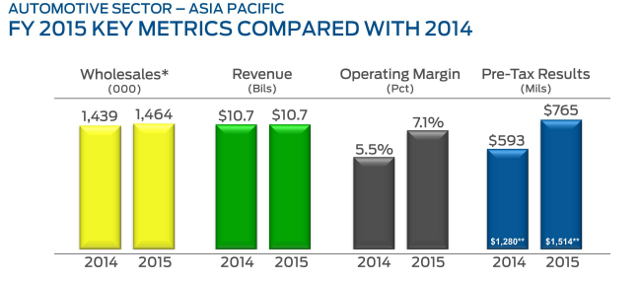 Source: Ford 10-k
Asian margins should continue to grow as the brand grows market share in the region and as Ford mules possibly relocating Lincoln production to China to avoid import tariffs. Doing so will allow higher margins and a more even playing field with peers as many European and American brands (NYSE:GM) already produce Chinese vehicles in the mainland.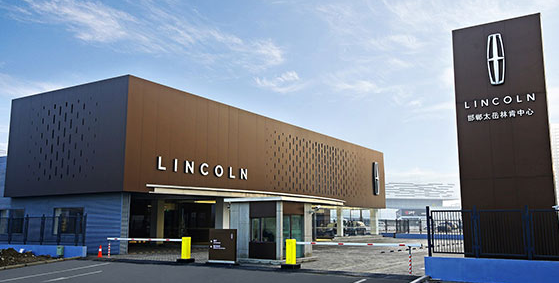 One of 85 new Lincoln dealerships in China
As gas prices surged before the market collapse in 2008-2009, Ford began cutting investment in the large SUV segment outside of pick-ups. That largely resulted in a languished production lineup for the high profit large SUV segment. The Expedition and Navigator, which share the same platform, have not had any major structural updates since 2003. Not surprisingly, sales of both models have plummeted since peaking in the early 2000's. The Expedition, which regularly enjoyed unit sales in the 200,000 range from 1997-2004, now sells about 40,000 units per annum. The Navigator has also seen sales drop from about 30,000 units per year during the 2000's to barely above 10,000 units last year.
Going into 2017, Ford is finally ready to unveil redesigned versions of the Expedition and Navigator. The major update could allow Ford to gain back market share lost to GM's Yukon, Suburban/Tahoe, Escalade, and Denali models as well as foreign large SUV's like the Range Rover, Mercedes G/GLS, Infiniti QX80 etc. Increased sales in this segment directly correspond to increased profitability in North America.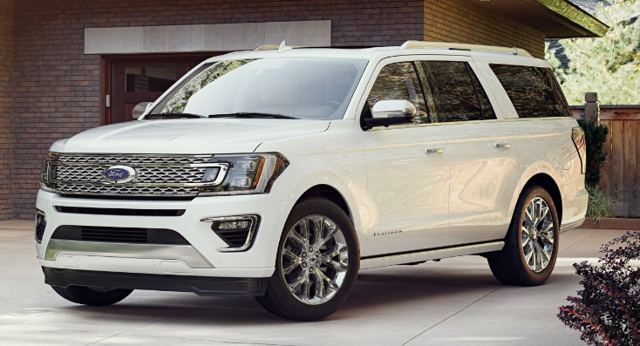 Ford Expedition concept
The new administration and republicans in Congress have set forth a series of (sometimes contradicting) policy proposals related to a planned tax overhaul. Under the plan introduced by Speaker of the House Ryan and verbally endorsed by the President, corporate taxes would be reduced and lost revenue would be supplemented by the imposition of a border tax. The auto industry, which would be the second most impacted by the proposed tax, would be forced to increase prices of imported vehicles or reduce profits. Ford, which produces most of its large vehicles in the US, would see little impact from a BAT (border adjustment tax). GM, according to one analysis, would face an impact 4X that of Ford. Foreign makers like Tata Motors would face even larger impacts with close to 100% of units produced internationally. While some would argue the net impact would be minimal because GM and others would face a lower corporate tax, the cumulative benefit to Ford (lowest BAT among peers in addition to reduced overall taxes) would provide a greater boost to the automaker relative to GM.
The aforementioned scenarios, some more theoretical than others, could each add meaningful value to Ford's bottom line over the next year. With the equity slumping for the past three years, 2017 might finally give the company a much needed boost in profits and hopefully the stock price. A remodeled flagship sedan and SUV for Lincoln, a new F-150 and Expedition, along with favorable Chinese expansion could all combine to make Ford… I won't say "great again," but you get the point.
Disclosure: I/we have no positions in any stocks mentioned, and no plans to initiate any positions within the next 72 hours.
I wrote this article myself, and it expresses my own opinions. I am not receiving compensation for it (other than from Seeking Alpha). I have no business relationship with any company whose stock is mentioned in this article.