Fastenal (NASDAQ:FAST) is a diversified supplier of industrial and construction supplies. It also sells safety equipment and a few other products, which are included in the below chart I created using data from the company's 2016 10-K, along with the introduction dates of these businesses in parenthesis.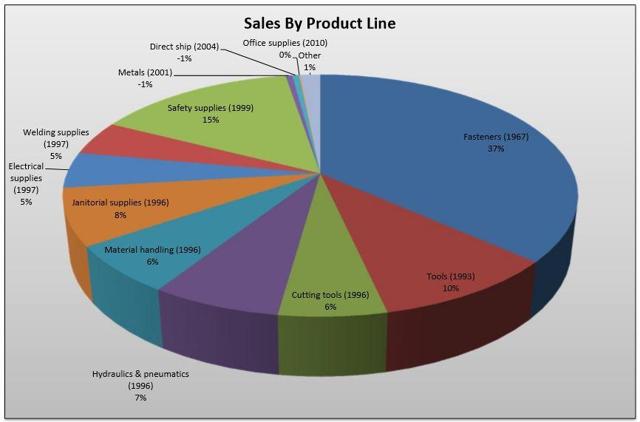 Overall, I like Fastenal's collection of business lines and I think it's a good play on a ramp up in domestic US infrastructure spending (assuming it's actually coming down the road).
Consistent economic profits are nothing new
Fastenal generates attractive returns on invested capital, and going back at least a decade, this seems to be the case rather consistently. I created the below model in Excel (using data from its most recent 10-K, and also for all other models and charts in the rest of the article).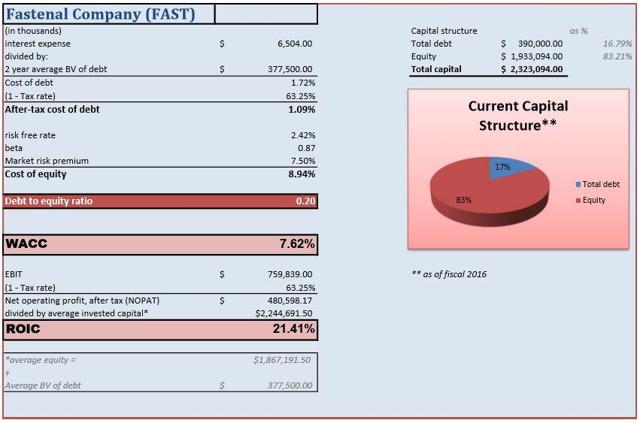 We can see that the firm's ROIC exceeds its estimated weighted average cost of capital, or WACC, by a wide margin according to my model. Even if we set a more conservative threshold of 12% for its WACC (which is something I sometimes like to do for cyclical companies), its ROIC still almost doubles it. Judging by its modest debt-to-equity ratio, I'd say it maintains a relatively conservative balance sheet as well.
The company does utilize some "off-balance sheet" financing in the form of non-cancelable operating leases for some of its distribution centers, manufacturing locations, and certain store locations according to the footnotes to its financial statements, which I'd like to account for in the next section.
Theoretically capitalizing operating leases...
To accomplish this, I pulled numbers from the notes to the financial statements, but there was a slight problem. The company mixes its non-cancelable leases related to its facilities with leases related to equipment, so they are both included in the below estimates. I also thought that the firm's pretax cost of debt was probably too low for these leases, so I decided to estimate their value using a conservative figure of 5.50%.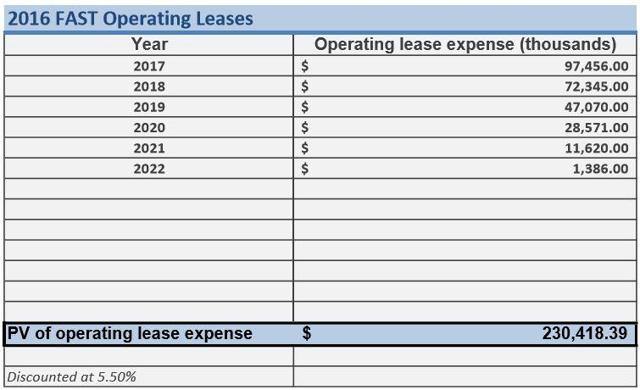 Now that we have a guesstimate for these leases, we can insert them back into the capital structure.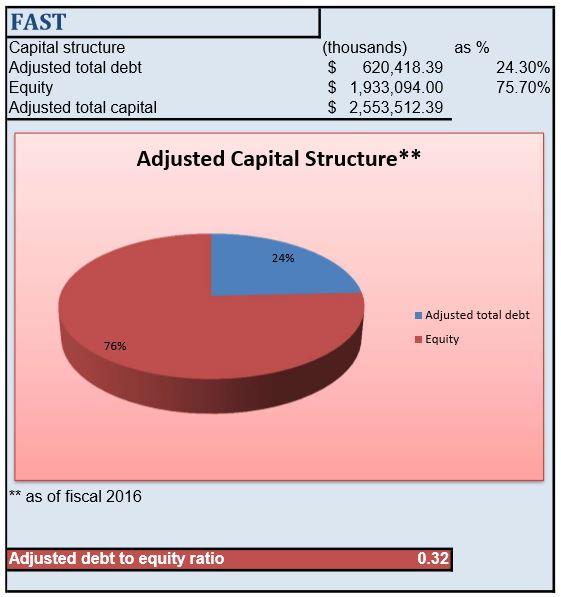 I'd say that these leases have little effect on the overall capital structure, but I'd still like to get even more theoretical and consider their potential impact on ROIC anyway.
Adjusting EBIT...
The first step involves adjusting operating profit, or EBIT, to account for the leases.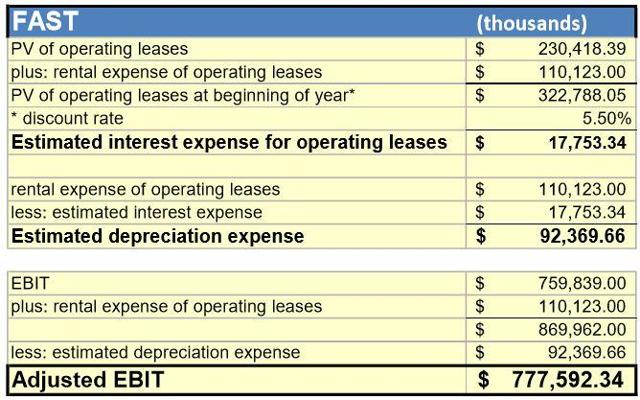 Now we can take taxes into consideration to arrive at net operating profit, after tax. Then, dividing this NOPAT number by the adjusted capital base, we can arrive at an estimate for an adjusted ROIC number that also accounts for the off-balance sheet leases.

I'd argue that the effect of Fastenal's operating leases is negligible on its capital structure and its ROIC, but I was still curious to come up with some rough "ballpark" figures anyways. To wrap things up, I think we can conclude that the firm earns economic profits and maintains a conservatively financed balance sheet overall.
Tearing return on equity apart
Now that we've established Fastenal as an exceptional capital allocator overall, I'd like to single out just the equity slice of the pie with a five part DuPont analysis.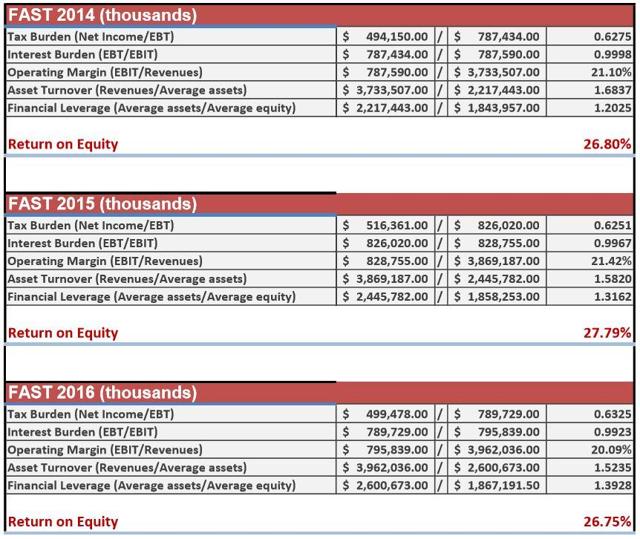 The company continues to maintain attractive margins north of 20%. Asset turnover is slowly decaying, partially offset by a slow uptick in leverage. All-in-all, the company's return on equity looks very appealing, and could even increase going forward if the firm becomes a beneficiary of the tax-reform that's currently being discussed.
As a North American (and primarily United States-based) outfit, Fastenal pays a higher tax rate than most multi-nationals, which is reflected by its relatively high tax burden in the above DuPont. If its corporate tax rate was lowered to 25% for instance, equivalent to a tax burden of 0.75 in the above model, ROE for fiscal 2016 would be closer to 31.73% by my calculations.
Conclusion
I think Fastenal is a great business to be in if the new presidential administration successfully lowers the corporate tax rate and ramps up domestic infrastructure spending. In fact, I think Fastenal might (almost) be the perfect business to benefit from this trend.
Even if interest expense goes from being tax-deductible to non-deductible, the company maintains a relatively conservative capital structure as well, so this will definitely impact it, but not by as much as the more heavily leveraged companies in my opinion. There's a lot of speculation regarding taxes and infrastructure spending, however, and I'm not 100% convinced that these things will happen with certainty.
This brings me to the only flaw I can currently find with the company - its valuations. I think there's a lot of optimism already baked into FAST shares, and at roughly 27 times this year's expected earnings, they're a little too rich for my blood. Otherwise, I would love to own this company one day - at the right price of course.
If you enjoyed this article and would like to receive further updates and articles in the future, please feel free to hit the "Follow" button at the top of the page next to the author's name.
Disclosure: I/we have no positions in any stocks mentioned, and no plans to initiate any positions within the next 72 hours.
I wrote this article myself, and it expresses my own opinions. I am not receiving compensation for it (other than from Seeking Alpha). I have no business relationship with any company whose stock is mentioned in this article.
Additional disclosure: Articles I write for Seeking Alpha represent my own personal opinion and should not be taken as professional investment advice. I am not a registered financial adviser. Due diligence and/or consultation with your investment adviser should be undertaken before making any financial decisions, as these decisions are an individual's personal responsibility.