By Parke Shall
Macy's (NYSE:M) fell in trading on Tuesday after a note was being passed around that Dealreporter stated "several financial sponsors that evaluated Macy's concluded a turnaround in the company's performance would be too difficult, citing sources familiar with the matter."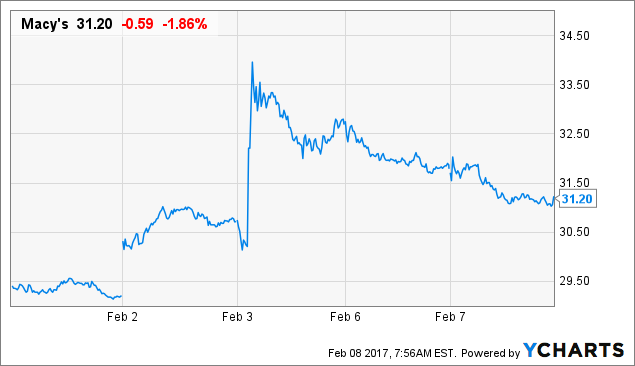 M Price data by YCharts
Great job, Dealreporter. If only the takeover/JV rumors were primarily about the core business and not the real estate, this would be relevant. We found these comments yesterday to be completely irrelevant, we remain confident in our DCF analysis of the core business, and we added to our position.
We used the opportunity on Tuesday to add to our shares. We wanted to explain her reasoning for doing so as well as briefly critique the comments from Dealreporter.
Those that have read us recently know that we are optimists about Macy's being able to get a deal done that unlocks the value of its real estate for its shareholders. Whether the deal is a joint venture or spin off regarding the real estate, or a full on buyout as was rumored earlier in the week, we don't know. However, we do believe the likelihood of a deal eventually getting done is good. We have really simple reasoning for believing this. Most times when a buyout deal is rumored, the only thing to take in consideration is how the company will perform in the future. For more on this, see Dealreporter's comments.
But in this case, that is being considered but only as a secondary asset or a call option after the real estate that the company owns. Make no mistake about it, any buyout or joint venture would likely be looking at the real estate first and the cash generated from the business second.
We broke down why a deal like this would make sense not only for Macy's shareholders but also for potential acquirers in our last Macy's article that we wrote just days ago.
One point that we didn't mention in that article and would like to stress further is that the current CEO stands to benefit significantly if he can get a deal done during his tenure, before handing over the reins of the company which he is scheduled to do in just months. WSJ reported on February 3,
Macy's Inc. executives are set to walk away with large severance packages if the retailer ends up selling itself, according to regulatory filings.

Chief Executive Terry Lundgren would receive more than $80 million if there is a change in control at the company, according to the company's most recent proxy filing.

The package, valued as of Jan. 30, 2016, includes cash severance, payments for signing a noncompete agreement, vested and unvested stock options, and the value of his executive retirement benefits. It also includes postretirement medical benefits and life insurance.
We love seeing things like this. It helps us get into the mindset that the executives are currently in and it gives us yet one more common sense reason that we may see a deal in a relatively short term. If that was our pay package, and we knew the board was going to get taken over as soon as we left the CEO position, I'm pretty sure we would be evaluating as many deals as possible also before we left.
While there has been speculation around Hudson Bay, we certainly don't think that there is any shortage of potential bidders for the company. CEO Lundgren said about a year ago on CNBC that he had deals and proposals "all over his desk" when asked about strategic alternatives. It is simply trying to consider a plan which that will be the best for shareholders that may be what is taking some time.
We understand the skepticism, not only from Dealreporter, but from others. However, people need to stop looking at this as a potential sale of a retail company and start looking at it as the sale of the real estate portfolio with a cash generating retail company as an add on call option. We analyzed in our last article that Macy's (link above) likely has over $10 per share in free cash coming over the next 10 years regardless of how poorly the retail environment performs. This after the sale of real estate, already valued between $10 billion and $20 billion. The sooner that skeptics start to understand that, the sooner they can do away with the paradigm that this is somehow about turning around the retail business. It isn't, it's about value creation.
We bought more Macy's yesterday because the lower the price goes, the more attractive the company looks to a potential acquirer. Yes, operational metrics are not heading in the right direction, but that doesn't change the value of the company's real estate. For example, if the real estate is valued at $15 billion and the company winds up moving to an enterprise value of $14 billion not because of the real estate but because of the Macy's core business, does it not simply make a potential purchase cheaper when acquirers consider premiums?
All an acquirer would need to do is separate the real estate and make some drastic cuts at Macy's that would allow the company to continue to be a cash generating entity for years to come. It doesn't need to generate $700 million in free cash flow per year like it does now, it just needs to continually generate a couple hundred million dollars in free cash flow for another 10, 15, or 20 years for any acquisition here to wind up a complete and resounding success. With strategic cuts and an eye on balancing the business between online and in-store, we think that this is more than possible. We added to our position yesterday and will continue to do so on dips.
Disclosure: I am/we are long M.
I wrote this article myself, and it expresses my own opinions. I am not receiving compensation for it (other than from Seeking Alpha). I have no business relationship with any company whose stock is mentioned in this article.