This morning, Allergan (NYSE:AGN) reported better than expected Q4/2016 results and an encouraging guidance for 2017. The stock is up around 2% premarket on light volume.
The question now is whether the reporting season has provided any encouraging news related to the key issues I pointed in previous articles on Allergan and if the guidance for 2017 is actually conservative.
Q4/2016 results
Allergan reported Q4/2016 sales of $3.86B, 2% above consensus expectations, while Core EPS of $3.90 were 4% higher than consensus, mainly for a strong performance of the key growth drivers, as for example Botox Cosmetic, which was up 18% YoY. FY 16 guidance has been achieved, as expected.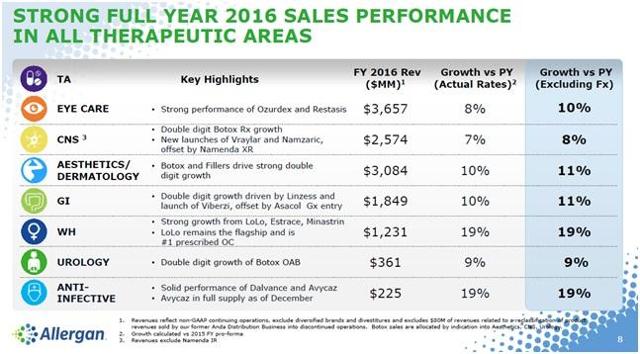 Source: Allergan's FY 2016 Results Presentation
2017 Guidance
2017 guidance is really encouraging and I think it's also conservative.
Allergan guided to $15.5-15.8B for Revenue, which is 3% above Bloomberg consensus of $15.3B.
In terms of Non-GAAP, the company guided for a range of $15.80-16.30. The midpoint of $ 16.05 is 1% above Bloomberg consensus of $15.9 and it equates to more than 18% growth compared to 2016 EPS.
In addition to that, I think there are few key positive elements in the FY17 guidance, which should reassure investors:
The guidance is above street expectations, comforting investors that the negative earnings momentum seen in 2016 has come to an end.
Management has assumed in the guidance that Namenda XR will suffer from generic competition in Q4/2017, but this seems a worst case scenario. As I said in my previous article:
"Allergan had settlements on Namenda XR locked for 2020 with Amneal, but Amneal lost its first-to-file advantage in 2016, exposing Allergan to earlier-than-expected competition. Yet, that decision is under appeal to the U.S. Court of Appeals for the Federal Circuit, who could still reverse the District Court's decision, giving Allergan a few years of additional patent protection for XR."
Allergan's 2017 guidance has been based on the assumption of stable Restasis revenue in 2017. Despite the launch of Shire's (NASDAQ:SHPG) Xiidra, Q4/2016 results showed a very healthy growth for Restasis, up 13% YoY driven by strong demand and pricing benefit. In addition to that, as I said in my past analysis:
"I discussed here why I think Xiidra is better than Restasis and it's likely to gain further market share in 2017, but it's also worth noting that the company will launch in 2017 a new version of Restasis, called Multi Dose Preservative Fee (MDPF), offering an innovative delivery technologies for Dry Eye with 60-doses in one vial, instead of one vial for each dose. A successful switch to Restasis MDPF is not included in Allergan's guidance and it represents an upside risk".
Allergan's pipeline optionality is underappreciated by the market. The company has six key products, which are entering or are currently in Phase III and that could translate in multi-billion blockbusters, as for example Cenicriviroc in NASH.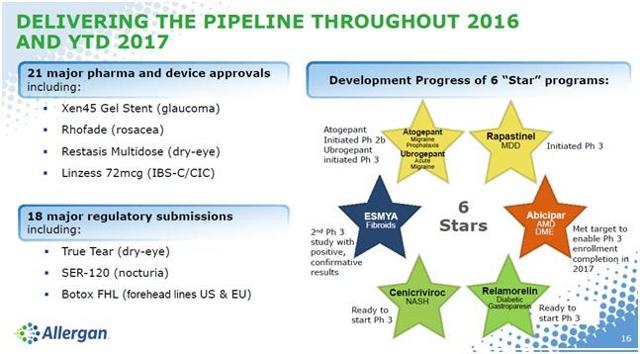 Source: Allergan's FY 2016 Results Presentation
Conclusion
The key investor takeaway is that the 2017 will be a year of strong EPS growth for Allergan, driven by a solid base business and the accretion from LifeCell's acquisition. With the stock trading at slight discount to 5 years average historical P/E and vs. peers (i.e. DRG Index) and solid management execution expected in 2017, I believe Allergan could close the valuation gap with peers and strongly outperform.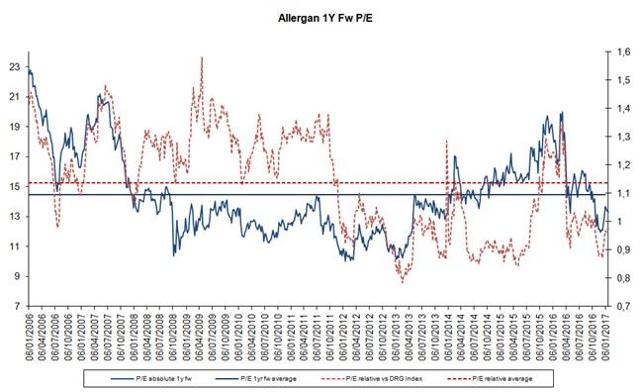 Allergan's Current vs. 5 years average P/E (absolute and relative analysis). Source: Bloomberg.
Disclosure: I am/we are long AGN.
I wrote this article myself, and it expresses my own opinions. I am not receiving compensation for it (other than from Seeking Alpha). I have no business relationship with any company whose stock is mentioned in this article.
Additional disclosure: Not investment advice