Gilead (NASDAQ:GILD) reported fourth quarter results that beat estimates on Tuesday evening, but the company's low forward guidance sent shares below $70 in after hours trading.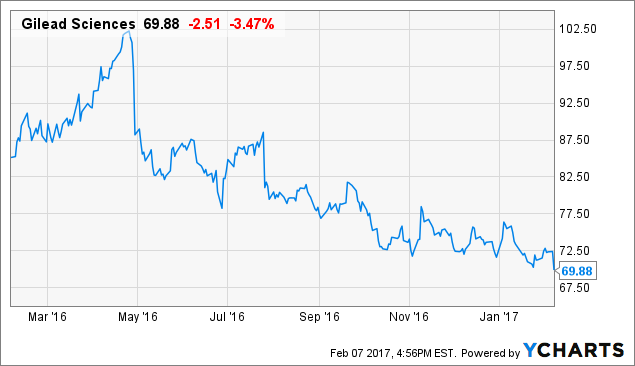 Gilead's shares are trading slightly below $70 after hours, which represents a new 52 week low for the company's shares.
Gilead had beaten estimates for the top as well as for the bottom line, thus the fourth quarter's results did not look too bad, but guidance for the current year came in well below expectations, which was the reason for the share price decline. Let's look at both the fourth quarter numbers as well as what the guidance for the current year means for the company.
In the past years Gilead has mainly relied on its HCV business for revenue and earnings as well as cash flow growth, but for a couple of quarters we are seeing that trend reversing: Revenues for Gilead's HCV franchise are declining, and the company's HIV business is becoming the more important contributor to Gilead's top line again. In the fourth quarter HIV revenues totaled $3.4 billion (up 13% yoy), for the full year revenues have increased by double digits as well. HCV revenues, on the other hand, dropped to $3.2 billion in the fourth quarter, now being the smaller of the two main franchises again. Gilead's other drugs, which are responsible for a little below 10% of the company's revenues have grown by a compelling 20% in the fourth quarter (to $620 million).
When we take a closer look at the HCV business, we see that Harvoni sales have been cut in half over the last year, whilst Sovaldi revenues declined by an even bigger amount (almost down 70% yoy). These huge declines were partially offset by $1 billion in Epclusa revenues, which had not been available one year prior yet. The resulting 33% revenue decline for the company's HCV business can be attributed to lower patient numbers overwhelmingly -- after Gilead's drugs had been introduced a huge number of patients were treated immediately, whereas revenues are leveling off now, since many of those who needed treatment immediately have been treated already. The biggest declines came from Japan, which is responsible for $850 million of the total HCV decline of $1.6 billion -- this shows that Gilead's HCV business is a lot more resilient in the US and Europe, which could be a hint that revenue declines will be less severe in the future: If US and Europe continue to decline at a low pace, Japan revenues will be less important and comp sales will be easier in the future.
Looking at the cost side of Gilead's business, we see that the company has incurred higher R&D expenses in the fourth quarter, which is neither a big plus nor a huge minus: Higher R&D spending means lower earnings and cash flows, but could result in higher future revenues, thus I rate this as neutral. SG&A expenses came down by roughly 10% year on year, which is a positive, as this helps Gilead's operating profits.
Lower gross profits (due to lower revenues of $7.3 billion versus $8.5 billion in the prior year) and a higher tax rate had a huge impact on Gilead's bottom line: The company remains hugely profitable, but net earnings dropped by more than 30% to $3.1 billion. The higher tax rate (21% versus 14%) was due to a higher contribution of US revenues and earnings (on a relative basis), but there is some positive in here: If the US corporate tax rates are lowered in the near future, the impact on Gilead's bottom line will likely be bigger than previously thought.
Gilead's share repurchases helped lower the EPS decline, since the company's share count was down 10% yoy the company's diluted (GAAP) earnings per share declined by only 26% (versus a net income decline of more than 30%).
Since the market had expected revenues as well as earnings to come in a lot below the actual numbers, those results were not too bad and baked into the current share price, but the company's forward guidance wasn't:
Gilead estimates that product sales will total $23.5 billion in 2017, which would mean a decline of a little more than 20% yoy. When we calculate all other factors that Gilead is guiding for (gross margin of 82%, R&D costs of $3.25 billion, SG&A costs of $3.25 billion and a tax rate of 26.5%) we get to net earnings of $10.2 billion for 2017. When we assume a share count of 127 million at the end of 2017 (I used a buyback pace of $1 billion per quarter, as it has been over the last quarters), this would mean earnings per share of $8.10 -- a lot lower than the company's trailing EPS number of more than $10.
The positive, however, is that even with a revenue decline and a higher tax rate baked in, Gilead is still trading at a single digit PE ratio (8.7 with shares trading at $70). We also have to consider the fact that Gilead usually guides conservatively (in 2016 the company's revenues came in above the midpoint of guidance as well), thus the actual results could be a little better than what Gilead is hinting at right now.
Another positive is the company's decision to hike the dividend by 11% to $0.52 per share per quarter. This dividend increase came after just 3 dividend payments of $0.47, thus this could be a sign that management plans to put more emphasis on the company's dividend going forward. With an annual dividend payout of $2.08 Gilead offers a dividend yield of 3.0% right now, which is the highest the company's dividend yield has ever been.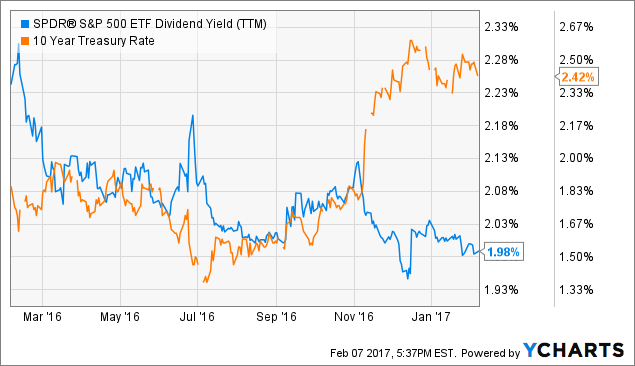 Gilead is now offering vastly more income to its owners than the broad market (which trades with a dividend yield of 2.0%) as well as treasuries, with 10 year yields at 2.4% right now. For income investors Gilead thus is increasing in attractiveness, especially when we factor in the company's still very low payout ratio (below 25% versus both trailing as well as forward EPS), which, in turn, offers a lot of dividend growth potential going forward -- if Gilead would raise the payout ratio to 50% investors could see a dividend yield of 6.0% easily.
Another positive from the company's results is that the company's cash pile has continued to grow, now standing at more than $32 billion -- more than one third of the company's market capitalization. With an amount like that Gilead could easily boost shareholder returns massively (i.e. even higher dividends or increased buyback activity) or make a meaningful acquisition, such as Johnson & Johnson's takeover of Actelion (for $30 billion). Making an acquisition out of the US would provide the additional benefit that the cash would not have to be repatriated, thus saving on taxes. Seeing Gilead do nothing with its cash pile for so long can be bothering, but since management has been smart regarding acquisitions in the past I believe they will find a meaningful way to employ that cash in a way that is beneficial for the company's owners.
Takeaway
Fourth quarter results were better than expected, but guidance indicates another year of huge HCV revenue declines. Gilead's shares broke below $70 after guidance disappointed, but even with another earnings drop factored in Gilead's shares are trading at less than nine times forward earnings.
Gilead also offers one and a half times the dividend yield investors can get from the broad market, with a lot of dividend growth potential going forward.
Employing Gilead's huge cash pile in a positive way could be a catalyst for Gilead, for the time being I'm holding my shares, planning to hold my shares for the next couple of years.
Disclosure: I am/we are long GILD.
I wrote this article myself, and it expresses my own opinions. I am not receiving compensation for it (other than from Seeking Alpha). I have no business relationship with any company whose stock is mentioned in this article.