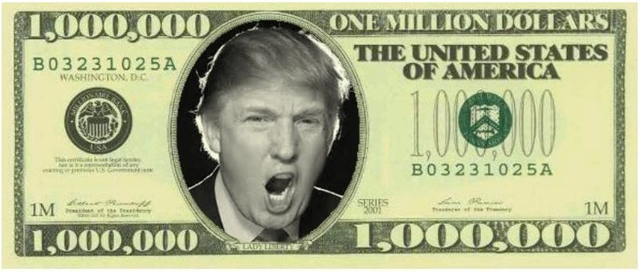 Argument: Despite Trump's apparent desire for a weaker dollar (NYSEARCA:UUP)(NYSEARCA:UDN) to help domestic trade competitiveness, his administration's slate of economic policies - tax cut at the individual and corporate level, deregulatory initiatives, repatriation of overseas cash, infrastructure spending, a more protectionist bent on trade, potential border adjustment to favor export activity over imports - all favor a strengthening dollar.
Overview
Foreign exchange volatility has reached multi-year highs since the November US elections as currency market participants attempt to understand how the new administration will shift the world's demand for various currencies.
Trump has taken on a position that the US dollar might be too strong to the point where the country's trade competitiveness will weaken and hurt domestic producers. This falls in line with his campaign promise to work to restore prosperity to blue-collar workers who have been displaced in the labor market from ongoing trade agreements. Manufacturing jobs are increasingly being offshored to lower-wage jurisdictions and those that do remain are subject to wage pressures as automation assumes a great role as a means for corporations to cut costs.
Yet the current administration's stance on the dollar are nonetheless confusing. Trump's policies are not quite in line with his purported desire to mitigate the strength of the dollar. Corporate (and personal income) tax cuts favor greater economic growth, as do higher amounts of infrastructure spending, deregulatory initiatives, and repatriation of cash held abroad. The potential integration of "border adjustment" into the corporate tax plan favors exports over imports, which is an additional growth-aiding - and hence dollar bullish - agent.
Higher growth and inflation will call for higher interest rates, and will directly push up the dollar. While central banks in other large developed economies are on hold (e.g., ECB, BOJ) in order to see a tangible betterment in the growth and inflation prospects of these economies, the Fed is likely to increase rates 1-3 times in 2017 with an 84.1% implied probability, pending an improvement in data related to employment, productivity, and inflation.
My belief is that the Fed is on hold until it gains greater clarity over how the Trump Administration's policies influence the economy before making a move to raise rates. The Fed would like to move rates if, obviously, data supports its requirements for a hike and in the sense that in the case of a future downturn, lowering the benchmark rate is the most well-worn policy option to attenuate the economic effects of a cyclical downturn. If the Fed continues to hold rates down and fails to sufficiently raise them before the next downturn, it will need to initiate more quantitative easing, of course depending on how severe the decline. In response to the financial crisis, the Fed effectively lowered rates by 900-100 bps, if one includes the 525-bp drop in the overnight rate itself, plus what amounted to the equivalent of around 400 bps worth of rates lowering through quantitative easing.
Protectionist trade policies also favor the dollar. Levying tariffs on corporations that outsource production and sell back into the US - as in the case of Mexican-produced goods - work to threaten Mexico's growth. (Tariffs are also a potential for various select foreign producers generally.) With Mexico's trade-reliant economy, the notion of taking measures to reduce the US trade deficit with its southern neighbors would cause the peso to sell off and render Mexico's exports more desirable. The same holds with China, with the yuan hovering around nine-year lows relative to the dollar. Tariffs on China would hurt the yuan, lessen the attraction of foreign direct investment, compel the migration of capital to other foreign markets, and potentially weaken its currency even further in chain-like fashion.
Whatever the case, the ostensible desire for a weaker US dollar doesn't accord with the economics behind the various policy initiatives and it has led to a lot of confusion. They almost all uniformly dovetail with decades-long wisdom that a stronger US dollar is generally beneficial for the US economy as a whole. The US is a net importer of foreign goods and therefore a stronger dollar can effectively cheapen the cost of these imports taken collectively.
Aside from verbal statements, all forces generally point to the idea that a stronger dollar is in the cards. Eventually the actual economics will dictate the dollar's trajectory and outweigh words that express something more whimsical than factual. A stronger dollar is also a key disinflationary element, which projects to tamp down on the upside in the precious metals market (NYSEARCA:GLD)(NYSEARCA:SLV).
Conclusion
Trump's ability to verbally alter the dollar's trajectory will be limited in the long-run, as eventually policy decisions and macroeconomic data will decide its natural course of action. With the EU immersed in ultra-accommodative monetary policy over what is likely the next 24 months and no end in sight for Japan's low rates and QE, the dollar may become stronger on a relative basis. The EUR/USD (NYSEARCA:FXE) has the potential to trade near parity and the USD/JPY (NYSEARCA:FXY) will have the potential to run above 120. Chinese foreign currency reserves have also dwindled below $3 trillion, near a six-year low and placed new pressure on the yuan.
Accordingly, despite what the current administration ostensibly would like for the US dollar, its policy bent and factors surrounding other economies seem to favor the dollar's continuing strength.
Disclosure: I/we have no positions in any stocks mentioned, and no plans to initiate any positions within the next 72 hours.
I wrote this article myself, and it expresses my own opinions. I am not receiving compensation for it (other than from Seeking Alpha). I have no business relationship with any company whose stock is mentioned in this article.
Additional disclosure: I am net-long the US dollar.