Merck (NYSE: MRK) reported fourth-quarter results last Thursday, reporting in-line non-GAAP EPS of $0.89 and $10.1 billion in revenues, which was down 1% on the year and missed analyst estimates by $100 million. Full-year results included $39.8 billion in revenues (up 1%) with flat operating expenses thanks to offsetting the higher R&D costs with trims in marketing and administrative expenses.
The quarter's weakened performance came primarily to increasing generic and biosimilar competition for a few key drugs. Merck has had a rough few years of blockbusters falling off the patent cliff, but the worse days are behind and a newer drug continues to show signs of growth. The big question is whether that rising star and some pipeline potentials can strength Merck's position in the future.
Patent Cliff Dives Slowing
Fourth-quarter sales dipped due to the decreasing sales of drugs that have seen increasing levels of competition. The drugs include I.V. antibiotic Cubicin (full-year sales $119 million, down 63% on the year) , cholesterol treatment Zetia ($612 million, down 11.4%) and nasal allergy inhalant treatment Nasonex ($537 million, down 37%), which experienced faster and stronger competition than many had anticipated.
Remicade, a biologic treatment for autoimmune diseases, had annual sales of $1.268 billion but that represented a 29% drop on the year due to increased biosimilar competition in Europe. Biosimilars are more difficult to get to market and to customers than the generics of small molecular drugs because of tighter regulatory guidelines and a more difficult trial path. The current success of the Remicade biosimilars will likely grow in the future, further carving down that sales number.
But despite those losses, Merck is past the worst of the patent cliff. The only notable drug driving off in 2017 is cholesterol treatment Vytorin, which had 2016 sales of $473 million. Merck's growth drivers can make up for that loss.
Blockbuster Oncology Drug Heats Up
Merck's Keytruda and Opdivo from Bristol-Myers Squibb (NYSE: BMY) belong to a game-changing, blockbuster class of oncology drugs called PD-1 inhibitors or checkpoint inhibitors. The drugs target cancers that can bind to PD-1 proteins, found on the surface of T-cells, which allow the cancer to hide from the immune system. The inhibitors prevent the protein bonding and reactivate the immune system response.
Nature published a great graphic showing the basic science: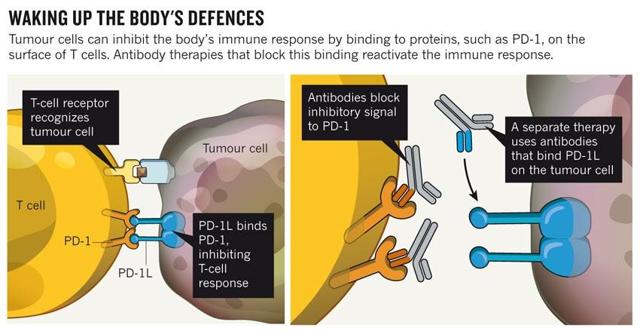 Keytruda was the first PD-1 drug to hit the domestic market but soon fell behind Opdivo in sales as both drugs picked up indications for head and neck cancer, melanoma, and as second-line treatment for an advanced type of lung cancer, non-small cell lung cancer (NSCLC). On the latter indication, Opdivo had the advantage of not requiring a PD-1 test prior to treatment, which Keytruda does require in second-line patients.
But last fall Merck caught a lucky break: Opdivo experienced weak trial results (due to the structuring of the trial) as a first-line treatment for NSCLC. Keytruda was then able to become the first-mover in that indication and could have up to a year advantage before Opdivo regains footing and gets approval. This lead in first-line treatment approval gives Merck early access to about 25% of the treatment population.
FiercePharma estimates that Keytruda could have up to $6.5 billion in annual sales by 2022, which is fantastic but half what was predicted for Opdivo, which does reflect the difference between the drugs' 2016 earnings. But the optimistic forecast for Opdivo does rely on success for Bristol-Myers' huge trials for additional indications and Opdivo gaining that first-line approval in lung cancer.
The sole reason I'm not more bullish about Keytruda's future earnings is the fact that Bristol-Myers has in-house drugs to pair with Opdivo, specifically the combination of Opdivo and Yervoy, while Merck has to team Keytruda up with drugs from other companies.
Bristol-Myers shareholders should rejoice any level of Keytruda victory due to patent lawsuits Merck settled last month. Merck paid Bristol-Myers $625 million upfront plus is on the rope for 6.5% in royalty payments each year from now until 2023 and then 2.5% payments for the following two years. (Note that 25% of the royalty payouts will go to Bristol-Myers' Japanese partner Ono Pharmaceutical Company.)
Other Earners Face Potential Short-Term Squeezes
Merck has two diabetes drugs that add up to about $1 billion in revenue a year and a set of vaccines that do the same. But both segments could shrink in the near future.
The diabetes drugs Janumet and Januvia had 2016 sales of $577 million and $932 million , respectively, which represented growths of 9.7% and 1.2%. Januvia could potentially some market to the rising SGLT-2 diabetes drugs, which are insulin-independent and thus easier to combine with insulin for a customized treatment regimen. Johnson and Johnson's SGLT-2 Invokana beat Januvia's efficacy in late-stage trials, but Januvia has so far held back the class due to the Januvia's stronger safety record.
On the vaccine side, Gardasil and Gardasil 9 together brought in $542 million (up over 9%) in 2016 while Pneumovax 23 grew 27% to $238 million. The bundle of Proquad, MMRII & Varivax dropped 1% to $405 million.
But the potential impact of the Trump administration on vaccines remains murky. Congressman Tom Price was tapped for the Health and Human Services secretary position and, if confirmed, will choose the new head of the CDC. Trump and Price have both made anti-vaccine statements that could cause a sales squeeze if the incoming CDC director decides not to promote vaccines and proper vaccine schedules.
Pipeline Potential: Major Trial Results in 2017
Merck's pipeline attention will mostly go towards additional indications for Keytruda. There are a couple of more questionable contenders that will report make-or-break trial results this year.
Cholesterol treatment anacetrapib could become a blockbuster treatment - in the unlikely chance the drug makes it out of the final stretch of Phase III, which took the lives of competing drugs from Pfizer and Roche. The large late-stage trial is expected to report results this year and, if successful, could move anacetrapib towards a multi-billion market it would own.
Alzheimer's treatment verubecestat will also report some late-stage results in late 2017. The results will give investors a much clearer view of the drug's potential since earlier trials had very small patient sizes and didn't do much to prove any cognitive benefits of the drug. Verubecestat is also racing through the pipes ahead of competing drugs from AstraZeneca and Eli Lilly partnership and a team-up of Biogen and Eisai.
Final Thoughts
Merck has survived a long, hard fall off the patent cliff with blockbuster drug Singulair and no similar cliff haunts the near future. Keytruda will rise to become one of the blockbusters of the new oncology class and could beat revenue estimates if Bristol-Myers experiences any more setbacks with Opdivo. Keep watch for the pipeline trial reports to know if those drugs will play a part of Merck's future.
Merck's ratios show a company on the rebound especially when paired up against oncology competitor Bristol-Myers Squibb.
| | | | | | | |
| --- | --- | --- | --- | --- | --- | --- |
| Company | PE | Yield | Operating Margin | Net Margin | ROE | Current Ratio |
| Merck | 33.1 | 2.85% | 19.6% | 13.8% | 12.3% | 1.89 |
| BMY | 22.5 | 3.0% | 19.2% | 18.2% | 21.9% | 1.47 |
| Ind. Avg. | 27.0 | N/A | 19.4% | 14.3% | 15.5 | N/A |
The only areas where Merck currently bests Bristol-Myers are in the current ratio and operating margin. The choice between the two stocks can come down to simple personal preference, an analysis of Bristol-Myers pipeline (a forthcoming article is planned), and how bullish you are on Keytruda's future earnings.
Disclosure: I/we have no positions in any stocks mentioned, and no plans to initiate any positions within the next 72 hours.
I wrote this article myself, and it expresses my own opinions. I am not receiving compensation for it (other than from Seeking Alpha). I have no business relationship with any company whose stock is mentioned in this article.