Building An Intelligent REIT Preferred Portfolio for Mom
It was around a month ago that I started building a REIT portfolio for mom. I then added a mortgage REIT to the mom portfolio, helping to round out the exposure and create a safe portfolio for mom. Shortly thereafter, I could see my mom saying the following "Brad, where are the preferred stocks you said you would include in the portfolio and could you bring me a glass of lemonade."
Lemonade is a matter of taste, but a portfolio is a matter of goals and objectives. When I began designing the portfolio for mom, I stated:
We would prefer to see mom owning around 10% to 20% in REIT preferreds than to risk capital on the more volatile mREITs.
Mom had already had enough excitement raising kids, and in her golden years will pick which exciting endeavors she will choose next. In order to be able to choose, she has to have confidence that her portfolio will continue to produce income so she can afford these new challenges (although I did advise against wing suits and base jumping). In order to help round out her portfolio, I got together with my partner in various ventures, Mike from Rubicon Associates, and we designed a REIT preferred portfolio for mom.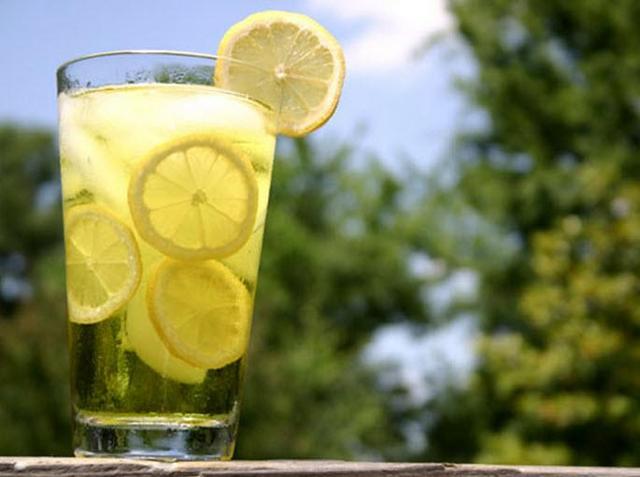 Building An Intelligent REIT Preferred Portfolio for Mom
The requirements we came up with were:
Prices couldn't be significantly higher than par, or a $26 limit,
A minimum of one year until the optional redemption (CALL) date, and
We had to have confidence in the staying power of the REIT and its stability.
The following is the preferred portfolio we built for mom:

I am sure that some will question the inclusion of CorEnergy (NYSE:CORR) due to its size and its limited history as a REIT. CORR went through the meat grinder last year and came out the other side in good shape - its two largest tenants filed for bankruptcy and the leases held. Despite its size and business, we believe (and have believed and profited from) in the staying power of this REIT.
We also like the industrial sector and have recommended and followed Monmouth (NYSE:MNR) and STAG Industrial (NYSE:STAG) for some time. We recently reviewed PREIT (NYSE:PEI) and Urstadt Biddle (NYSE:UBA) and believe they have solid businesses as well. While Mike and I occasionally write on higher yield preferred stock (Mike has been writing on shipping preferreds in his Rubicon Associates pages), we are keeping this portfolio tame and letting mom get her excitement elsewhere.
Here is the pricing on the portfolio:

As the table above shows, mom will have a yield of 6.75%, a decent amount of call protection and 6.3% yield-to-call. This should give her some nice walking around money without having to worry about the next check.
Graphically, the mom portfolio looks like the following: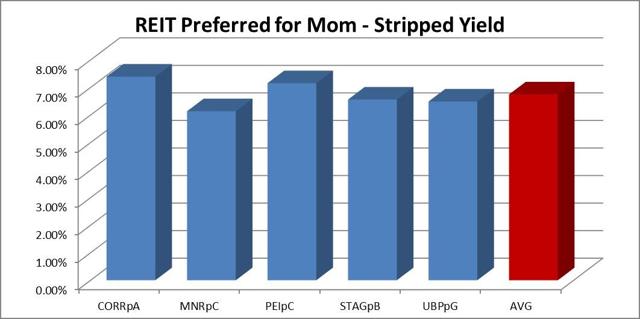 The price: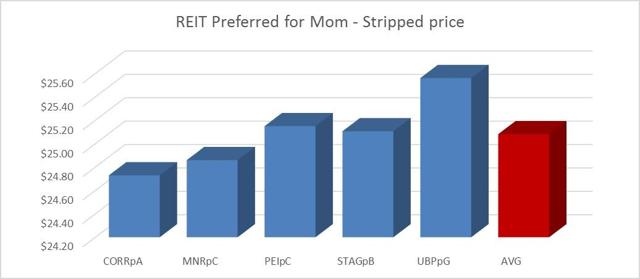 The charts above show that mom has met her objectives of a healthy yield, call protection and close to par.
Mom is, however, a woman that shops around and compares to make sure she is getting a good deal.

As the table above shows, mom's portfolio has a higher yield, a similar price and better call protection.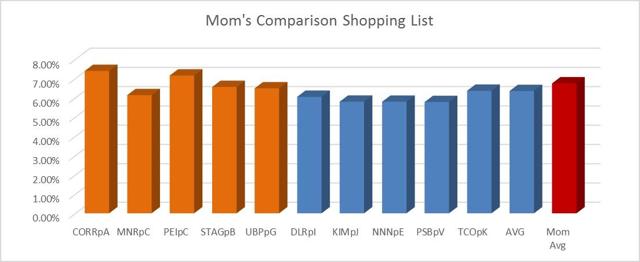 At the end of the day, the portfolio objectives will help decide your asset mix and your allocations. Mom has a lower risk tolerance and the portfolio should reflect that. The addition of REITs - preferred and equity - will help mom enjoy her days and sleep well at night. Oh yes, she can also enjoy her lemonade!
Check out The REIT Beat if you'd like to get more of my ideas, including early access to my highest-conviction REIT plays, access to Q&As with management teams, weekend REIT reports and more. We'd love to have you on board, so have a look.
Author Note: Brad Thomas is a Wall Street writer and that means he is not always right with his predictions or recommendations. That also applies to his grammar. Please excuse any typos and be assured that he will do his best to correct any errors if they are overlooked.
Finally, this article is free and the sole purpose for writing it is to assist with research, while also providing a forum for second-level thinking. If you have not followed him, please take five seconds and click his name above (top of the page).
Disclaimer: This article is intended to provide information to interested parties. As I have no knowledge of individual investor circumstances, goals, and/or portfolio concentration or diversification, readers are expected to complete their own due diligence before purchasing any stocks mentioned or recommended.
Disclosure: I am/we are long APT, ARI, BXMT, CONE, CORR, CCP, CCI, CHCT, CLDT, CUBE, DLR, DOC, EXR, FPI, GPT, HTA, HASI, KIM, LADR, LTC, LXP, O, OHI, QTS, ROIC, STWD, SNR, STAG, SKT, SPG, STOR, TCO, UBA, VTR, WPC, PEI, EQR.
I wrote this article myself, and it expresses my own opinions. I am not receiving compensation for it (other than from Seeking Alpha). I have no business relationship with any company whose stock is mentioned in this article.