Gilead (NASDAQ:GILD) reported Q4 earnings on 2/7. The market reacted poorly to the earnings news, as the stock fell from $73.13 at market close to $69.90 after hours 2/7, down 4%. The company beat their Q4 Normalized EPS guidance by $0.10, coming in at $2.70 vs. $2.60 estimates, but they missed Q4 GAAP EPS by $0.11, recording $2.34 versus $2.45 estimates.
As-reported earnings show a material downgrade in earnings in 2016, and a further material projected decline in Q1 2017, justifying the company's stock drop. However, Uniform Accounting (or Uniform Adjusted Financial Reporting Standards - "UAFRS") adjustments signal that GILD's earnings appear more promising. In the chart below, it is clear GILD's UAFRS-based EPS actually rose on the year to 2016, rising from $12.74 to $12.97, as opposed to as reported EPS which fell from $12.61 to $11.51. UAFRS EPS is projected to decline to $11.66 in 2017, but that is only a $1.08 drop from 2015 levels, while as-reported earnings, distorted by GAAP accounting issues, show a drop of $1.99 between 2015 and 2017.
It is not just in terms of the company's annual earnings that as-reported earnings overstate any fundamental decline in the business. On a quarterly basis, the trend of earnings looks much less concerning on a UAFRS basis, once accounting distortions are removed. For Q4, the trend actually is more negative on a UAFRS basis, with EPS having declined by $0.14, from $3.21 to $3.14. On the other hand, as-reported EPS only dropped by $0.05 from $2.75 to $.270.
However, in Q1 as-reported EPS are projected to decline by $0.49 to $2.21. UAFRS EPS is only projected to decline by $0.08 from $3.07 to $2.99. This highlights how as-reported numbers are exaggerating the degradation in the company's earnings, even in the face of the company's projected revenue decline in 2017 based on management's guidance.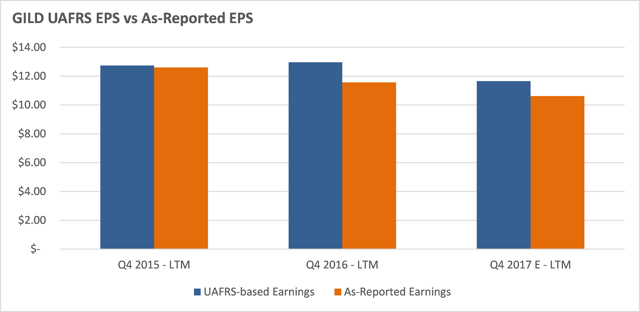 GILD is an excellent example of the distortions that arise from GAAP accounting, especially for biotech companies. As the chart above shows, traditional EPS metrics show a firm that has seen declining fundamentals and is going to see a continuation of poor results in 2016 going forward. UAFRS-based adjustments highlight that profitability actually has been robust for the company, but it is likely to decline in 2017.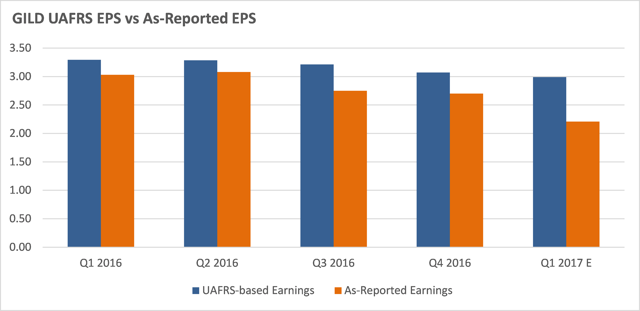 The quarterly results show a similar dislocation. Based on as-reported EPS, the company has seen a much greater decline and EPS volatility than UAFRS EPS shows once the distortions have been removed. Instead of seeing EPS decline from $3.08 in Q2 to $2.75 in Q3, it only declined by $0.07 in Q3 based on UAFRS adjustments.
Also, EPS did not rise from $3.03 to $3.08 from Q1 to Q2 before starting its decline, but rather was flat before fading. This artificial volatility created in as-reported earnings is highlighted, as stated before, I the projected decline in Q1, which UAFRS earnings show is overstated.
UAFRS call for removal of distortions from issues like R&D expense accounting. These are common in biotech companies. Once removed, it is apparent that real earnings have been stronger than as-reported EPS would suggest historically, and are likely to remain stronger going forward.
UAFRS vs. As-Reported EPS
Investors make major decisions about which companies to own based on quarterly company earnings, the most common metric mentioned in traditional corporate investment analysis.
However, more often than not, the earnings that companies report in any given quarter can swing wildly and lead investors to completely wrong conclusions, because GAAP and IFRS rules force management to reports results in ways that are unrepresentative of the real operating performance of the business.
While there is a case to be made that some management teams can use "creative accounting to adjust numbers, the research would show that more often than not, the real problem is with the accounting rules themselves, not management's use of them.
Impact of Adjustments from GAAP to UAFRS
One key UAFRS adjustment has the largest impact to GILD's income statement, to get from earnings to UAFRS-adjusted earnings. This is specifically related to R&D.
GAAP and to a lesser extent IFRS (which allows for capitalization of a portion of R&D expense) treat R&D investments as expenses, when in actuality these are investments in a company's future operations. They may be good investments or bad investments, but hard to think of R&D as cost of goods sold.
In the case of R&D expense, this is often a multi-year investment in a firm's future offerings. Expensing R&D violates the basic matching rule of accounting, that expenses should be recognized in the period the related revenue is recognized.
Expensing R&D can also dramatically increase earnings volatility, as the timing of R&D related to multi-year projects can create lumpy earnings volatility, distorting understanding of a company's real profitability.
UAFRS-reporting adjusts for these traditional accounting distortions by treating all R&D as an investing cash flow. This simple reclassification removes a tremendous amount of accounting noise related to investment activities and improves investors understanding of the operating earnings of a business
Valuations
GILD trades at a very inexpensive valuation, both on an as-reported basis, with P/E at 6.9x, or on a UAFRS-based P/E (V/E) basis, at 6.6x. This is below historic valuations for the company, including relative to last year, when as-reported P/E was 8.7x and V/E was 9.2x.
As-reported EPS shows an 18% decline in earnings in Q1 relative to Q4. Investors likely view this decline in profitability and believe this justifies the company's inexpensive valuation. However, considering EPS is only going to decline by 2.7% quarter over quarter once Uniform Accounting is applied and distortions are removed, this very valuation appears entirely too pessimistic, and GILD appears undervalued.
By using Uniform Adjusted Financial Reporting Standards, investors see a cleaner picture that distorted GAAP and IFRS metrics cannot show. By standardizing financial reporting consistently across time and across companies, corporate performance and valuation metrics improve dramatically. Comparability of a company's earnings over time, trends in corporate profitability and comparability in earnings power and earnings growth across close competitors and different sectors becomes far more relevant and reliable.
To find out more about Gilead Sciences Inc. and how its performance and market expectations compare to peers, click here to access the open beta of the Valens Research database.
Disclosure: I/we have no positions in any stocks mentioned, and no plans to initiate any positions within the next 72 hours.
I wrote this article myself, and it expresses my own opinions. I am not receiving compensation for it (other than from Seeking Alpha). I have no business relationship with any company whose stock is mentioned in this article.