We aren't going to get away from European politics for a while, but it is important to recognize that positive outcomes are at least as likely as the ones investors fear in 2017.
In my recent article on ING (NYSE:ING), I explained its ~16% discount to large U.S. banks by the political risks attending Europe, embodied in the rise of nationalism in party politics and the economic debate. The formal launch of her presidential bid by Marine Le Pen involved the publication of a complex plan for if she is elected including some mind boggling ideas about ending central bank independence and forcing domestic banks to lend at preferential rates to French firms.
Such ideas can lead to panicked feelings in any rational investor and in a financial sector specialist can induce feelings of light headedness. Frankly, it's impossible to say that the present level of PE discount for European banks is "right" even though it is easy to explain why it exists. Don't forget that not only is there this deep end tail risk in Europe deriving from politics, but the U.S. banks are looking at a powerful set of positive factors: an improving environment, sympathetic administration and for the domestically focused names a defensive quality given the potential disruption of Trump's trade stance. If Trump does inadvertently cause a currency crisis in China by attacking the U.S.-China trade deficit too aggressively where do you want to be in bank equity? Just thinking about this makes me reach for the reassuring embrace of U.S. Bancorp (NYSE:USB).
EU banks have been coming back since July 2016. Valuations already reflect improved market rates and healthier growth data as well as recovered oil prices. This chart shows Eurozone composite PMI over the last two years. The move from just over 52 through the spring and summer of 2016 to over 54 now is a material step up.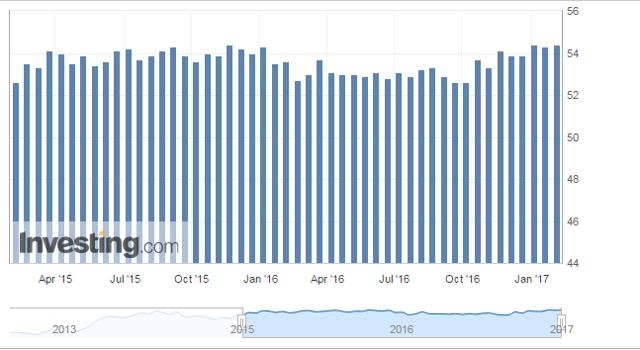 Where businesses have delivered the stocks have done well. ING for example troughed at €9.69 before the Brexit surprise put in a further dip to €8.55 and the stock now trades at €13.66, some 60% above the Brexit low and 41% above the prior low. In BNP (OTCQX:BNPQF), these numbers are 54% and 36%. ING is represented by the orange line and BNP the blue in the chart below.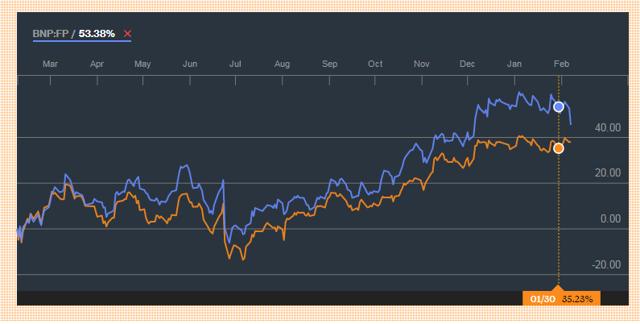 Bloomberg Data
So European banks have come back already and are in the grey area in terms of what they discount and the outcomes we will see. These stocks won't catch up with their U.S. counterparts yet, but there is no need to assume bad outcomes in the electoral politics for 2017 and sell these decent yielding and well run banks up here. The Brexit vote was fairly narrow (52/48) and might be reversed in a few years due to demographics. Trump's victory in the U.S., which has given encouragement to the likes of Le Pen in France, did not see him win the popular vote. Le Pen seems destined to make the run-off second round of the French election and lose handily. Austria rejected a far right candidate in its Presidential election and the Italian referendum on Constitutional reform, which pushed Matteo Renzi from power, was never about the EU or liberalism/nationalism. Europe has so far provided a robust rhetorical pushback against Trump's disparagement. It could well be that moderate electoral outcomes dominate this year and the EU survives before perhaps addressing much needed reform.
I like Deutsche Bank (NYSE:DB), ING and Danske Bank (OTCPK:DNKEY)
Disclosure: I am/we are long ING, DBK, DANSKE.
I wrote this article myself, and it expresses my own opinions. I am not receiving compensation for it (other than from Seeking Alpha). I have no business relationship with any company whose stock is mentioned in this article.
Editor's Note: This article discusses one or more securities that do not trade on a major U.S. exchange. Please be aware of the risks associated with these stocks.