Many oil and natural gas commodities related investments hit an ugly bottom at the end of 2015 and early 2016. The perfect storm of a rising dollar and a supply glut caused natural gas and many other commodities to lose over half their value. Any MLP, Royalty Trust or company tied to oil and gas got crushed.
As a Deep Value investor, I often search through the rubble of destroyed sectors. Deep Value Investing takes perspective and patience. For those interested in seeing how I make decisions, please read, "How To be a Deep Value Investor".
Atlas Resource Partners (NYSE:ARP), my favorite mistake to reference, went bankrupt due to excessive leverage. What I had thought was a deep value pick ended up being a value death trap. Unit holders of this MLP ended up with nothing. Look at what happened to ARP below. Notice when the blue line stops...that was bad. Luckily, I was long gone by then.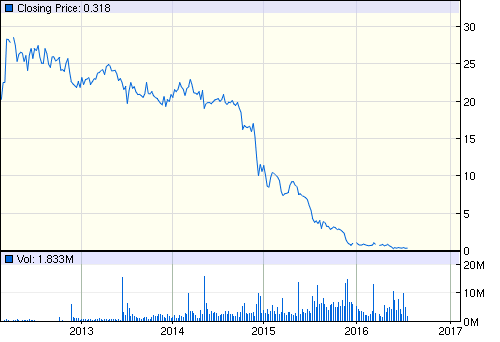 (ARP 2012-2017) Enough about ARP.
The United States Natural Gas ETF, LP (NYSEARCA:UNG) might have offered a safer way to get exposure to the natural gas and the chart reflects the overall sentiment and supply of the natural gas market over the last five years.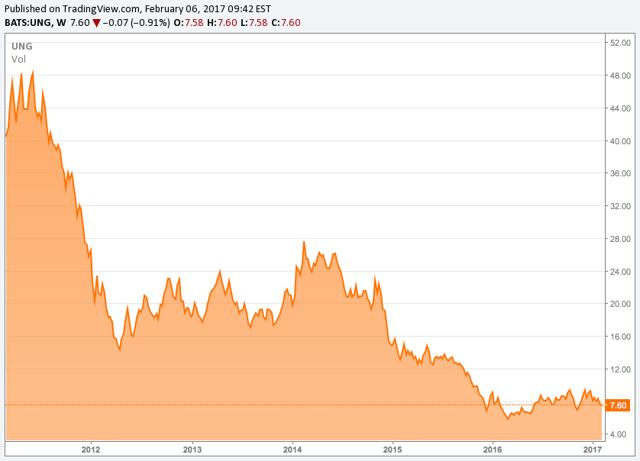 I believe that UNG might present a long-term opportunity but it is not my preferred method of getting exposure currently due to what I believe will be a continued short term glut.
Kinder Morgan (NYSE:KMI) experienced the same problems as many companies in the sector in 2015. That steep cliff in the chart below shows capitulation. At least KMI survived.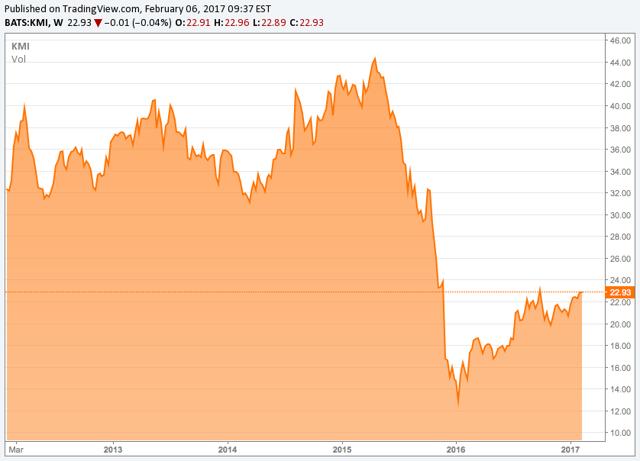 There has been a large rebound off of the bottom if you happened to time that perfectly but for those of us that did not I propose looking elsewhere.
Chesapeake Energy Corporation (NYSE:CHK) also has already seen a significant rebound over the last year and has rewarded deep value investors just as it had previously punished longterm holders.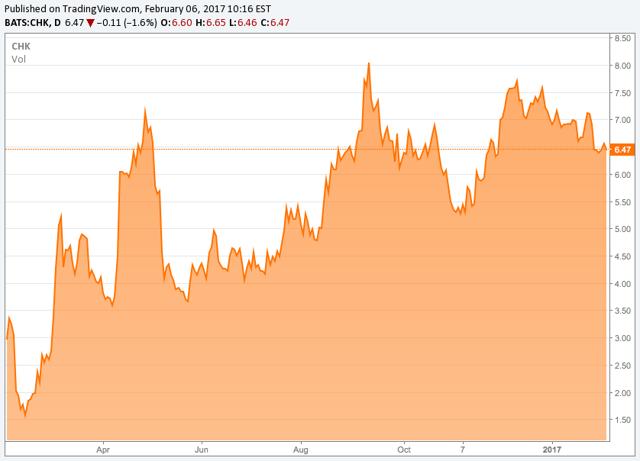 If you had bought CHK at around two dollars, you would be sitting pretty but now returns might not be as good in the future so I will pass. It is not what you buy but when and for how much that matters.
Supply of natural gas remains high according to this article and prices seem likely to stay low.
If you wanted to get safe long-term exposure to oil and gas, you could buy Exxon (NYSE:XON) or Royal Dutch Shell (NYSE:RDS.A) (NYSE:RDS.B).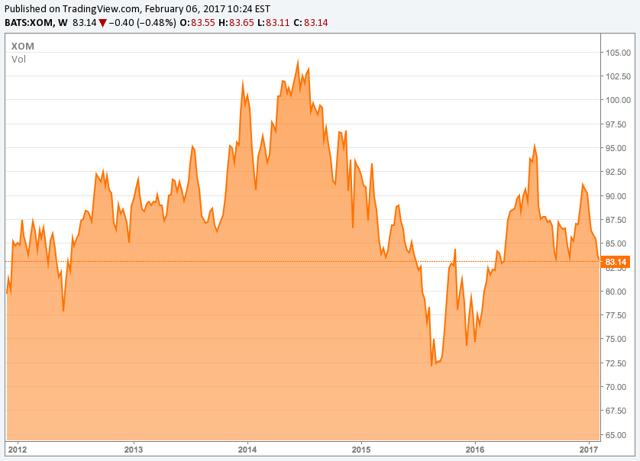 Exxon is a great company but ETF's and other mutual funds have kept the price high, I would prefer to buy something a little cheaper. I did buy some in early 2016 but now I will pass.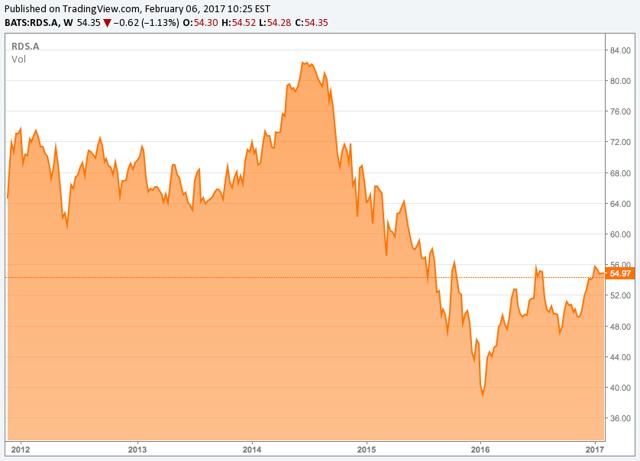 Royal Dutch Shell looks like it might be worth a look for an investor that wants safety but it does not present the upside that I am looking for currently so I will pass.
Having summarily rejected most of the sector as not presenting enough of a deep value proposition. I had to look elsewhere. In today's high priced market, you have to be willing to look for deep value.
Typically, I try to avoid complicated MLP's and Royalty Trusts because of tax considerations but I also try not to leave opportunities unexplored.
Many Royalty trusts have experienced great gains recently. In today's high priced market, you have to be willing to look for deep value.
San Juan Basin Royalty Trust (NYSE:SJT) has had a great year just look at the tape.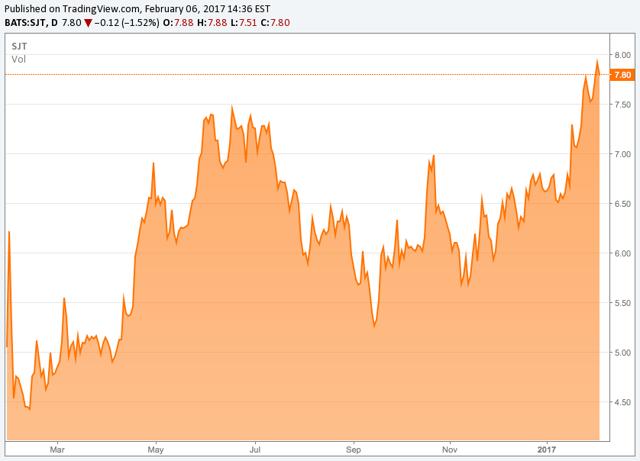 They are not alone. ECA Marcellus Trust (NYSE:ECT) also has had a good year although both might be too rich for my blood now. One could also argue that they still have a lot of recovery left.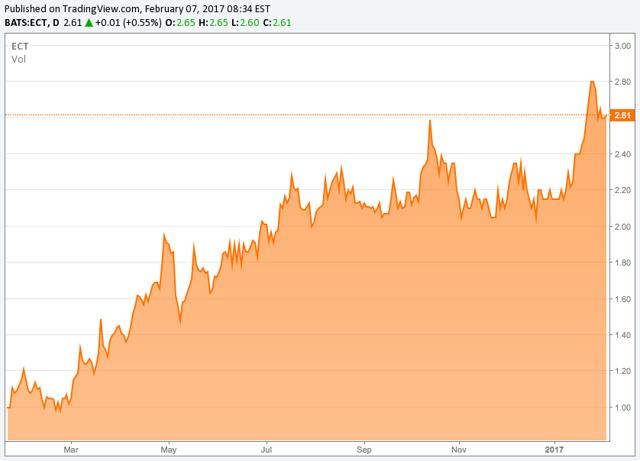 These royalty trusts are tied to commodities but they do not actually produce oil or gas. After the downturn in natural gas prices, many of these vehicles were all but forgotten.
Not every royalty trust has had a great run in 2016. My current pick is a thinly traded royalty trust that I stocktalked about on January 30 th 2017. If you don't follow stocktalks, you should.
Since I bought it, NRT has run up 10% but I think it still presents a great value. North European Oil Royalty Trust (NYSE:NRT) has lagged the sector over the past year but has great upside potential. Let's go to the tape.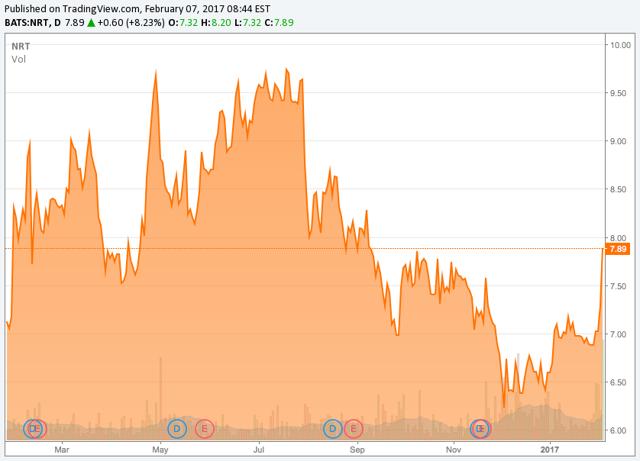 Here is a description of NRT from their website.
North European Oil Royalty Trust (the "Trust") was organized in 1975 as the successor entity to North European Oil Corporation and North European Oil Company. Since November 11, 1981 the units of beneficial interest of the Trust have traded on the New York Stock Exchange, originally under the symbol "NET" but since January 29, 2002 under the symbol "NRT." Unlike many of these types of financial vehicles, The Trust has not issued and does not issue any debt or equity securities other than units of beneficial interest and, pursuant to the Trust Agreement which created the Trust, the Trust is not permitted to do so."
Here is a look at their distribution history as shown on their website. www.neort.com/trust.html.
Total for 2016-
$0.67
Total for 2015-
$1.27
Total for 2014-
$1.95
Total for 2013-
$2.25
Total for 2012-
$2.46
Total for 2011-
$2.63
Total for 2010-
$2.04
Total for 2009-
$3.01
Total for 2008-
$3.66
Total for 2007-
$2.91
Total for 2006-
$3.28
Total for 2005-
$2.22
Total for 2004-
$1.59
Total for 2003-
$1.95
Total for 2002-
$1.89
Total for 2001-
$2.46
Total for 2000-
$1.56
Total for 1999-
$1.17
Total for 1998-
$1.54
Total for 1997-
$1.51
Total for 1996-
$1.04
Total for 1995-
$1.43
Total for 1994-
$1.01
Total for 1993-
$1.22
Total for 1992-
$1.55
Total for 1991-
$1.49
Total for 1990-
$1.41
Total for 1989-
$1.03
Total for 1988-
$1.29
Total for 1987-
$1.80
Total for 1986-
$2.42
Total for 1985-
$1.90
Total for 1984-
$1.56
Total for 1983-
$2.22
Total for 1982-
$2.47
Total for 1981-
$1.69
Total for 1980-
$4.55

Total for 1979-

$4.07
Total for 1978-
$3.06
Total for 1977-
$1.92
Total for 1976-
$1.50
If NRT is ever able to pay a distribution closer to its historic average, the Royalty Trust should return to its historic value which I place somewhere above 20 dollars. A patient investor should be able to hold units, collect distributions, and eventually sell for a large profit. It is possible that holding and collecting the distribution over the long-term might be the best call.
Currently, NRT's distribution is yielding around 6.3%, which is not bad. Other reasons why I like NRT:
No Debt No Debt No Debt (So it will not go the way of ARP)
Get paid 6.3% to wait for a commodity recovery
NRT did not participate in the 2016 recovery
I see increased reliance on natural gas from 2018 onward
Low costs
Will not issue new units
NRT is not without risks:
If the Oldenburg reserve runs out of gas…you will get nothing and the royalty will be dissolved (the royalty only passes along profits it owns no assets)
Difficult to determine how much gas is left in these reserves
Germany could pass legislation preventing or limiting further gas production
Nat gas prices could remain low for a long time and this could cause unforeseen problems
Legal actions against the operator could unduly harm the trust
Operators could stop drilling due to lack of profit, which would eliminate distributions.
NRT presents a good value at today's prices as long as gas reserves hold out in the region. Any natural gas recovery will cause the distribution to rise. In my opinion, the rewards outweigh the risks. I see an upside of over $20 per unit if you are willing to wait. The good news is you get paid to wait. As always, please share your thoughts on NRT or other ideas in the sector.
Good Luck Investing, thanks for reading and all the best.
Disclosure: I am/we are long NRT, XON.
I wrote this article myself, and it expresses my own opinions. I am not receiving compensation for it (other than from Seeking Alpha). I have no business relationship with any company whose stock is mentioned in this article.
Additional disclosure: NRT is a royalty trust so check with your tax advisor on the impact of buying it. As always do your own due diligence. When you buy any position it becomes your responsibility.
Editor's Note: This article covers one or more stocks trading at less than $1 per share and/or with less than a $100 million market cap. Please be aware of the risks associated with these stocks.