We are adding Intercept Pharmaceuticals (NASDAQ:ICPT) to our model portfolio as the next investment. Intercept's common stock price has pulled back after the approval of its flagship product, Obetocholic acid (OCA) for Primary Biliary Cirrhosis (PBC) in the U.S. last year. The company has several upcoming catalysts, which could add to the stock price upside.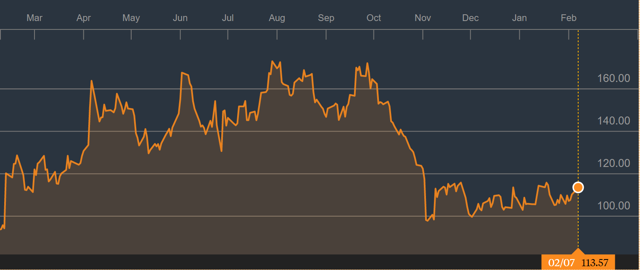 (Intercept Pharmaceuticals: Common stock price chart. Source: Bloomberg)
OCA sales in PBC are gaining momentum:
OCA received accelerated approval from FDA in 2016 to treat PBC (not responding to the standard of care). OCA was also approved for the treatment of PBC in the E.U. in 2016 end, which could further add to its sales. The number of PBC patients under treatment is estimated at about 100K (U.S., E.U., Australia, New Zealand). About 30% of these patients are not adequately controlled on the standard of care, and are candidates for OCA.
The estimated number of these patients (target for OCA) is about 30,000 (half of which are in the U.S.). Our forecast for 2017 OCA sales in this clinical indication is $38.7 million. Our peak OCA sales estimate (U.S.+E.U.) in this clinical indication is $654 million (in 2033 at patent expiry).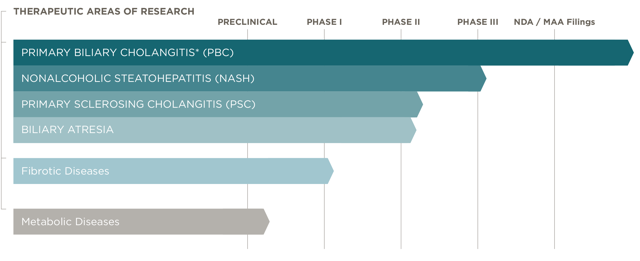 (Intercept Pharmaceuticals: Product pipeline)
OCA could receive accelerated approval for the treatment of non-alcoholic steatohepatitis (NASH) with liver fibrosis based on surrogate end-points in interim analysis of the Phase 3 REGENERATE trial:
OCA has shown the highest liver fibrosis reversal in a Phase 2 clinical trial among all NASH product candidates so far (35% patients in Phase 2 FLINT trial). It has FDA Breakthrough therapy designation in this indication. Moreover, OCA has shown clinical efficacy to reverse fibrosis even in advanced stages, and has shown promise to even reverse cirrhosis.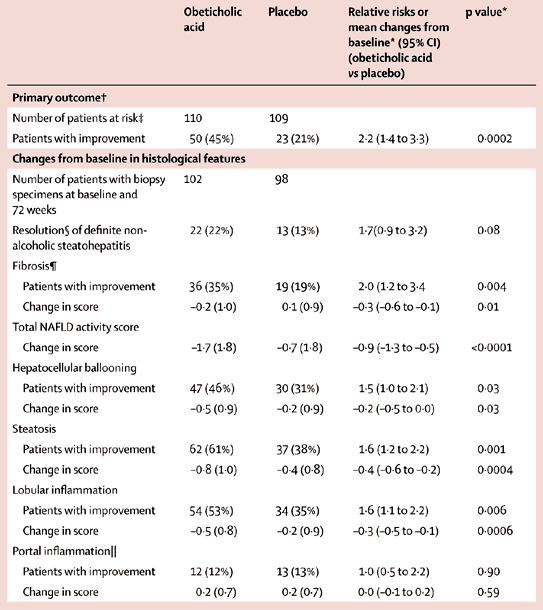 (Phase 2 FLINT trial in NASH: Change in histological features of the liver after 72 weeks of treatment. Source)
Post-hoc analysis of FLINT trial has shown that the LDL cholesterol elevation seen with OCA therapy plateaus while on statin therapy. We expect most NASH with liver fibrosis patients who qualify for OCA therapy to be already on statin therapy (NASH results due to metabolic syndrome). Results of the ongoing Phase 2 CONTROL trial will be announced in 2017 and will show more information on effect of OCA on lipid profile in NASH patients when combined with statin therapy.
We expect the target NASH population for OCA as NASH patients with liver fibrosis and cirrhosis (about 15 million patients in the U.S. alone). We expect OCA to the be the first approved NASH drug in the U.S. (2019) and thus have a first mover advantage in gaining market share in this market, which could reach $40 billion/year (including early NASH and NASH with liver fibrosis/cirrhosis). We expect some interim data from the ongoing pivotal REGENERATE trial to be announced at the AASLD meeting (October 2017).
We also expect Intercept Pharma to seek accelerated approval from FDA for OCA in NASH (with fibrosis) based on surrogate end-points or interim data. There is no FDA approved therapy for NASH, which is considered as the number 1 cause for liver transplants. With the recent change in FDA administration and the friendly Trump administration policies, we consider a strong probability that FDA will provide accelerated approval to OCA for this indication.
At 15K/year/patient, our cost estimate in this indication are in line with those for PCSK9 inhibitors. Considering the wide prevalence of NASH, we doubt that OCA will be priced as high as $70K/year (the annual cost for OBC indication) in NASH indication. Our peak sales estimate for OCA in this indication is $1.13 billion (in 2033 at patent expiry).
Intercept is an attractive acquisition target for big pharma:
Big pharma has shown a strong interest in partnering with or acquiring promising NASH assets. Allergan (NYSE:AGN) acquired Tobira Therapeutics (NASDAQ:TBRA) after offering one of the highest takeover premiums ever (Tobira was an open position in our model portfolio which we sold for a 720% gain in a few months. Novartis (NYSE:NVS) partnered with Conatus Pharma (NASDAQ:CNAT) in December 2016 for its NASH pipeline.
Not only has OCA shown strong promise in reversing advanced liver fibrosis in NASH, Intercept is also developing OCA in Primary sclerosing cholangitis (PSC) and is developing INT-767 (a dual FXR+TGR5 agonist) which is in a phase 1 trial in NASH. One possible acquirer for Intercept Pharma could be Gilead (NASDAQ:GILD), which has itself a promising NASH pipeline and is looking for acquisitions to boost its future revenue.
Financials and valuation of the common stock:
Intercept is well-funded with about $780 million in cash reserves and short-term investments. It has long-term debt of about $338 million (convertible notes).
To value OCA in PBC indication in the U.S., we used inputs of: annual drug price = $70K/patient/year, target market = 15K patients (prevalence) + 131 new patients/year (incidence), 32% market penetration in 2021, then slow down to reach peak about 50% market penetration in 2033 (patent expiry) and modeled peak $553 million of risk-adjusted revenue in the U.S. (2033).
To value OCA in PBC indication in the E.U., our inputs were: $35K/patient/year, target market = 10K (prevalence) + 200 new patients/year (incidence), 32% market penetration in 2022 and then slow down to reach about 48% in 2033. Using these inputs, we modeled peak $101.1 million in risk-adjusted revenue in 2033. We also adjusted the number of patients treated per year in the U.S. and E.U. by the discontinuation rate due to pruritus (8%). Our peak risk-adjusted revenue forecast is $654.1 million in the U.S. + E.U. combined (2033) for PBC indication.
To model OCA in NASH (with fibrosis) in the U.S., our inputs were: $15K/patient/year, target market = 15 million, 56% probability of reaching the market (61% probability to pass Phase 3, and 92% probability to pass NDA, average for GI drugs), 5% market penetration in 2023 (2019 launch), then slow down to reach peak about 7.5% market penetration in 2033 and adjusted for 8% patient discontinuation rate due to pruritus. Our peak risk-adjusted revenue forecast in this indication is $1.1 billion (2033).
We modeled risk-adjusted NPV of future revenue from the above mentioned indications = $1.93 billion (15% cost of capital till 2023, then 12% for next 5 years, then 10%). We calculated the fair enterprise value = $4.15 billion and the fair value for equity = $3.75 billion. Using diluted share count, our fair value estimate for the common stock is $140 (our first price target). Subscribers to the premium research service can download the DCF valuation model.
Risks in the investment:
It is possible that the ongoing clinical trials in the above-mentioned indications may fail, regulatory agencies might not approve the products, unexpected side effects might be seen in the future, clinicians might not widely prescribe the products or insurers might not reimburse them. Competing products from other companies might gain significant market share in the planned clinical indications. The company may also need to raise additional capital in future.
Conclusion: Our first price target for the common stock is $140. We haven't added NASH revenue in the E.U. or revenue from the PSC indication, which could add further upside. Some sell-side analyst estimates for peak OCA revenue in NASH are as high as $3-5 billion.
Note: To get more investment ideas like this as soon as they are published, click on my profile and hit the big orange "Follow" button and choose the real-time alerts option.
Premium Research Service:
Get more investment ideas like this by subscribing to Vasuda Healthcare Analytics, our premium equity research service (listed in Seeking Alpha's Marketplace). Subscribers have earlier access to the research reports, can download the valuation models/spreadsheets in the research reports and have access to the model portfolio (with price targets and suggested allocation) and a contrarian portfolio.
Few investment ideas are exclusively limited to subscribers. Subscribers also have access to an active chat room with useful insights from myself and other active traders/investors. There is extensive coverage of companies with upcoming catalysts (trial results, etc.).
Free 2-week trial to the service is available for a limited time only (limited to 25 free trial spots only).
Disclosure: This article represents my own opinion and is not a substitute for professional investment advice. It does not represent solicitation to buy or sell any security. Investors should do their own research and consult their financial adviser before making any investment.
Disclosure: I am/we are long ICPT, AGN, GILD, CNAT.
I wrote this article myself, and it expresses my own opinions. I am not receiving compensation for it (other than from Seeking Alpha). I have no business relationship with any company whose stock is mentioned in this article.