After writing an article discussing how Berkshire Hathaway (BRK.B, BRK.A) stands to benefit from proposed corporate tax reform and potential changes to its accounting methodology for Kraft Heinz (NASDAQ:KHC), several readers followed up and asked me to provide an update on intrinsic value, an amount that I now estimate to be modestly in excess of $200 per Class B share. Given Berkshire's unique structure as an operating company with a massive investment portfolio, common valuation methodologies such as price-to-earnings, free cash flow, and EV/EBITDA are relatively unhelpful. Therefore, I will discuss Berkshire's valuation in relation to the two-column method disclosed in the Annual Report, "look-through" earnings, as well as price-to-book value. All three valuations, by my calculation, support an equity valuation between $200 and $215 per share, or in excess of 25% upside at the midpoint. These calculations make no allowance for a lower corporate tax rate, which would present significant additional upside.
In his annual letter to shareholders, Buffett discloses two non-GAAP measures as crucial for understanding intrinsic value: cash and investments per share and pre-tax income, net of investment earnings. At the end of 2015, Berkshire had cash and investments of $106.53/share and pre-tax earnings $8.20/share (to convert to A shares multiply by 1,500). Fund manager Whitney Tilson previously conducted an excellent analysis by reverse engineering Buffett's valuation-oriented comments and the then-current share prices to infer that Berkshire's fair value is the sum of its cash and investment plus a multiple of pre-tax earnings (in this case, Tilson uses 10x). Using this approach as a rough guide, Berkshire's 2015 intrinsic value would have been around $188 per share, or $106.5 + ($8.20*10). Note that when I try to recreate Buffett's cash and investment per share calculation, as disclosed in the annual letter, I come up ~$2/share lower, suggesting a small omission on my part.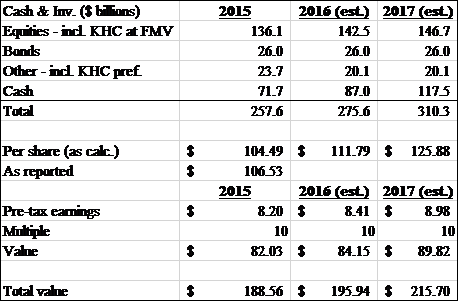 Moving forward, I estimate that Berkshire's cash and investments increased to $112 per share at the end of last year (we will have exact numbers in a few weeks) and will approximate $126 by the end of 2017. Importantly, this assumes the market is flat for the rest of the year (the portfolio has already appreciated by several billion YTD), no additional companies or securities are acquired, and includes $9.8 billion AIG (NYSE:AIG) will pay Berkshire in a reinsurance agreement. For the reported periods in 2016, Berkshire's pre-tax non-investment income from operating businesses is up around 3%. This is a disappointing figure as it includes both newly acquired Precision Castparts and Duracell. However, pre-tax earnings at Burlington Northern, Berkshire's most profitable subsidiary, were off by nearly $1 billion in the first three quarters of 2016. I do not expect this to repeat as BNSF's car loadings started to rebound at the end of 2016 and are up strongly to start 2017. For this reason, alongside modest economic expansion, I expect y/y earnings to increase by ~7% in 2017. Therefore, by applying the two-column method with a 10x multiple on this year's pre-tax earnings, we derive an intrinsic value of ~$215 per share.
The next methodology, "look-through" earnings, supposes that all of Berkshire's investments are accounted for as if they were operating subsidiaries. For example, consensus estimates for IBM (NYSE:IBM) in 2017 are currently $13.80. Of this $13.80, Berkshire only recognizes IBM's dividend of $5.60 as income. In this instance, the difference between what Berkshire's books as earnings and its proportional claim on investee income is roughly $700 million. For Berkshire's entire portfolio, net of Kraft Heinz, which is already functionally accounted for as a subsidiary, the difference between earnings and dividends balloons to around $5 billion (again, using consensus estimates on Berkshire's portfolio as of 9/30/16 with the inclusion of recently acquired DOW common shares).
The fact that the earnings Berkshire does not report actually create value seems to create some confusion among investors, who often point out that Berkshire trades at a high price-to-reported earnings ratio. Perhaps the clearest way to demonstrate the value of these non-reported earnings is the fact that Berkshire's investment portfolio has current unrealized gains, including Kraft Heinz at fair market value, well in excess of $60 billion, none of which has ever been reported on the income statement. Clearly, the use of these retained earnings to grow the business, repurchase shares, repay debt, etc. has created value, value that Berkshire can easily crystallize by selling appreciated securities.
To derive the look-through valuation, I sum my estimated after-tax operating earnings (excluding amortization of intangibles), investment income, and retained earnings from investees to derive total earnings of approximately $26 billion. To this, I apply a 15x multiple to derive a value $385 billion. Additionally, I add excess cash, net of a $20 billion holding requirement, and net derivative assets for a total value of $492 billion, or $200 per share. Note that if we apply the current S&P multiple on 2017 earnings of 17.4x, this valuation increases to $225/share.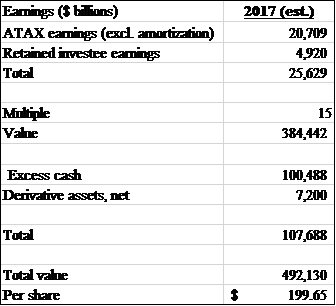 The final methodology, book value, is relatively straightforward. Assuming investment portfolio is flat for the rest of the year, I estimate that shareholders' equity will approximate $310 billion. To this, I add $9 billion, reflecting the after-tax difference between Kraft Heinz's holding value and the fair market value of the shares. The sum, $319 billion, equates to book value per Class B share of $129.30. Applying Berkshire's historical price-to-book multiple of 1.57x generates a value of $203 per share.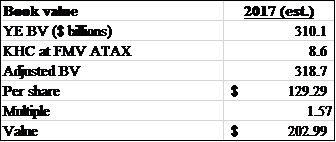 All of these approaches have their relative strengths and weaknesses. For instance, neither the two column method or look-through earnings make adjustments for the quality of earnings and their commensurate earnings multiples. As an example, earnings from Berkshire's pipelines or utilities businesses would likely garner a higher multiple than its cyclical industrial subsidiaries or, when examining look-through earnings, certain equity investees such as IBM or GM (NYSE:GM). By using a 15x multiple for the look-through analysis and 10x in the two-column method, I try to acknowledge that there are businesses both of above and below average quality and embed a measure of conservatism. Book value is also a flawed measure. As wholly-owned non-insurance businesses have become more important to Berkshire's overall valuation, the difference between their holding value on the balance sheet and their fair market value has also increased - Kraft Heinz gives us a concrete example of this phenomenon. This implies that, holding all else constant, Berkshire's price-to-book multiple should increase over time. To adjust for this, I calculate intrinsic value as a multiple of forward book value, opposed to a trailing number on which the 1.57 average was generated. Clearly, no methodology is perfect or entirely accurate.
Despite the fact that all of these measures have weaknesses, they more or less reach the same conclusion - Berkshire's current intrinsic value is likely at or above $200 per share. Moreover, none of the upside in the calculation is derived from making heroic assumptions about acquisitions, appreciation of the investment portfolio, earnings growth from a vastly improved economic backdrop, tax reform, or unrealistic earnings multiples.
Disclosure: I am/we are long BRK.B.
I wrote this article myself, and it expresses my own opinions. I am not receiving compensation for it (other than from Seeking Alpha). I have no business relationship with any company whose stock is mentioned in this article.