Only five years after its IPO, Facebook (NASDAQ:FB) is showing early signs of approaching maturity. Growth investors, however, should not be too concerned about it.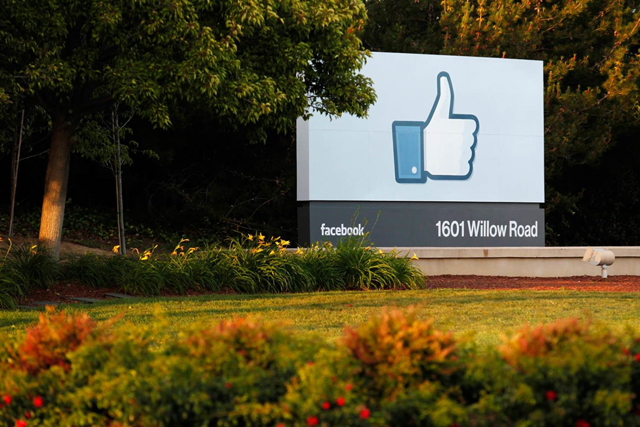 Credit: NBC News
First, it is true that ad load is projected to cool down later in 2017 and that the user base needs to start growing at a slower pace eventually. But I remind readers that a company cannot continue to increase its top line at over 50% indefinitely. Second, the upcoming revenue growth slowdown comes accompanied by positive, partly offsetting factors that should not be ignored. Monetization opportunities and a more conservative stock valuation are a couple of them.
On monetization
The graph below illustrates Facebook's historical MAU (monthly average user) and ARPU (average revenue per user) YOY growth. Notice how MAU has increased consistently for the past several quarters, but at a mid-teen level. Meanwhile, ARPU growth has remained very strong, mostly above the 30% mark.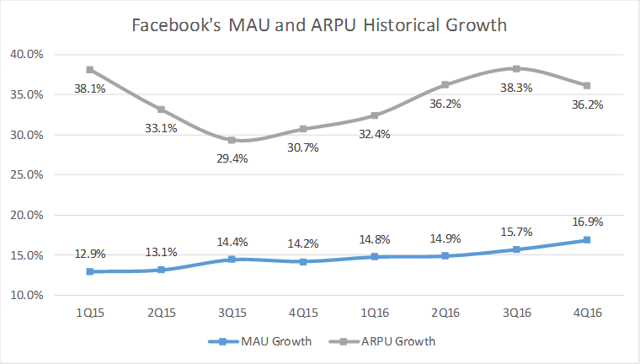 Source: DM Martins Research, using data from company's SEC filings
As I have argued in the past, user growth is only likely to decline over time as Facebook's platforms reach scale. If you don't agree, think about the math behind it: should the current MAU growth rate of about 17% remain constant, Facebook would have the whole world teenage and adult population who live above the poverty line logging into its platforms at least once a month by as early as the end of 2020 - a very unlikely scenario. I expect, therefore, the blue line above to soon turn the other direction and start to dip slightly but consistently.
I believe, however, that Facebook still has plenty of opportunities to execute on monetization initiatives (i.e. to further increase ARPU), ideally enough to counter an eventual decline in user base growth and ad load.
Per Facebook's most recent earnings call, video continues to be a major driver of user engagement on the platform. COO Sheryl Sandberg explained that "as consumer video has grown in News Feed, it has given (Facebook) that opportunity for video ads because the format of the ads fits the format of what consumers are doing."
Should video ads catch on with marketers and prove to generate superior ROI, this could serve as a catalyst to boost Facebook's stale per-ad pricing. As a reminder, ad price increased only 3% in 4Q16, vs. a not-so-exciting 6% in 3Q16 and 9% in 2Q16. With a slowdown in ad load (which has hovered around 50% growth each quarter in 2016), strength in ad pricing would be very welcome and might help to soften the slowdown in ad revenue expected for later this year.
On valuation
Another tell-tale sign that Facebook is approaching "adulthood" is the stock's valuation. The first graph below illustrates the inverse relationship between Facebook's stock price and the TTM (trailing twelve-month) P/E over the past 36 months. As share prices have gone up, valuation has come down significantly.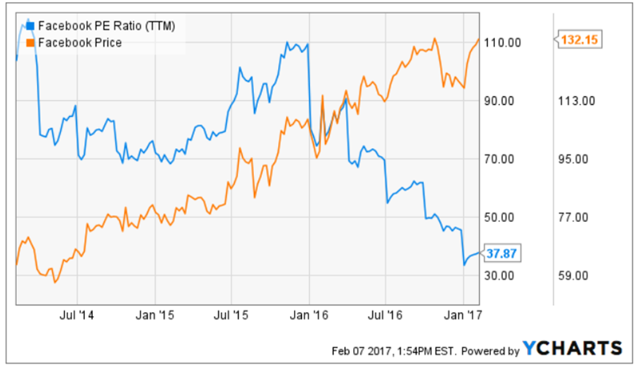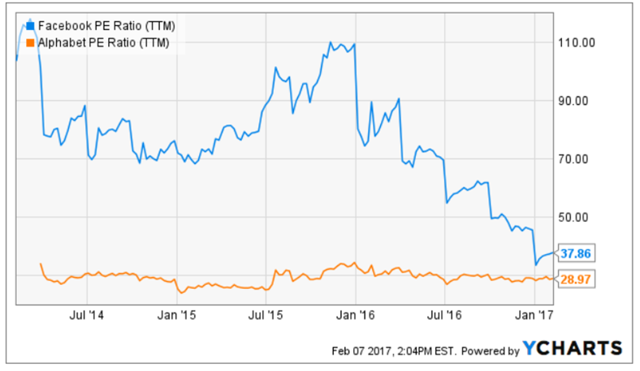 Source: YCharts
FB traded above 30x forward P/E just about a year ago. At that moment, TTM P/E exceeded 70x, and consensus EPS estimate for 2016 was a timid $3.14. Today, after the company delivered four very solid quarters back-to-back, producing $4.23 in EPS last year that handily beat expectations, TTM P/E has fallen sharply to 37.9x and forward P/E sits at only 24.5x - not much higher than Alphabet's (NASDAQ:GOOG) (GOOGL) or Microsoft's (NASDAQ:MSFT) multiples.
The second graph above compares FB's to GOOG's trailing P/E, and shows how they have been converging fast. Both graphs tend to suggest that FB is slowly starting to be valued like a relatively more stable and mature tech name, even if EPS is still expected to grow at a healthy 25% annual pace over the next couple of years.
Takeaway
If on the one hand expectations for top-line performance in 2017 have been more modestly set, on the other hand a more conservative valuation multiple has shaved off some of the risk of owning the stock today. In addition, I believe Facebook has enough levers that it can use to push for better ad pricing, increased ARPU and possibly counter the effects of a slowing MAU base and ad load.
Facebook is entering a very interesting phase of its business life: it still has enough drivers to sustain solid top- and bottom-line growth, while shares start to be priced less like an aggressive growth stock. To me, this might be FB's sweet spot.
Note from the author: follow me as I build a risk-diversified portfolio designed and back-tested to generate market-like returns with lower risk. I call it the Storm-Resistant Growth portfolio. The very early results have already exceeded my expectations. Take advantage of the 14-day free trial, and get immediate access to the content and the community.