One of my favorite asset classes since starting in the financial services industry has been water. While many people look at it as a one off investment, or perhaps as something that belongs strictly in an impact or socially responsible investment portfolio, I look at water as a core asset class.
Approximately 18 months ago I wrote about a water centric mutual fund, the Allianz Global Water Fund (MUTF:AWTAX) (MUTF:AWTIX) in the article titled "AllianzGI Global Water Fund: A Better Way To Invest In Clean Water."
In that article I outlined the investment case for water and water related companies.
While approximately 70% of our planet is covered by water, more than 97% of it is non-potable seawater. Most of the freshwater is contained in the polar ice caps. The rest is found in rivers, lakes and aquifers, which can be hard to access and is increasingly placed at risk of contamination. As per the World Health Organization, less than 0.007% of all the water in the world is potable, or safe for consumption.

The investment case is the limited supply, rising demand and a worsening situation that is yet to come.
Source: "AllianzGI Global Water Fund: A Better Way To Invest In Clean Water."
For whatever reason, while water as an investment was heading mainstream prior to the Great Financial Crisis, it has not gotten as much attention or investor appetite since.
It is unfortunate to think about it since clean water is perhaps the most important resource to human life, far above oil, natural gas or precious metals. Yet while there are hundreds if not thousands of investment products energy and metals, you can count on two hands the publicly available investment options to invest in clean water.
In the mutual fund world your options are either the mentioned Allianz Global Water (MUTF:AWTPX) (MUTF:AWTCX) or the Calvert Global Water funds (MUTF:CFWAX) (MUTF:CFWCX) (MUTF:CFWIX) (MUTF:CFWYX). On the ETF side you have the original PowerShares Water Resources ETF (NASDAQ:PHO) and the Guggenheim Global Clean Water ETF (NYSEARCA:CGW). PowerShares also added the global version of PHO with the PowerShares Global Water ETF (NASDAQ:PIO). First Trust, a name that is popular in the professional community but completely overlooked in the retail marketplace also has a solid ETF offering with the First Trust Water ETF (NYSEARCA:FIW). Finally both Guggenheim and First Trust offer water themed unit investment trusts that are typically available for new investments.
Short of putting together your own portfolio, these were your only options.
Fortunately, I was pleasantly surprised to learn about a new offering while reading the November issue of ETF Report, the Summit Water Infrastructure Multifactor ETF (NYSEARCA:WTRX), and from the looks of it, this one is different. Let's Dive In.
Fund Basics
Sponsor: Summit Water Capital Advisors
Index: Summit Zacks Global Water Index (ZAXWTRX)
AUM: Approximately $3.93 Million
Historical Style : Global Midcap
Investment Objectives: Seeks long term capital appreciation by investing in water related investments
Number of Holdings: 44
Current Yield: 0%, Recently Launched
Inception Date: 08-08-2016
Fees: .80%
Source: YCharts & Summit Water ETF fact sheet
Why This Fund
My regular followers will know my investment mantra by now. I look for active management that works and we look to buy when the investments are trading at a discount. Since closed end funds are typically the only publicly traded investment vehicle that satisfies both criteria and because there are no water focused closed end funds, our water investments have typically been either via mutual funds or unit investment trusts.
I have avoided the three big ETFs, and because I did not think that simply throwing money at a bunch of water utility companies was the most effective way of getting exposure. More importantly with an asset class such as water, we would expect to find the alpha as we go further down the market capitalization, into the mid and small cap stocks. While the large cap markets are fairly efficient and a tough place for managers to consistently generate alpha, the smaller capitalized markets are full of inefficiencies and opportunities to outperform the broader indexes.
What makes the Summit Water ETF attractive is that it seeks to bring a strategy to this asset class with all of the benefits of ETF investing that we have come to like and trust (transparency and diversification in one ticket).
The Underlying Index utilizes a transparent, rules-based methodology to incorporate fundamental factors that have been strong historical indicators of the long-term performance of water equities. The Underlying Index is comprised of approximately 30 to 50 equities selected from a stringently defined universe of global water companies, and is rebalanced on a quarterly basis to incorporate the latest financial data into the screening process. The Underlying Index methodology was designed by Summit Water Capital Advisors, the index creator, in conjunction with Zacks Index Services (the Index Provider), the index provider, through rigorous testing to determine the Three-Factor Model most relevant to company valuation and profitability in the global water industry.
Source: Summit Water ETF Fact Sheet
The "Three Factor Model" is what peaked my curiosity.
The Index & The Fund
The index and therefore the fund start by searching the markets for water related companies and screen out for knockout factors.
Possible Index constituents must have a market capitalization of more than US$200 million and have a three-month average daily trading value greater than US$400,000. Out of more than 400 publicly listed water companies worldwide, currently approximately 95 companies meet the water content and trading criteria to be considered as possible Index constituents.
Source: Summit Water ETF Website
Next, the 95 or so companies are broken down into the water utilities and the water industrial categories.
At this point, Summit's and Zack's methodology is applied to the companies to screen out for the top 50% in each category.
For the water utilities, the "Three Factor Model" is as follows.

Source: Summit Water ETF Website
For the water industrials, the model is slightly different.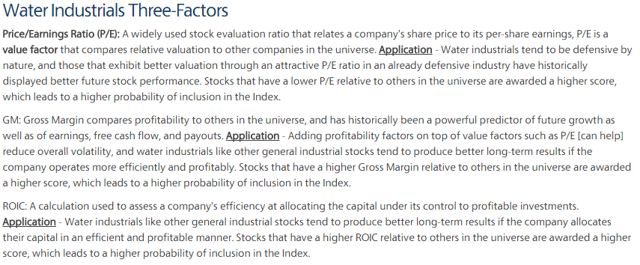 Source: Summit Water ETF Website
Once the top 50% are selected for each basket, the index weighs the utilities to 35% of the portfolio with the remaining 65% going to the water industrials.
The top 25 of the current portfolio then looks like this.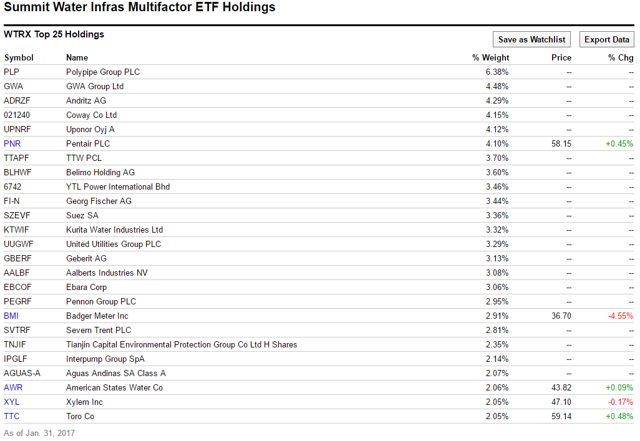 Source: YCharts
Performance
Because the fund has been around slightly longer than half a year, we have a limited track record against which to judge the fund. In either case, we do have some metrics we can take a look at.
First, lets take a look at the fund versus its ETF peers. YTD all 4 ETFs are within 1% of each other, with the Summit fund at 2.65%.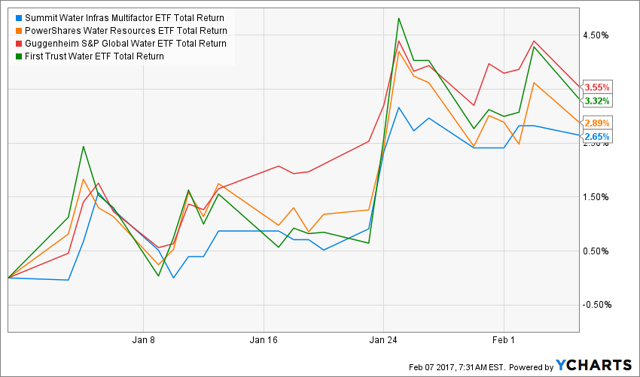 Since inception the fund has returned a modest 3.03%. Interestingly it was ahead of the three other funds through middle of November, at which point the First Trust Water ETF left the others in the rear view mirror.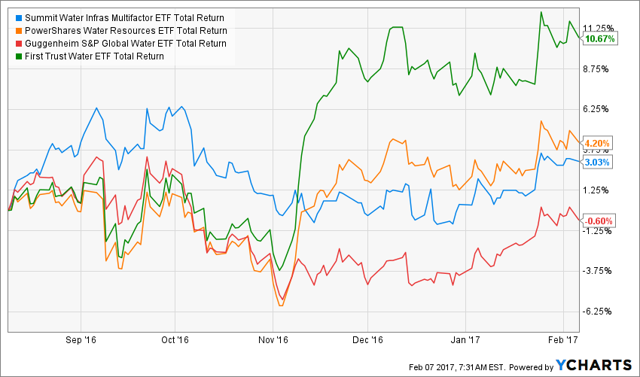 Over the longer term time frame, I expect the Summit ETF to perform close to the First Trust ETF since the portfolio makeup market capitalization wise is quite similar.
Our Take & Bottom Line
Being a semi active investment, I do not need to be sold on the fund. I already "get it."
I like the asset class and believe it is a viable long term theme that will be around for generations. I am also a fan of focusing on the fundamentals for the constituents that make up the portfolio.
The fund's expense ratio is a bit on the higher side, however it is inline with other active or smart beta investments.
For someone who is a fan of index or passive investing, this fund needs to be seriously looked at and considered. Since it has just launched, I do not know how comfortable I would be investing in the fund quite yet considering it has only raised about $4 million. Please know though that just because the fund has a mere $4 million does not make it bad. One thing I know about this industry is that it is immensely difficult to raise capital, particularly for a new fund. If the fund does not raise meaningful capital in the future, I would start questioning the long term viability of this investment. Companies will only support the fund financially for so long before they cut their losses.
For someone who is a fan of active investments in search of alpha, this fund can be looked at in conjunction with other active water investments such as mutual funds or the two unit investment trust series.
One fund that we did not discuss in detail but which I believe should also be on your due diligence list is the First Trust Global Water ETF. I have not previously looked at it too deeply but after looking at it as part of the due diligence process for this article, I will be looking at it next.
Overall, I am a fan of this fund and will be following it closely. I will end this article with a quote I found on Summit's website...
"When the well's dry, we know the worth of water."
- Benjamin Franklin
More information on this ETF is available at the fund's website.
I believe in active management that works, and I am here to help you find those opportunities. Please follow me here on Seeking Alpha as we look for those opportunities and sort out the good managers from the mediocre. Simply click the "Follow" button next to my name at the top of the article or on my profile page.
Disclosure: I/we have no positions in any stocks mentioned, and no plans to initiate any positions within the next 72 hours.
I wrote this article myself, and it expresses my own opinions. I am not receiving compensation for it (other than from Seeking Alpha). I have no business relationship with any company whose stock is mentioned in this article.