Galena Biopharma (NASDAQ:GALE) has seen its fair share of ups, downs, scandal and CEOs. Most importantly, patients who were hoping for a successful NeuVax Phase 3 PRESENT trial were highly disappointed when the trial failed and the company was forced to scramble and create a new strategic plan to address its financial and operating issues. A recent announcement that the company is the subject of a criminal investigation into its Abstral promotional practices by the U.S. Attorney's office isn't helping matters.
For a company with little financial resources, this is not only a major distraction that the company will have to deal with, it's a potential game stopper. A recent stock and warrant offering announcement, if successful, might stave off a possible 3rd quarter 2017 bankruptcy when cash is expected to run out. A recent 1 for 20 reverse split designed to keep the stock price above $1 and stave off a NASDAQ delisting, is dangerously close to failure as the stock trading at $1.40 could test this boundary again. Both a new stock offering and another potential reverse stock split have the potential to wipe out value for long-term shareholders.
My issue with the latest news announcement is that there was never an issue of safety with Neuvax. It's as safe as the placebo. The problem is efficacy. Neuvax has never shown efficacy in trials.
Galena's history has been well documented here on Seeking Alpha and elsewhere on the net. It's been a very rocky road for Galena shareholders. After a questionable stock pumping marketing scheme, which saw its shares reach almost $140 in July 2014, its CEO resigned and the shares lost most of their value closing yesterday at $1.40 leaving the company with a market capitalization of about $15 million.

Source: Seeking Alpha
On June 29, 2016 Galena revealed it discontinued NeuVax Phase 3 PRESENT (Prevention of Recurrence in Early-Stage, Node-Positive Breast Cancer with Low to Intermediate HER2 Expression with NeuVax Treatment) clinical study and the stock subsequently dropped 80%. This left the company in an extremely precarious financial position.
This past Monday Galena Biopharma gained as much as 101% immediately after the opening bell on Monday. The stock's unfathomable rise was no doubt a result of the news that the company's experimental breast cancer vaccine, NeuVax, will continue with its two ongoing mid-stage phase 2 studies. Immediately after and not surprisingly, the company announced it has commenced an underwritten public offering, to issue and sell shares of its common stock and warrants. No announcements of the size of the offering were made. One thing is for certain, given the company's nano-sized market capitalization of $15 million, existing shareholders are going to suffer major dilution probably on the order of 25%-50% assuming the offering is successful. In order to complete a successful secondary offering the discount to market is going to have to be large.
Pipeline Potential
The chart below highlights Galena's road map with respect to its pipeline. We estimate that apart from its two mid-stage clinical studies of the immunotherapy in combination with Roche's Herceptin, the remaining pipeline has little value to shareholders in our opinion.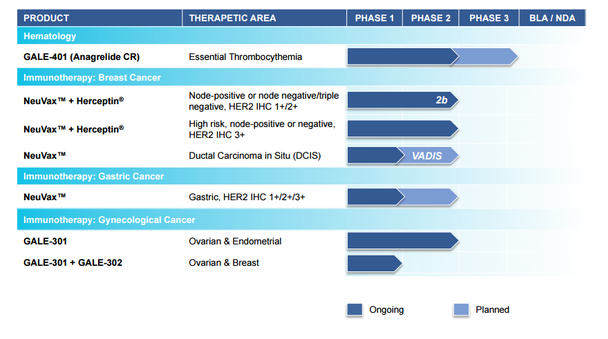 Source: Galena Biopharma
Financial Picture
Burning cash at roughly $6 million per quarter, Galena, prior to any stock offering has enough cash to survive to the middle of 2017. We expect that any secondary offering can at most extend this to the first quarter of 2018 at which time it's likely more additional dilutive secondary offerings will need to take place.
Conclusion
We see the risk/reward profile of Galena as highly skewed to the downside. The company's precarious financial position coupled with an ongoing criminal investigation and long timetable to success put its future in serious doubt. We view the recent news announcement as not news and of no value. We would avoid the shares.
Disclosure: I/we have no positions in any stocks mentioned, and no plans to initiate any positions within the next 72 hours.
I wrote this article myself, and it expresses my own opinions. I am not receiving compensation for it (other than from Seeking Alpha). I have no business relationship with any company whose stock is mentioned in this article.
Editor's Note: This article covers one or more stocks trading at less than $1 per share and/or with less than a $100 million market cap. Please be aware of the risks associated with these stocks.