GW Pharmaceuticals (NASDAQ:GWPH) published Q1 results much in line with expectations. This sets the company up for an exciting 2017. The key issues to watch are FDA approvals, mainly for "Epidiolex" but also for other drugs under testing. My previous article gave details of these.
Possibly game-changing news was announced in the company's oncology developments. The approach of the Trump Administration to the issue of cannabis in general remains as a factor for uncertainty in the company's plans going forward.
Results.
Q1 2017 results were much in line with expectations. A lack of surprises was what the market wanted to hear and the share price responded positively. Revenue and loss per share were both slightly better than analyst's expectations.
Revenue was at £2.1 million, down from £3.7 million year-on-year.
Loss was at £15.6 million compared to £17.7 million year-on-year. The improvement was mainly down to foreign exchange movements.
Cash was at a very healthy £360.2 million. This compares to £374.4 million as at 30th September 2016.
"Sales, general and administrative expenses" rose to US$6.6 million from US$3.6 million year-on-year. This was reasonable as the company is building out its U.S. commercial team and establishing its EU commercial team.
"Research & Development expenditure" was just about flat year-on-year. This was quite impressive as late stage trials tend to be more costly than earlier stage clinical studies.
In fact the biggest news at the results announcement was not financial at all. It was to do with new test results in connection with Glioma. GBM (recurrent glioblastoma multiforme) is a very aggressive form of brain tumor. GW Pharma has orphan status in both the USA and Europe for a proprietary combination of THC (tetrahydrocannabinol) and CBD (cannabidiol). Its newly released Phase 2 placebo controlled study showed very promising early results have been achieved. There was a one year survival rate of 83% compared to 53% for a placebo. Tests were being undertaken for use of the combination in conjunction with temozolomide (an oral chemotherapy drug).
Principal investigator of the study Professor Susan Short stated:
"The combination... produced relevant improvements in survival compared with placebo and this is a good sign of potential efficacy.... These promising results are of particular interest as the pharmacology of the THC:CBD product appears to be distinct from existing oncology medications and may offer a unique and possibly synergistic option for future glioma treatment".
GW Pharma have been working on possible cancer applications since 2007. They have a series of patents. This new development could be a game-changing breakthrough for the company and for medical cannabis applications in general.
CEO Justin Gover stated:
"This study further reinforces the potential role of cannabinoids in the field of oncology and provides GW with the prospect of a new and distinct cannabinoid product candidate in the treatment of glioma. These data are a catalyst for the acceleration of GW's oncology research interests and over the coming months, we expect to consult with external experts and regulatory agencies on a pivotal clinical development program for THC:CBD in GBM and to expand our research interests in other forms of cancer".
GBM is one of several different types of brain cancer. Each year about 23,000 adults in the USA are diagnosed with brain cancer. Over 15,000 die each year from it.
Political Factors in the USA.
The move in the USA has been towards legalization of cannabis for both recreational and medical use. This seemed to have an unstoppable momentum until Trump won the Presidency.
His proposed Attorney General Sessions is well known for his anti-cannabis views. He has in the past made some strange statements, such as "Good people don't smoke cannabis" and "I thought the Ku Klux Klan was okay until I found out they smoked pot".
More recently he stated:
"Marijuana is not the kind of thing that ought to be legalized, it ought to not to be minimized, that it's in fact a very real danger".
Sessions is a staunch advocate of States Rights. So he could find it difficult to square the circle when more and more States are legalizing cannabis. 29 States currently approve marijuana for medical use, and 8 states plus Washington DC approve recreational marijuana. It has been estimated that the underground market for medical marijuana in Los Angeles was already worth almost US$1 billion annually before the recent legalization in California.
Sessions could encourage Federal Authorities to clamp down on certain aspects of individual States' approvals of cannabis, something the Obama Administration had not done. Cannabis is denoted as a Schedule 1 drug by the U.S. Drug Enforcement Agency. This means banks steer clear of financing cannabis companies for fear of breaking Federal banking laws. Additionally, such companies don't enjoy standard business tax deductions.
A recent study by the National Academies of Sciences, Engineering & Medicine was somewhat inconclusive on both the positive and negative effects of cannabis. It said there was strong evidence for its beneficial effects in treating nausea and vomiting from chemotherapy, for chronic pain and to reduce spasms in multiple sclerosis. It said there was unproven evidence for its beneficial effects in encouraging appetite and weight gain for HIV patients, for calming ADHD (attention deficit hyperactivity disorder) and for epilepsy. This latter condition has been the biggest focus for GW Pharma's lead-drug "Epidiolex". GW Pharma have also been testing for nausea from chemotherapy, chronic pain, and multiple sclerosis.
The Administration's moves on Big Pharma in general are also a potential threat to GW Pharma. At his recent meeting with eight Big Pharma executives, Trump insisted they should lower prices, should manufacture in the USA, and that Medicare should be able to negotiate with manufacturers for lower prices. He also said he would appoint a new FDA head and speed up FDA approvals. Some analysts questioned if he knows the lessons of thalidomide.
Another potentially negative factor is the heavy lobbying in Washington by the U.S. Drinks Industry. They have put a lot of money into anti-cannabis legalization campaigns.
Political Factors Around the World.
The onward progress of medical marijuana around the world is apparently unstoppable. January alone saw several developments.
Most recently Germany announced the legalization of marijuana for medical purposes. It will be available on prescription for various conditions, including alleviating the effects of chemotherapy and for multiple sclerosis. Costs will be allowed under health insurance policies.
Canada, which probably has the world's largest medical marijuana turnover, is going ahead with full legalization for recreational purposes as well.
Israel already has wide usage of cannabis on prescription for medical use, with over 10,000 patients. It recently announced it would open this up to all medical practitioners to prescribe in 2017.
In January Brazil changed the designation of CBD from "illegal" to "controlled". It licensed GW Pharma's oral spray "Sativex" to be prescribed for multiple sclerosis. "Sativex" is currently sold in 28 countries by GW Pharma but is not licensed for use in the USA.
The President of the World Health Organization and the new Secretary-General of the U.N, Antonio Guteries, both support the liberalization of legal curbs on cannabis.
So GW Pharma's products should also have a lot of international reach based on testing in Europe by the EMA (European Medicines Agency).
GW Pharma's Next Move.
In a recent article I highlighted the very promising most recent results of GW Pharma's testing as laid out at the American Society of Epilepsy's Annual Meeting. The company will be hoping for a schedule whereby the FDA gives "Epidiolex" approval by the end of the year for its childhood epilepsy treatments. However even after FDA approval, it will have to await clearance from the DEA (Drug Enforcement Administration). In the EU it is also under an accelerated process with the EMA which should allow for sales of the drug in 2018.
Analysts are split on how much "Epidiolex" might be worth just for Dravets Syndrome and Lennox-Gastaut Syndrome. It is calculated that a year's supply would cost between US$30,000 and US$60,000. That would make an initial market revenue of about US$1 billion.
The detail below shows where the "Epidiolex" testing program stands as at the start of the year:
The market has I think under-estimated the rest of the company's drug pipe-line and concentrated too much just on "Epidiolex" for childhood epilepsy. My article in December summarized many of these promising factors. The illustration below shows some of these developments now under progress.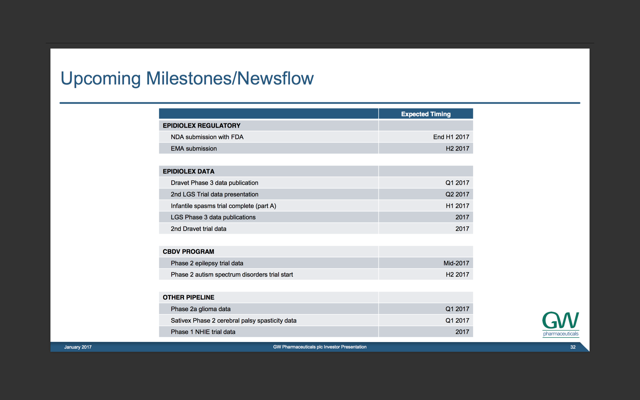 The latest news about THC:CBD on glioma emphasizes the potential excitement around these different tests.
Conclusion.
It is not yet known if the Trump Administration will attempt to clamp down on marijuana for medical purposes. This could in fact turn out to be favorable for GW Pharma if their drugs are approved and natural marijuana is not.
Analysts are generally bullish on the stock price. In January the latest to initiate coverage, Goldman Sachs, gave it a Buy rating and a price target of US$189. The price today is at US$123.93.
Unlike many drug development companies, GW Pharma is well-funded as the Q1 results illustrate. Its Quick Ratio (cash compared to financial liabilities) is very healthy at 11.45. Its Current Ratio (cash compared to year-ahead liabilities) is very healthy at 11.57. Both ratios are above their 3 year averages for the company.
The company's market cap of US$2.9 billion compared to its enterprise value of US$2.4 billion reinforces the idea the company might be a takeover target for Big Pharma. Meanwhile the company on its own looks set to have an exciting 2017 and to reward share-holders further.
Disclosure: I am/we are long GWPH. I wrote this article myself, and it expresses my own opinions. I am not receiving compensation for it (other than from Seeking Alpha). I have no business relationship with any company whose stock is mentioned in this article.