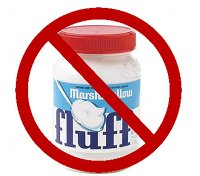 As many are aware, I write a weekly piece on mortgage REIT preferred stocks in my "no fluff" fashion. Often times when an issuer has more than one series of preferred, it pays to take a closer look at the various series in order to determine which might provide the best value to the investor.
Today I thought it might be helpful to take a look at the preferreds of the father of the mortgage REIT - Annaly Capital Management (NYSE:NLY).
The following is the list of Annaly's preferred stock:

And the pricing of the NLY complex:

Let me cut right to the chase: I prefer the Series C, here's why:
Three months of call protection and an 18.8% yield-to-call.
The rate is modest, making me think a call is unlikely.
If they get called, you get an 18% yield, if they don't, you get the highest stripped yield in the group - 7.85%.
The "cost of stability" is the lowest and the spread to risk free is the highest.
Here is the no fluff good stuff, the charts and tables: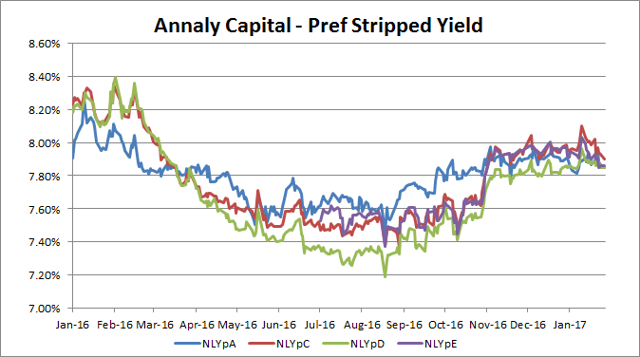 The Series C has gone from the middle of the pack in terms of stripped yield to the head of the class.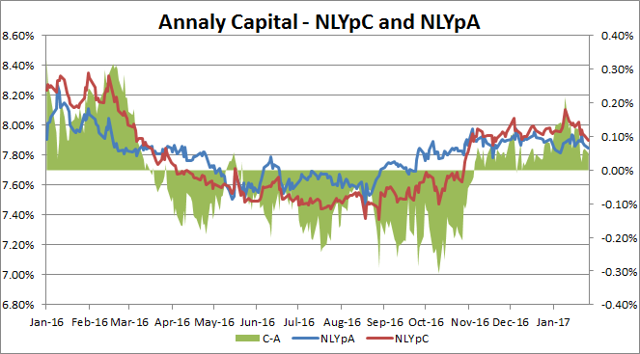 The premium to the Series A is not at its wides, but it is in an attractive spot.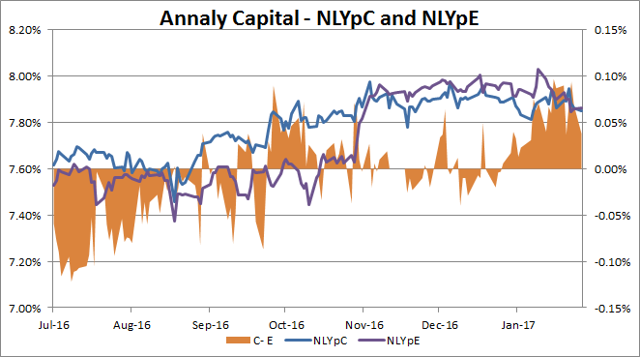 The spread to the Series C shows the same - not the wides, but attractive.
The peer list includes:
American Capital Agency (NASDAQ:AGNC),
CYS Investments (NYSE:CYS),
Invesco Mortgage Capital (NYSE:IVR), and
Anworth Mortgage Asset (NYSE:ANH).

With the exception of CYS, Annaly trades with the pack - and yet has a diversified portfolio which SHOULD help. CYS has been pressured lately and trades 15-bps wide. I'll stick with the big dog. (Yes, I am long the equity of both and have just about had it with CYS common, I will probably swap into the Series A).
Stripped price of the peer group: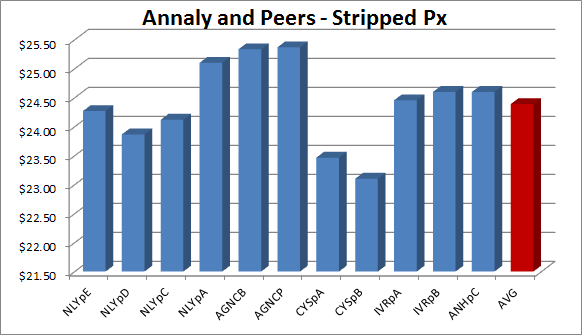 Stripped yield chart shows the CYS yield advantage: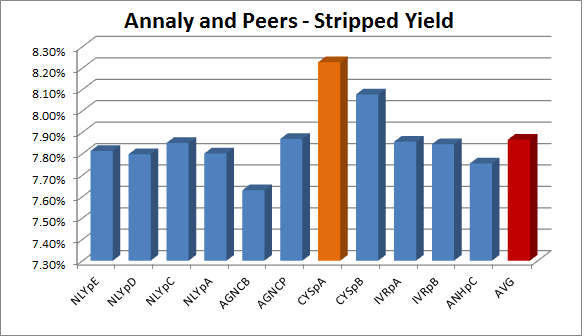 Cost of stability favors Invesco (tightest to equity at 277 bps) but Annaly is right in the ballpark of the peers.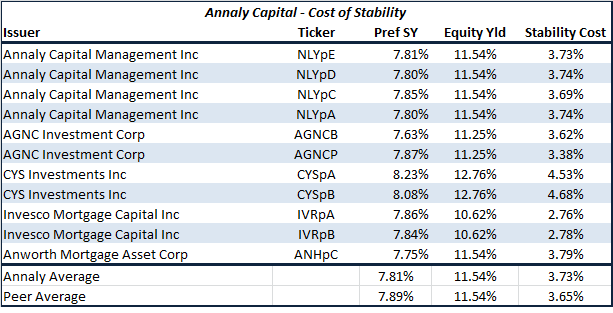 Graphically: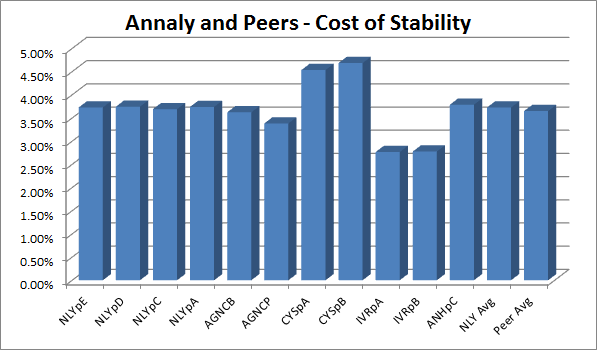 Bottom line: I believe that Annaly preferreds are priced attractively, and of the four series, the Series C is the most attractive. As I continue to be concerned about the potential for the Fed to reduce their holdings of mortgages (or at least stop reinvesting in them) and the potential impact on the pricing within the mortgage market, I am considering swapping out of my NLY equity position into the Series C preferred (same with CYS).
Disclosure: I am/we are long CYS, NLY.
I wrote this article myself, and it expresses my own opinions. I am not receiving compensation for it (other than from Seeking Alpha). I have no business relationship with any company whose stock is mentioned in this article.