As most readers must know by now, Toshiba (OTCPK:TOSBF) is seeking to sell a stake of up to 20% in its NAND business. Recent reports have named Micron as one of several bidders. Aside from owning a 20% stake in a profitable business, Micron (NASDAQ:MU) could gain share in the DRAM market by becoming the only DRAM supplier to Toshiba and maybe even Toshiba's partner in the NAND joint venture, Western Digital.
The NAND Business
Toshiba's NAND business has generated revenues of 845.6 billion yen ($7.4 billion) and operating profit of 110 billion yen ($0.96 billion) for the year ended in March 2016. Since then, the market conditions have improved, with NAND prices currently up around 25% on year. Toshiba's JV with Western Digital has about 35% market share in NAND, with slight variations from quarter to quarter, while Micron's share is slightly above 10%.
The DRAM and NAND markets are very sensitive to the supply and demand balance. With few participants in each market, any increase in bit output aimed at share gains has an immediate impact on pricing. That's why the big players rarely make any substantial attempts to gain share.
Micron has a long history of gaining share through acquisitions; Inotera, last year; Elpida a couple of years before that, and so on. It should come as no surprise that Micron is one of the bidders.
Selling some DRAM
By buying a stake in Toshiba's business and tightening the relationship with Western Digital, one of Micron's main goals must be to become the exclusive DRAM supplier, or at least the main DRAM supplier to Toshiba and Western Digital.
The main market would be in mobile where MCPs (multi-chip packages) are an increasing trend. To keep it simple, an MCP packages DRAM and NAND together.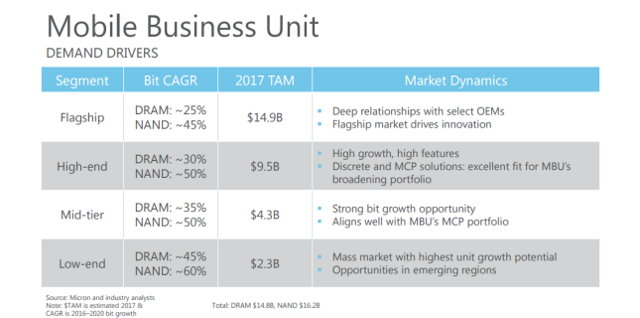 Source: Micron's Winter Analyst Conference
The entire mobile market is very large and also includes discrete NAND and DRAM, not just MCPs. Micron sees the 2017 TAM at $31 billion. In the most recent four reported quarters, Micron's Mobile Business Unit had revenues of $2.8 billion. With a DRAM design win in Apple's iPhone 7 and firmer memory prices this year, Micron's Mobile Business Unit would likely generate close to $4 billion in revenue in calendar 2017, for low-teens market share.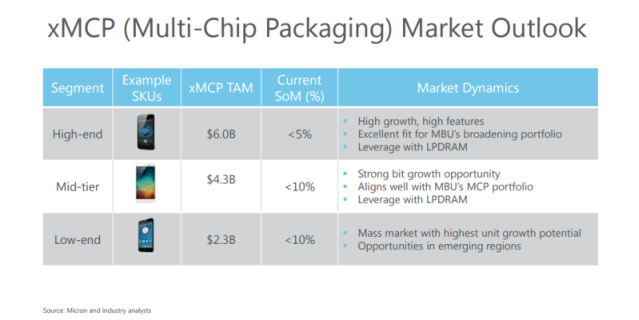 Source: Micron's Winter Analyst Conference
As you can see in the slide above, the MCP market segment is sizable. Out of the total TAM of $12.6 billion, we estimate that around 47% of the TAM is DRAM. Today, Toshiba and Western Digital must purchase DRAM from one of the three suppliers - Samsung (OTC:SSNLF), Micron or Hynix (OTC:HXSCF).
By reaching a deal to supply DRAM to Toshiba and Western Digital, Micron would gain substantial market share in a sizable TAM.
There are additional markets where Toshiba and Micron would require MCPs or even discrete DRAM - IoT, embedded, TV boxes, wearables and more.
Takeaway
Micron's participation in the bidding process is not surprising at all and a win would be a unique opportunity that can enable large share gains in DRAM.
For Western Digital, having a special relationship with a DRAM supplier is convenient and can enable a closer collaboration in developing future products.
Disclosure: I am/we are long MU.
I wrote this article myself, and it expresses my own opinions. I am not receiving compensation for it (other than from Seeking Alpha). I have no business relationship with any company whose stock is mentioned in this article.
Editor's Note: This article discusses one or more securities that do not trade on a major U.S. exchange. Please be aware of the risks associated with these stocks.