In our premium portfolio, we have been long Emerson (NYSE:EMR) Electrical since just over the $52 mark. Against the long stock we are holding, we sold the $57.5 February call option for $1 per contract last month. After Emerson's impressive first-quarter fiscal earnings announced yesterday, the stock jumped to well over $62 a share. Emerson goes ex-dividend tomorrow, when a quarterly dividend of $0.48 per share which represents an annualized dividend yield of approximately 3.21% will be paid out. We have decided to stand pat on our position as the extrinsic value in the call option is very close to the dividend payout. So there's still a good possibility that we will collect the dividend as the option doesn't expire until the 17th of this month.
Could we place a trade to ensure we absolutely collected the dividend? Of course, but invariably there are times where we believe it is better to let the shares be "called away" so that we can use that capital to find better opportunities elsewhere. Yes, Emerson could keep on charging higher, but its earnings multiple has now spiked to well over 25 -- which is about 30% higher than the company's five-year average multiple. Moreover, the stock has become overbought from a technical standpoint and sentiment is at its highest point in a few years. I believe that over time we should be able to pick up this quality stock at a cheaper valuation.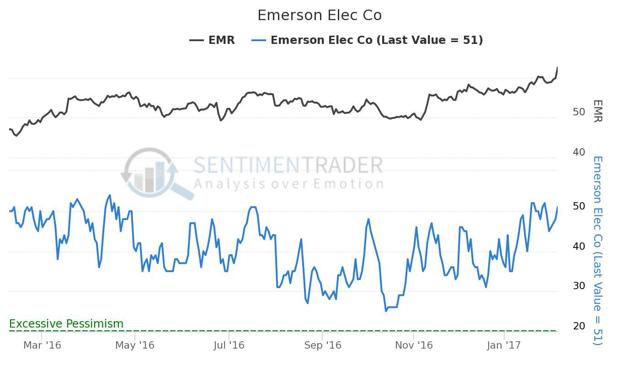 Source : Sentimentrader.com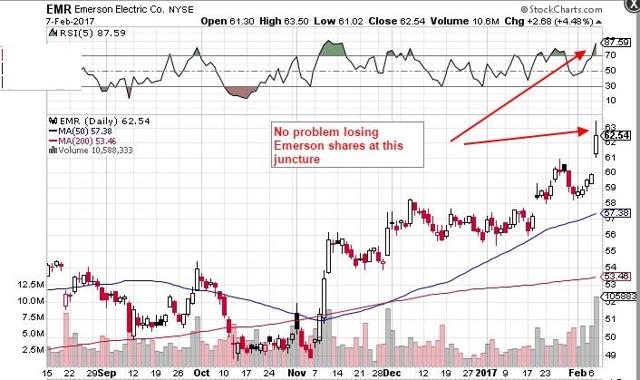 Nevertheless, Emerson produced an impressive set of figures which illustrated how the company has transitioned and transformed itself over the past two years. By focusing on its strongest divisions, long-term investors feel that margins will continue to improve as consolidated segment margins rose to almost 18% in Q1. The company announced earnings of $0.49 a share (not including the reported tax gain) on revenues of $3.22 billion. Both the top and bottom lines were well ahead of analysts estimates. It was Emerson's hike in its fiscal 2017 guidance, though that really spiked the share price. Guidance is now coming in at between $2.47 and $2.62 for fiscal 2017, which is up at least $0.12 in earnings per share compared to prior guidance estimates.
With commercial and residential solutions sales increasing by 7%, you get the feeling that guidance was increased because of what management are seeing presently in the automation segment. The automation solutions segment when the transition has been fully completed will make up at least half of the company's annual turnover meaning that fundamentals in the oil and gas industry now become key. Management mentioned stronger sales activity in the quarter, which would have been definitely instigated by rising oil prices. However, I feel the combination of Trump's victory in the presidential election and rising oil prices has only been a temporary headwind, which is showing in Emerson's sentiment readings at present.
Therefore, I feel now is not the right time to be long companies that earn a large portion of their income from the oil and gas industry. Look at the Energy Select Sector ETF (NYSEARCA:XLE) at the moment. Energy stocks continue to diverge against the price of oil and have now also lost their 50-day moving average. Furthermore, long-term sentiment readings in crude oil remains near bullish extremes, which is why the risk at present in a company like Emerson, especially after its recent guidance hike has to be to the downside. We don't want be holding Emerson if crude oil is moving down into a yearly cycle low, which could easily happen over the next few months.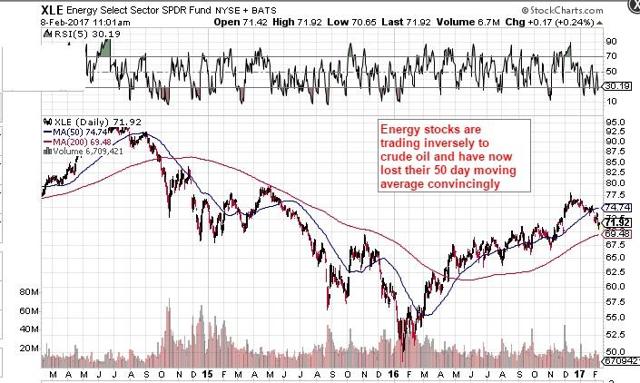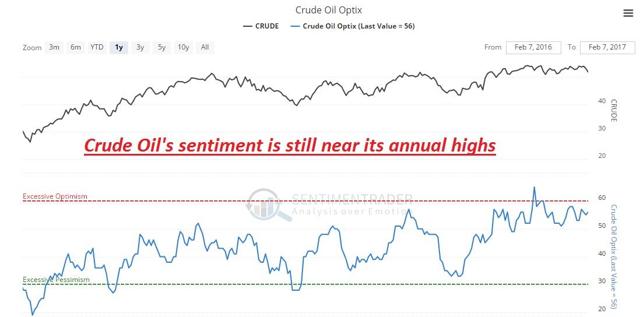 Source : Sentimentrader.com
To sum up, Emerson will very much still be on our radar. Its dividend growth story and strong competitive advantages make it a strong choice in automation. However, it is more open now to the oil and gas industry. Although I project it wouldn't fall as much as energy stocks if oil prices were to contract, it would still lose ground especially when you consider where its valuation is at present. We will get interested again at under $55, which hopefully we will see in a few months.
Disclosure: I am/we are long EMR.
I wrote this article myself, and it expresses my own opinions. I am not receiving compensation for it (other than from Seeking Alpha). I have no business relationship with any company whose stock is mentioned in this article.