On January 30, 2017, Tempur Sealy (NYSE:TPX) announced it anticipates it will cease doing business with Mattress Firm [MFRM acquired by Stieinhoff (SNH) in September 2016] which represents approximately 20% of TPX's sales. MFRM previously disclosed that TPX and Simmons Serta combined represent 79% of its mattress units. The TPX price fell 30% on the news while SNH fell 1%.
Some of the key drivers/questions public investors should consider: (1) customer brand loyalty to Tempur-Pedic, Sealy and Stearns & Foster brands vs. MFRM (if any); (2) TPX's ability to build its own store network; (3) SNH and MFRM have no manufacturing facilities in the US to produce mattresses; (4) can SNH/MFRM build or acquire facilities to manufacture premium mattresses; (5) can SNH/MFRM acquire a US mattress manufacturer such as Simmons Serta (SS) which is PE owned; (6) will SNH/MFRM continue to work with Simmons Serta under current or renegotiated vendor agreements; (7) if SNH/MFRM and SS cancel agreements, MFRM would be without 79% of its mattress units; (8) Pro Forma Leverage of SNH/MFRM and TPX; (9) why did SNH/MFRM try to renegotiate with TPX when SNH/MFRM gross margin is higher than TPXs; and (10) why did SNH risk the TPX relationship when MFRM's gross margin is above the SNH gross margin.
The termination of relations should not trigger any of the TPX leverage covenants. Based on current leverage covenants, TPX should be able to build 1,900 new stores within 2 years and deliver over $650M EBITDA by 2019. TPX trades at a headline (no changes to current plan) PE multiple of 16.5x, in line with the multiple pre announcement, but at a 10.3x 2018 PE multiple assuming a new store buildout.
Key potential risks at TPX include: (1) immediate loss of 20% of revenue; (2) MFRM/SNH is the single largest national US mattress distributor; (3) TPX and MFRM worked together to sell mattresses; (4) TPX could face pricing pressure; (5) Mattress in a box sector could take advantage of MFRM

/TPX separation to drive pricing down across entire US Mattress Market; (6) risks associated with a new store buildout; (7) change in ratings or outlook; (8) change in TPX shareholder base; and (9) inability to ramp up direct to consumer model.

Given the uncertainty of MFRM's negotiations with Simmons Serta and the uncertainty of TPX's next steps, the TPX shares are priced assuming no changes to the current situation. Four potential scenarios emerge with the following estimated TPX value per share: (1) TPX and MFRM resolve their differences and resume working together (TPX $57 to $76 per share); (2) Simmons Serta and MFRM terminate agreements; (3) Simmons Serta (SS) and MFRM announce plans to continue working together and TPX does not open new stores (TPX $32 to 45); and (4) SS and MFRM continue to work together and TPX announces plans to open 1,900 stores within 2 years (TPX $52 to $72). Taking a probability weighted average, Soulor estimates TPX is worth $54 per share today.
Timeline:
1) On Jan 23, 2017, MFRM/Steinhoff notified TPX of its intent to terminate all contracts with TPX if TPX didn't agree to considerable economic concessions.
2) On Jan 27, 2017, after negotiations failed, TPX issued formal termination notices for all TPX brands to MFRM.
3) On Jan 30, 2017, TPX announced the news via an 8-K.
4) Since announcement, TPX share price is down approximately 35% and SNH price is down 1%.
TPX Credit Considerations:
The 2016 Credit Agreement requires Tempur Sealy to abide by certain financial covenants. Specifically, the 2016 Credit Agreement requires that Tempur Sealy and its restricted subsidiaries not:
1) Permit the consolidated interest coverage ratio (as defined in the 2016 Credit Agreement) as of the last day of any period of four consecutive fiscal quarters of the company to be less than 3.00:1.00;
2) Permit the consolidated total leverage ratio (as defined in the 2016 Credit Agreement) as of the last day of any fiscal quarter of the company to be greater than 5.00:1.00; and
3) Permit the consolidated secured leverage ratio (as defined in the 2016 Credit Agreement) as of the last day of any fiscal quarter of the company to be greater than 3.50:1.00.
4) Consolidated fixed charges coverage ratio less than 2.00 to 1.00
The definition of permitted debt: the aggregate principal amount of all debt incurred under this clause at any one time outstanding shall not exceed the greater of: (1) $2.124 billion, and (2) the sum of the amounts equal to: (A) 60% of the book value of the inventory of the company and the restricted subsidiaries, and (B) 85% of the book value of the accounts receivable of the company and the restricted subsidiaries (including any receivables entity that is a restricted subsidiary).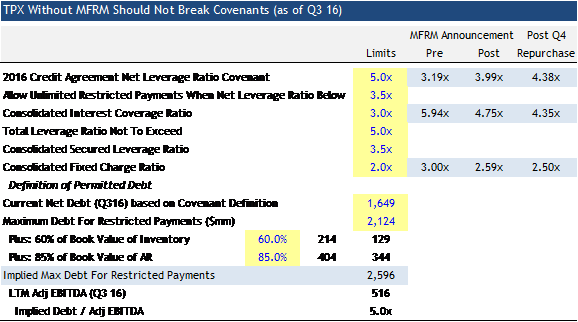 Sources 424B for 5.5% 2025 notes filed 9/14/06, S4 of 5.5% 2026 Notes, Exhibit 10.1 to 8K 4/7/16 with Credit Agreement, and Soulor Estimate
As of Q3 16 financials, the termination of TPX's relationship with MFRM should not trip any of the TPX covenants (column "Post" in the table above). Assuming in Q4 2016 TPX increased the net leverage to the target 3.5x level to fund the repurchase of shares (column "Post Q4 Repurchase" in the table above), TPX would still not trip any of its covenants.
However, in late 2015 and early 2016, Moody's and S&P each respectively upgraded TPX's credit rating from B1 to Ba3 and BB- to BB, respectively. Should TPX and MFRM not renew their agreements, Moody's and S&P could reduce TPX's credit ratings. Should TPX announce it will fund the creation of TPX stores across America, it's very likely Moody's and S&P would reduce TPX's credit ratings.
As a result of the TPX leverage levels, reduction in EBITDA as a result of the termination of MFRM agreements, and the likelihood of credit downgrades, a significant number of TPX shareholders could be forced sellers driving down the TPX share price.
TPX Operational Considerations:
MFRM represents the single largest customer to TPX and the single largest national US retailer of mattresses.

Source: Tempur Annual Reports
Soulor estimates that MFRM represents approximately $625M of annual sales to TPX which assuming the current LTM Adj EBITDA margin would imply nearly $100M of EBITDA. In addition, given some fixed cost within the TPX cost structure, the consolidated EBITDA margin could decline.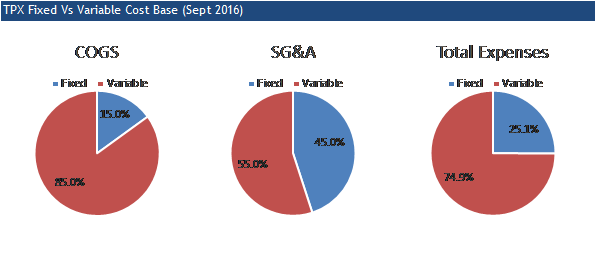 Source: TPX Investor Presentation September 2016
TPX highlights that nearly 85% of its COGS, the majority of expenses, are variable while there is a larger 55% fixed cost base within the SG&A expenses. Combining the COGS and SG&A fixed and variable expenses provided by TPX highlights an overall variable cost base of 75% which should help reduce the margin pressure over time resulting from the loss of MFRM.
By simply holding the EBITDA margin constant, based on the loss of $625M of revenues, TPX would lose $103M of EBITDA which would imply a net leverage ratio of 4.0x compared to the pre-MFRM announced net leverage ratio of 3.2x. The table below highlights the potential net leverage of TPX and SNH after the termination of agreements.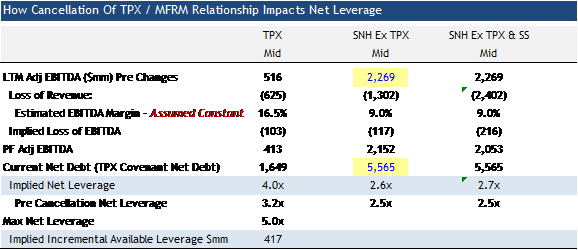 Source: TPX and SNH public filings and Soulor estimates
Under the current circumstances, TPX should immediately cease its share repurchase program and invest all incremental capital into building a nationwide store/distribution base. MFRM provides several key operational store buildout numbers: (1) the cash cost per store at approximately $186,000; (2) sales per store of $1M by year 2; (3) 4 wall profitability of 22%; and (4) a cash on cash return of over 117% by year 1. Soulor estimates that TPX could spend $125M in 2017, sourced by incremental leverage, to fund the opening of nearly 672 mattress stores across the US while remaining inside of its leverage covenants.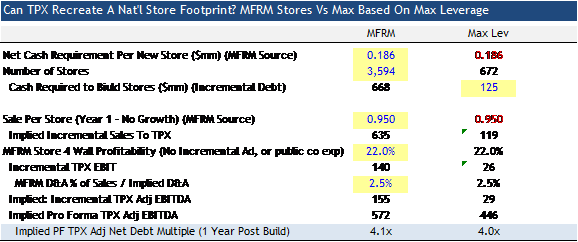 Source: MFRM Investor Presentations and Soulor Estimates
The table below estimates the operational impact of opening the new stores: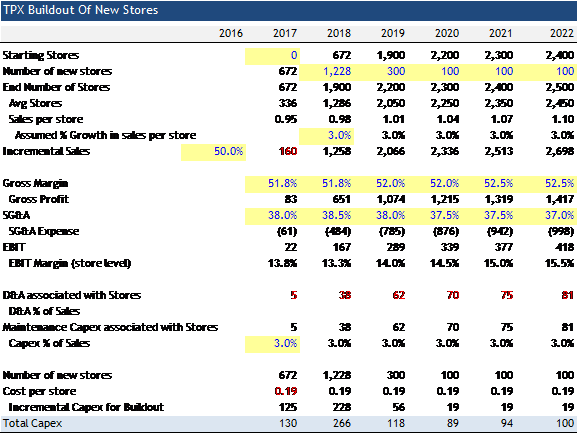 Source: Soulor estimates
Key Assumptions:
1) Pro Forma net leverage below 5x at all times.
2) 1,900 new stores by 2018 followed by another 600 over the next 5 years.
3) In year 1, 2017, TPX only achieves 50% of the full-year operations of new stores based on assumption new stores won't all be open within the next 3 months. As a result of the 50% flow through and operational risk, TPX only opens 672 stores in 2017 and 1,228 in 2018.
4) Revenue per store per MFRM guidance and growing at 3% a year.
5) Gross margin equivalent to MFRM historical gross margin approximately 52%. The GM is conservative as vertical integration should have several benefits to the COGS. Select Comfort (NASDAQ:SCSS), the only vertically integrated mattress company in the US, has gross margins of over 60%.
6) SG&A expenses set to a range which never achieves the MFRM "4 wall profitability" of 22%. In addition, SCSS claims a 4 wall margin between 20% and 40%. However, consolidated SCSS EBIT margin ranges from 4% to 13% with a long-term historical average of 9%. TPX should realize significant operational synergies from vertical integration, such as limited to no incremental expenses to advertising with fewer executional errors than SCSS. Conservatively, Soulor estimates a PF 4 wall store margin of 13.8% increasing to 15.5% (significantly below MFRM and SCSS levels) by year 6.
7) Capex is the combination of maintenance for current stores and roughly equivalent to MFRM maintenance capex and the cost of new stores based on a cash cost per store disclosed by MFRM.
8) D&A is set equal to maintenance capex.
The table below subtracts estimated MFRM operations and adds the new stores to create a new Pro Forma TPX: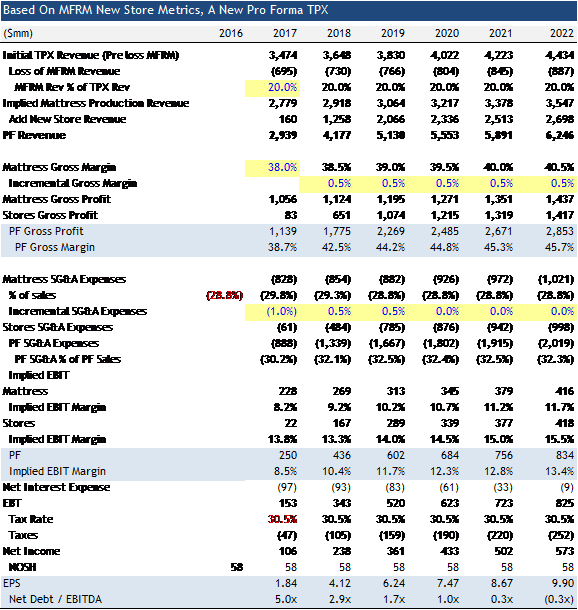 Source: Soulor estimates
Key Assumptions:
1) Mattress revenue as per initial Q2 and Q3 2016. Soulor estimates less 20% in every year through 2022.
2) In Year 1, 2017, TPX only achieves 50% of operational financials as new stores won't all be open within the next 3 months.
3) TPX mattress (legacy business) gross margin declines from Q3 2016 43.5% and LTM Q316 41.8% levels as a result of the fixed/variable cost dynamics to 38% in 2017. From 2018 onwards, TPX increases gross margin to 40.5% level which is significantly below historical 48% levels. The modeled consolidated GM is also significantly below the SCSS gross margin.
4) TPX mattress SG&A expense as % of sales increase in 2017 due to startup costs, but come back to historical levels in 2018 and held equal to the 11 year average.
5) Effective tax rate of 30.5% which is the historical level of TPX. Under the Trump administration, TPX as a full tax payer with a relatively high effective tax rate would significantly benefit from a corporate tax rate reduction to 20% levels. No benefit to the TPX corporate tax rate is assumed in the analysis.
6) New stores buildout in 2017 is financed by incremental leverage at 7% (assuming a ratings downgrade).
7) Mattress capex equivalent to initial Soulor Research estimates of 1.5% to 1.2% of sales.
8) Mattress D&A equivalent to initial Soulor Research estimates of 2.4% and declining slowly thereafter to equal capex.
9) All free cash flow used to repay debt.
The vertically integrated TPX model benefits from the 4 wall margin profitability although the profitability is significantly below that claimed by MFRM and SCSS. The Pro Forma TPX has a lower EBIT margin than standalone historical Tempur and more in line with the historical standalone Sealy. The opening of 1,900 stores in two years could be filled with execution risk, but if any of the MFRM and SCSS 4 wall profitability measures can be believed, there should be significant benefits to TPX with limited incremental expenses.
TPX Valuation Considerations:
The table below reviews the current TPX share price based on: (1) Pre MFRM News; (2) Post MFRM News; and the (3) TPX buildout strategy in Year 1 and Year 2.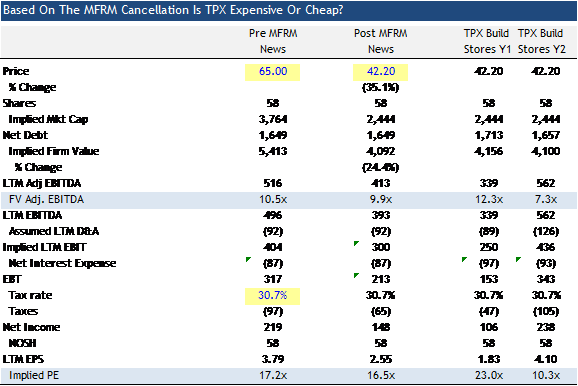 Source: Soulor Estimates and TPX Public filings
Based on the 35% decline in the TPX share price since the announcement, TPX trades at 16.5x PE assuming the loss of MFRM which is slightly below the pre-announcement multiple. Assuming a new store buildout in year 1 and the limited operational flow through, the PE multiple jumps to 23.0x and the net leverage ratio increases to 5.0x. However, by 2018, the PE multiple declines to 10.3x and the net leverage falls to 2.9x.
Valuing TPX across 3 scenarios: (1) TPX and MFRM Renew Agreements; (2) TPX and MFRM do not renew agreements and TPX does not open new stores; and (3) TPX and MFRM renew agreements and TPX opens new stores.

Source: Soulor Estimates
Valuation Takeaways:
1) Blended weighted average TPX price of $53.95 represents 28% upside to current TPX price.
2) 35% probability that TPX and MFRM renew their relationship assuming a 15x to 20x PE multiple (historical range) resulting in a TPX price of $57 to $76.
3) 65% probability that TPX and MFRM don't renew their relationship.
4) Assuming TPX and MFRM don't renew their relationship, significantly higher probability attributed to TPX not opening new stores to be conservative. Should TPX and MFRM not renew their relationship, were we in the shoes of TPX we would immediately open new stores.
5) Assuming no renewal of TPX/MFRM relationship, no TPX new stores, and MFRM continues its relationship with SS, TPX worth $32 to $45 per share
6) Assuming no renewal of TPX/MFRM relationship and TPX opens new stores, TPX worth $51 to $72 per share (one further year out).
TPX appears and would appear highly levered without the MFRM relationship and/or with a buildout of new stores. The increased leverage ratios (and risk) could lead the ratings agencies to downgrade TPX which could force TPX shareholders to sell shares. In addition, the combined leverage and capital requirements to open new stores could lead TPX to issue new shares (i.e. rights issuance) which would be dilutive to current shareholders.
Key Drivers To TPX and SNH/MFRM Negotiations
TPX Executives Incentive Compensation Plan
In 2015, when the new Board of Directors hired Mr. Thompson, the Board created a new executive compensation program. An aspirational Adjusted EBITDA target of $650M was set for 2017; however, if the target was reached in 2018 1/3 of the payout would still be payable. Should the $650M Adj EBITDA target not be met by 2018, the entire incentive compensation would be forfeited. Furthermore, if any officer or employee leaves TPX for any reason prior to the vesting of the incentive awards, his or her incentive awards are forfeited.
Soulor has had no contact with MFRM or SNH; however, MFRM/SNH very likely considered TPX executives personal motives to reach the aspirational targets when springing the additional economic concessions in TPX contracts. It is likely MFRM/SNH attributed a low probability that TPX executives would refuse the concessions because doing so would effectively nullify the chance to reach the aspirational target in 2017. Had TPX executives accepted the economic concessions the possibility of reaching the targets in 2017 or 2018 could be significantly more likely.
What Could Have Driven MFRM/SNH Economic Concessions To TPX
From MFRM/SNH's perspective, in January 2017, TPX was more likely to accept the MFRM/TPX economic concessions than previously for the following reasons:
1) The TPX 2016 share repurchase in 2016. TPX spent $314M repurchasing 5.2M shares at an average price of $60.06 per share. Once TPX terminated relations with MFRM the TPX share price fell to $45 per share highlighting the share repurchase was value destructive (spent $314M for shares which are worth $235M less than 6 months later).
2) During 2016, TPX raised total net leverage $1.4B to $1.6B, net leverage multiple from 3.0x to 3.2x and the net leverage target multiple to 3.5x effectively using up any "Dry Powder" which it had at the end of 2015. In addition, TPX may have repurchased shares and increased the leverage in Q4 2016 which has not yet been reported.
3) At the higher leverage, cancelling MFRM agreements would likely drive the ratings agencies to downgrade TPX.
4) TPX was very likely surprised by the request given TPX and MFRM recently renewed the vendor agreements. In the 2015 TPX annual report, TPX states: "we have a long-term supply agreement in place with Mattress Firm, which we have recently extended". Soulor estimates the vendor agreements usually last 3 years.
TPX Risks
1) Immediate loss of 20% of its top line and potentially up to 25%.
2) MFRM/SNH is the single largest national US mattress distributor. MFRM has approximately 3,500 stores and TPX shows at least 5 mattresses per MFRM store. Without MFRM, TPX loses at least 15,000 product placements. Furthermore, will smaller mattress retailers try to squeeze TPX or renegotiate vendor agreements as TPX operates without MFRM? How does TPX replace 20% to 25% of its unit sales?
3) TPX and MFRM built advertising campaigns together and MFRM salespeople were trained to sell TPX mattresses. The current separation could lead to incremental advertising expenses and additional required training for current and potentially new TPX store salespeople.
4) Should MFRM manage to replace a majority of the lost premium mattress units quickly and at a lower cost than prior TPX mattresses, TPX pricing could be squeezed. TPX recently announced price increases across the Stearns and Foster line which could come down.
5) Start-up venture capital or independent mattress manufacturers may have opportunity to grow their brand through MFRM stores or directly to customers if TPX and MFRM both struggle in upcoming months. While Casper and the mattress in a box crowd are selling mattresses at a different price point ($600 to $1,000 vs over $2,000 for Tempur), entire US mattress market could face pricing pressure.
6) Should TPX build out new stores, significant execution risks exist including but not limited to a potential ERP rollout failure as in SCSS case.
7) The loss of MFRM as a customer may be enough to drive Moody's and S&P to lower the credit ratings/outlook of TPX. Any subsequent announcement to build new stores, take on incremental leverage to fund new stores, executional headwinds and margin reduction would increase the likelihood of Moody's and S&P lowering the credit ratings/outlook of TPX.
8) TPX inability to ramp up a direct to consumer model via the store or alternatively e-commerce platform.
9) Change in the TPX shareholder base could lead to volatility in the TPX share price. On the day of the announcement, nearly 27M TPX shares traded hands representing 46% of the TPX share capital and representing approximately $1.2B.
10) TPX may need to execute a rights/share issuance potentially diluting current shareholders and at an offer price significantly below the price paid by TPX to repurchase shares in the open market in the last 12 months.
MFRM Overview:
Mattress Firm is the single largest national distributor of premium priced mattresses in the US. TPX and Simmons Serta have consistently represented a significant amount of MFRM's total mattress units.

Source: MFRM Public Filings
MFRM highlights its target market is above $1,000 per mattress which represents a majority of US mattress dollar spend but less than 30% of the total US mattress units sold per year.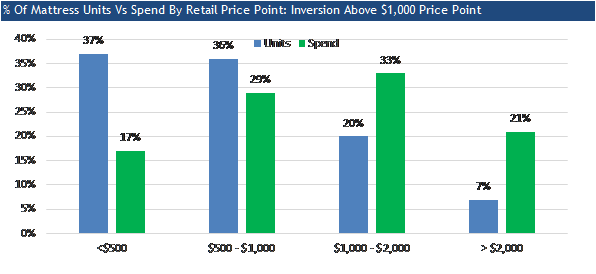 Source: MFRM Investor Presentation
MFRM also highlights the increasing spend on mattresses by those with salaries over $50,000 which are predominantly people over the age of 35.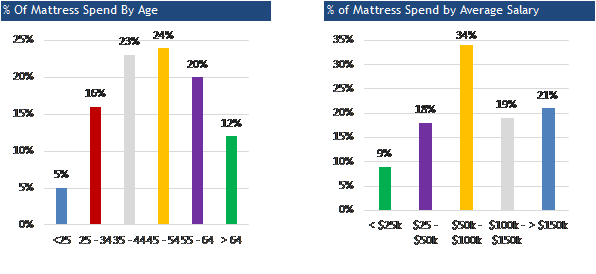 Since 2012, MFRM (MFHC in the table below) nearly tripled its total store count and sales and highlights a sales per store of approximately $1M which is on the higher end of the industry standard.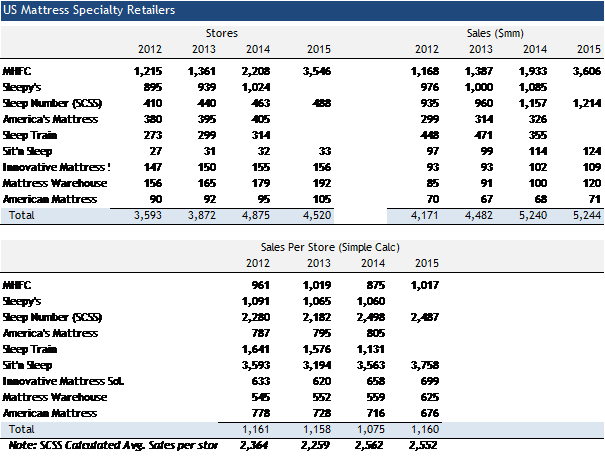 Source: Both charts from Mattress Firm Investor Presentations
MFRM's growth in stores has predominantly been driven by the acquisition of retail stores such as Sleepy's and Sleep Train rather than building its own new stores. MFRM has built its business around the sales of premium priced mattresses across a national US footprint.
How does MFRM replace 40% of its specialty premium priced mattress units in less than 3 months?
MFRM's public disclosures regarding Tempur Sealy
MFRM also highlights:
"Because of the large volume of our business with these manufacturers and our use of their branding in our marketing initiatives, our success depends on the continued popularity and reputation of these manufacturers. Additionally, our continued focus on increasing market share may result in a reduction of retailers who hold stronger relationships with certain of these vendors than us, which could affect our relationship with these vendors. Any (I) deterioration of their brand image, (II) reduction in vendor incentives, (III) adverse change in our relationship with any of them, (IV) adverse change in their financial condition, production efficiency, product development or marketing capabilities, or (V) change in their management could adversely affect our own brand, our product assortment and the level of our customers' satisfaction, among other things, which could result in reduced sales and operating results."

"Our current suppliers may not continue to sell products to us on acceptable terms or at all, and we may not be able to establish relationships with new suppliers to ensure delivery of products in a timely manner or on terms acceptable to us, as well as ensuring that such merchandise complies with applicable product safety laws and regulations. We may not be able to acquire desired merchandise in sufficient quantities on terms acceptable to us in the future. We are also dependent on suppliers for assuring the quality of merchandise supplied to us. Our inability to acquire suitable merchandise in the future or the loss of one or more of our suppliers and our failure to replace them may harm our relationship with our customers and our ability to attract new customers, resulting in a decrease in net sales."
Steinhoff Overview:
Steinhoff acquired MFRM in September 2016 and is a European/South African vertically integrated discount furniture and household goods retail conglomerate with a significant number of stores across Europe, Australasia and Africa. SNH generated 13bn Euros of sales in 2016 (Sept YE) and 1.5B Euros of Operating Profit excluding MFRM. SNH has approximately 7,964 retail stores/outlets across Europe, Australasia and Africa and MFRM has 3,505 stores in the US. SNH has a significant "inside" shareholder base. Insiders including CH Weise, Public Investment Corp (Soulor believes this is South African group) and BE Steinhoff control nearly 37% of the share capital.
The 2015 SNH Business model states:
"Our business model is to be a low-cost producer and distributor of furniture. Our marketing thrust is global, catering for the mass middle market in the geographical areas in which we trade… Logistics is a huge growth area for us with warehousing and distribution networks being key to the future." (Emphasis from SNH)
In the mattress sector, SNH operates two mattress factories in the UK, four in Australia, and six in South Africa. In addition, SNH recently obtained 50% of the equity in "Groupe Corel" in France which has five factories in France. In France, through Conforoma, SNH estimates it sells one in every 3 mattresses. In the UK, SNH bed operations include: "Reylon" Bed manufacturing, Bensons for Beds (Bed retailer), Huntingdon Beds (formerly part of Hilding Anders and a manufacturer), Staples (bed manufacturer), Myers' (bed manufacturer), dunlopillo (bed and pillow manufacturer), and Slumberland (mattress manufacturer). We estimate a majority of the European SNH bed products are inner spring rather than foam based. Should SNH lack access or expertise with foam, it could have a negative impact on MFRM operations excluding TPX.
Prior to SNH's acquisition of MFRM, SNH had no operations, facilities, or warehouses in the USA. With the acquisition of MFRM, SNH still does not have manufacturing facilities nor do we believe a full logistics network between manufacturing and retail stores.
The lack of a US infrastructure by SNH is significant given SNH's focus on the integration of logistics across its footprint: "Given the nature of the furniture product, the ability to efficiently transport and deliver items from supplier to the end-consumer forms an integral part of the supply chain. The focused integration of the group's European warehouse and logistics footprint is expected to result in a more efficient…"
SNH historically has a gross margin of approximately 35% to 40% compared to MFRM's of approximately 50% with SG&A costs of 23% to 28% compared to approximately 45% for MFRM. The fact that MFRM has gross margins which are significantly higher than SNH's highlights MFRM's ability to obtain products from TPX and Simmons Serta at a better margin than SNH could within its own network. The MFRM to SNH gross margin difference makes it difficult to understand SNH/MFRM's decision to attempt to extract additional concessions from suppliers. SNH's lack of US expertise and premium priced mattress production (volume) further confounds why SNH/MFRM would benefit from the current situation or from attempting to manufacture its own mattresses at a better margin.
Furthermore, in the September 2016 annual report, SNH highlights its target MFRM EBIT margin of 6.5% which is relatively low given MFRM's standalone EBIT margin was over 6.5% from 2010 through 2013 and has consistently been over 7% in the 2nd and 3rd quarters of 2014 and 2015 respectively with TPX as a supplier.
There are several factors why SNH/MFRM's concession request to TPX are confusing:
1) SNH's lack of manufacturing facilities and distribution in the US compared to its operations in Europe and the rest of the world.
2) MFRM's superior gross margins to SNH.
3) Low SNH EBIT margin target for MFRM which MFRM historically consistently achieved including public company costs (which will be eliminated under SNH).
4) Increased potential risk relating to importing foreign produced mattresses under the Trump administration.
5) Low cost of fuel which is currently a benefit to the SNH logistics network but could become a headwind.
SNH and its financials are not easy to review or understand. In the last 2 years, SNH delisted from the main board of the JSE, listed in Frankfurt, changed its reporting currency from RMB to Euro, changed its year-end from June to September, reported September 2016 financials on a 15-month basis, changed several of its accounting policies, spent significant capital on M&A across the world, and made significant changes to its capital structure (issued significant number of new shares to fund MFRM and Poundland acquisitions). In addition, SNH has had several different classes of shares including preferred shares and various convertible notes, some of which are currently outstanding with a convert price of approximately Euro 7.44 to 7.67.
Based on the June 2006 through 2015 period, there are several key investor considerations:
1) While revenue and EBIT grew at 18% and 21%, respectively, the growth appears to have been funded by overvalued M&A as Goodwill & Intangibles increased by 37% and Total Equity and Interest Bearing debt grew by 34% and 22%, respectively.
2) Since 2009, SNH disclosed gross margin oscillates between 35% and 40%.
3) SNH disclosed ROA declined from 10% range in 2006-2010 to 6% range from 2011 through 2015.
4) There's a greater than 50% probability that SNH has the financial resources to acquire Simmons Serta should it desire.
The below charts provide some historical context regarding gross margins, EBIT margins and ROIC (Net Income).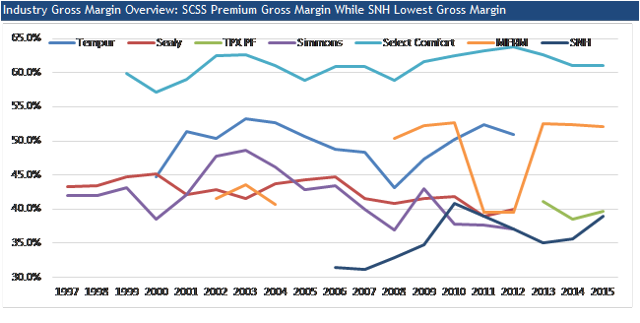 Source: Public filings
SNH has the lowest gross margins while MFRM margins are higher than both TPX and SNH. SCSS, the only pure play vertically integrated US mattress manufacturer and distributor, has the leading gross margins.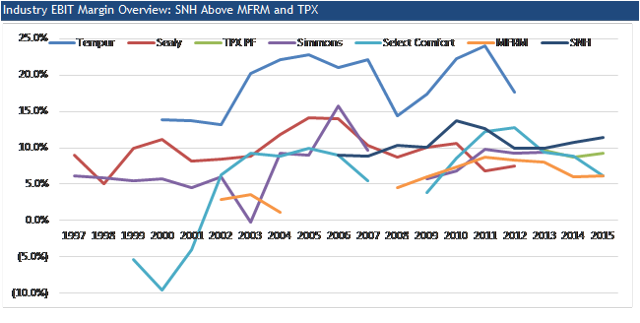 Source: Public filings
SNH has higher EBIT margins than TPX and MFRM which should imply that SNH could reduce MFRM SG&A costs relative to public company MFRM SG&A costs. MFRM SG&A cost reductions appear significantly easier to achieve than gross margin improvements at the expense of TPX.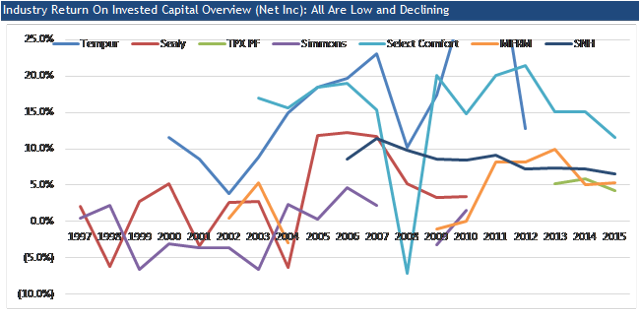 Source: Public filings
MFRM, SNH and TPX all exhibit similar ROICs in recent years while Tempur pre Sealy had best in class ROIC.
The table below highlights the TPX/MFRM/SCSS most recent quarterly performance across key metrics.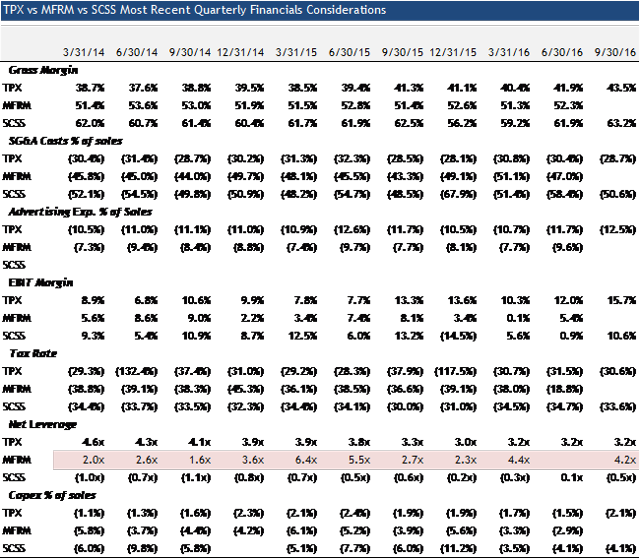 Source: Public filings
1) TPX has the lowest gross margin while SCSS (vertically integrated) has the highest gross margin.
2) TPX has the lowest SG&A expenses while SCSS has the highest SG&A expenses.
3) TPX historically spent more than MFRM on advertising. On an annual long-term basis, SCSS spends 13% of sales on advertising, compared to TPX at approximately 11% and MFRM at 8%.
4) Differences in SG&A drive the differences in the EBIT margin in recent quarters. Over the longer term, MFRM has the lowest EBIT margins followed by Sealy product, followed by SCSS products while Tempur products have the highest EBIT margins.
5) TPX, MFRM and SCSS historically pay near full US effective tax rate.
6) Tempur and MFRM have used leverage to grow, while SCSS maintains a net cash position.
7) TPX has the lowest capex requirements as it has no stores while both MFRM and SCSS have a large store footprint.
MFRM/SNH Impact Considerations:
Cancelling the TPX relationship will likely drive incremental near-term expenses and loss or revenues to SNH regarding the acquisition of MFRM. The table below highlights the impact of the cancellation of TPX/MFRM agreements and the implied SNH PF purchase multiple which would increase to between 16x and 18x EBITDA. The table assumes MFRM does not recover the same units from an alternative provider such as Simmons Serta.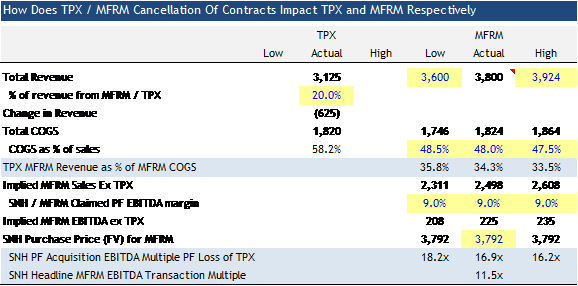 Source: TPX, MFRM, and SNH Public Filings
Assuming MFRM represented 20% of TPX sales implies $625M of revenue lost by TPX and mattress spend by SNH which based on the historical MFRM COGS would imply a loss of revenues of nearly $1.3B or a PF MFRM revenue of between $2.3B and $2.6B. Assuming the claimed SNH EBITDA margin for MFRM (pre the loss of TPX) of 9% implies an SNH EBITDA of between $208M to $235M compared to the LTM Sept 2016 unaudited claim of $330M. It is likely that the MFRM EBITDA margin would change without TPX.
The table below highlights the cancellation of TPX and Simmons Serta agreements with MFRM and the implied SNH PF purchase multiple which would increase to over 28x EBITDA. The table assumes that MFRM does not recover the same units from an alternative provider.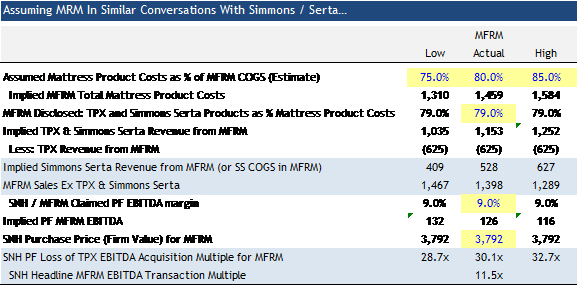 Source: TPX, MFRM, and SNH Public Filings
MFRM highlighted that TPX and Simmons Serta represented 79% of its mattress product costs. Assuming that Mattress Product Costs represent between 75% and 85% of total MFRM COGS implies total mattress product costs of $1.3B and $1.6B of which TPX would represent approximately $625M. The loss of both TPX and Simmons Serta would imply SNH's purchase multiple of MFRM would increase to 29x to 33x EBITDA.
In October 2009, Simmons Serta provided operational forecasts in a public SEC filing. Assuming industry growth rates and Simmons Serta margins through 2016 would imply a Simmons Serta 2016 EBITDA of approximately $340M to $376M. These numbers are highly speculative, however, should they be roughly accurate, SNH should have the financial firepower to acquire Simmons Serta.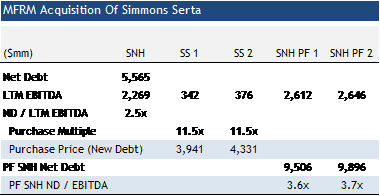 Soulor estimates from 2009 Simmons Serta Filings
Conclusion: TPX Risk/Reward Attractive But Not For Faint Of Heart
At the current price, TPX Risk (24%)/Reward 80% appears attractive but includes significant risks ranging from credit downgrades, potential rights issuance, a new store buildout with execution risk, and the lack of communication from TPX executives. As a result of the 2017/2018 aspirational targets and the current executives options exercise price, TPX executives are likely highly motivated to succeed.
The breakdown in the TPX and MFRM relationship should not immediately trigger any of TPX's covenants providing executives and key shareholders such as H Partners time to decide, communicate, and implement a new business strategy. Soulor estimates based on SCSS and MFRM public disclosures, it's in TPXs best interest to immediately launch and open its own retail stores across the US. The added benefit will be a direct connection to the customer base. In addition, the current situation makes it unlikely TPX executives will realize the aspirational plan targets and the significant executive incentives (which may have been a factor in MFRM's decision making process).
MFRM's attempt to extract additional concessions from TPX when its gross margin is above that of TPX and SNH is confusing. Furthermore, MFRM consistently historically exceeded the current public SNH MFRM EBIT target of 6% with TPX as a key supplier. TPX is a leader in the production of premium priced mattresses which is MFRM's key market. While Simmons Serta could step up supply of premium based mattresses to MFRM, it could be difficult for MFRM to create a brand new luxury mattress with significant marketing behind the launch. Under the current scenario, we estimate it's less likely MFRM reaches the SNH MFRM EBIT target.
Simmons Serta could potentially be the biggest winner. Should MFRM be in negotiations with Simmons Serta to extract economic concessions, Simmons Serta knows that saying "No" means MFRM would be without 79% of its mattress units. Such a situation would likely drive MFRM back to negotiate with both TPX and Simmons Serta. Alternatively, Simmons Serta could accept concessions today and become the dominant MFRM supplier (over 60% of mattresses) and thereafter squeeze MFRM for better pricing. In addition, Simmons Serta is currently owned by Private Equity owners who could look to exit via a sale to SNH.
Appendix: 4 Wall Margin
Select Comfort 4 Wall Profitability Historical Public Disclosure: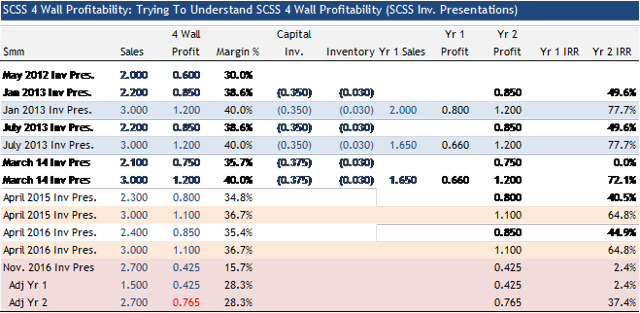 Source: SCSS Investor Presentations
Mattress Firm 4 Wall Profitability Public Disclosure:

Source: MFRM Investor Presentations
Disclosure: I/we have no positions in any stocks mentioned, and no plans to initiate any positions within the next 72 hours.
I wrote this article myself, and it expresses my own opinions. I am not receiving compensation for it. I have no business relationship with any company whose stock is mentioned in this article.