Whole Foods (WFM) the premier specialty grocery retail chain, reports their fiscal Q1 '17 after the closing bell tonight.
The pain for investors, management and employees is widely known at this point as the stock peaked near $70 in late 2013. Since then:
Revenue growth has fallen from mid-teens to just 2% the last two quarters;
Operating margin has fallen from a peak of 7.5% in April '13 to just 4.43% last quarter or compressed 300 bp's in 3 years;
Comp's have fallen from mid-to-high-single digits and have been negative now for 5 quarters. What may be worse is that "traffic" has been getting more negative the last 3 quarters:
| | | | |
| --- | --- | --- | --- |
| | Comp | traffic | tkt (basket) |
| q4 '16 | -2.6% | -4.2% | -1.6% |
| Q3 '16 | -2.6% | -2.7% | |
| Q2 '16 | -3.0% | -2.1% | -0.9% |
Comp's are typically a blend of traffic / customer count and the average ticket so traffic weakness might allow for a retailer to get a little aggressive on price, as Wal-Mart (NYSE:WMT) had to do a for a few years, but slowing traffic has other implications, and most of them not good.
As investors would expect, returns-on-capital (ROIC) have deteriorated steadily in the last three years.
Some Bright spots:
Free-cash flow has been positive and seen steady improvement for 4 straight quarters despite the capex need to build the "365" 9new format stores.
With October '16's fiscal 4th quarter, management guided to 2.5% - 4.5% and at least $1.42 in EPS or greater for fiscal 2017 so investors may be seeing a bottoming of the growth rates and thus a stabilization in the shares.
Technical analysis: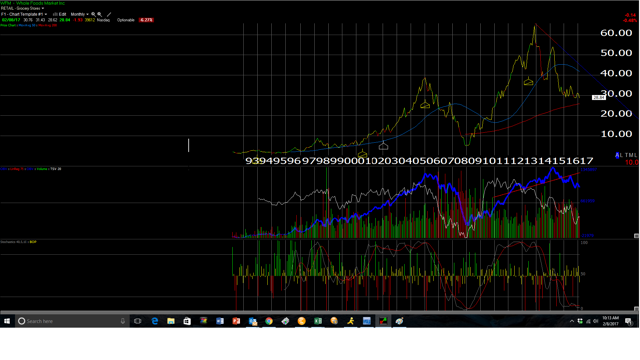 The monthly chart of Whole Foods is as oversold as 2008, early, 2009 when the stock traded under $10.
The $26 area is the point of the 200-month moving average ($25.86 to be exact) for Whole Foods, thus traders that would want to risk a long headed into earnings tonight, would have roughly a 10% drop to the stop-loss at $25.86.
Summary/Perspective:
Street consensus is looking for $0.39 in EPS on $3.97 billion in revenue tonight for expected year-over-year decline in EPS of 13% on 3% revenue growth.
The shocking aspect for me personally about Whole Foods was that management came out with an increase in new stores in late 2013, early 2014 to 1,200 at a time when Whole Foods had roughly 350 stores and essentially that was a peak in the stock price.
There were other aspects to Whole Foods demise at work too: just talking to clients and observing what went on in the tony Lincoln Park area just north of Chicago, Mariano's and Aldi become much more formidable competitors, with Mariano's throwing up stores left and right in both Chicago proper and the 'burbs. Clients told me they preferred to shop at Aldi's and Mariano's.
In addition, The Fresh Market (NASDAQ:TFM) now gone, bought-out by Apollo in early '16 and Sprouts (NASDAQ:SFM) came public which brought additional capital into the specialty grocery space and more store growth and competition.
Finally Costco's (NASDAQ:COST) $4 billion specialty grocery initiative was another formidable competitor for Whole Foods.
Whole Foods shareholders heard for years, from 2000 onward, how Target (NYSE:TGT) and Wal-Mart and others were entering the "organic space" and it never really showed up in the numbers until late, 2013, early 2014, and then Whole Foods was just crushed.
Finally food deflation which has wreaked havoc in the grocery space (read Wal-Mart's earnings reports for quantification of how food deflation has impacted revenue), if it ever ends or becomes less severe, would be one plus for Whole Foods.
Another plus, Matt Hogan of Finbox, whose valuation models I've used in the past, thinks Whole Foods at its current price is trading at a discount to EBITDA (earnings before interest, taxes, depreciation and amortization)
Fundamentally, Whole Foods needs to stabilize, and investors would like to see earnings and revenue estimates to stop falling and start to firm up.
Technically, the $25 - $26 area is a critical level for WFM.
From a sentiment perspective, from the research read prior to writing this, not one analyst was willing to step in front of earnings and recommend buying the stock for a short or long-term position.
Just the evaporation in positive sentiment and plethora of caution and negative sentiment alone might warrant a bounce in the shares, but that isn't how client money is managed.
What to look for tonight:
Any change to the fiscal 2017 guidance of 2.5% - 4.5% revenue growth, $1.42 or more in EPS (current Thomson Reuters I/B/E/S is $1.44 for fiscal 2017), and comp guidance of 0% to -2%.
Comps or comparisons are key. It was the first metric to turn south in late 2013 and early 2014 so how comp's come in, for January '17 will be critical and even if comp's are bad, if traffic improves that would be a plus I would think.
Continued improvement in free-cash-flow would be another plus. With a 4% free-cash-flow yield WFM not a screaming buy, but the pressure the build-out of 365 stores must be with the traditional store seeing less foot traffic, and yet Whole Foods free-cash-flow is improving is one small positive in a sea of ugly.
Disclosure: I am/we are long COST.
I wrote this article myself, and it expresses my own opinions. I am not receiving compensation for it. I have no business relationship with any company whose stock is mentioned in this article.