Introduction
Del Frisco's Restaurant Group (DFRG) ("Del Frisco's") is the last restaurant targeted by the activists. It seems like this sector is quite hot at the moment. My last pick in this sector, Bravo Brio Restaurant Group (NASDAQ:BBRG), which was also targeted by an activist fund, returned 9% in just a few weeks. I expect the same in the case of Del Frisco's.
The target and Valuation
The company owns three high-end chains: Del Frisco's Double Eagle Steak House (Del Frisco's), Sullivan's Steakhouse (Sullivan's), and Del Frisco's Grille (the Grille). In total, it operates 50 restaurants. It is cited as a favorite restaurant for Wall Street bankers and traders. I invite you to comment below if you have had the experience of eating here.
According to the last annual report, the company was organized in 2006 when Lone Star acquired Frisco's and Sullivan's restaurant concepts. This private equity restructured the company, and sold it in 2012, wherein an IPO was made.
I appreciate the fact that Del Frisco's was owned by a big private equity, such as Lone Star. I believe that other private equities will not be afraid of sending bids if the company tries to sell itself fully knowing that another PE worked with the employees of the company before.
I believe that the sector is quite undervalued by the market. Most companies that I have seen are trading at 9-11x EV/EBITDA ratio. The case of Del Frisco's is even worse. It is trading at 8.8x. It would make sense for a company that does not grow, has a large amount of debt, or is quite small. However, Del Frisco's shows a very different profile. It has no long-term debt, a ROE of 8.09% and a market capitalization of $394 million. It is definitely a very interesting target.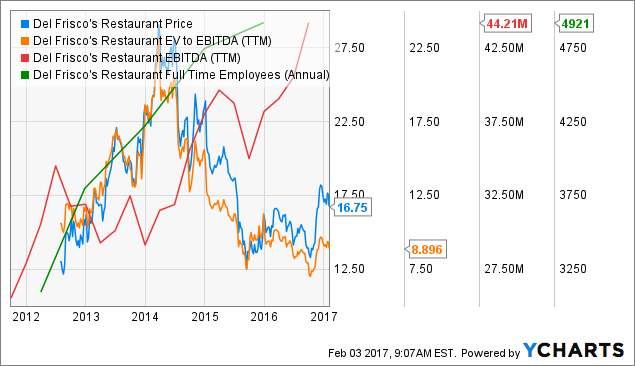 Activist
Fidelity National Financial (FNF) ("Fidelity") is a large corporation with a lot of resources. It has market capitalization of $9.76 billion and $5.61 billion of cash. It could buy Del Frisco's, but I don't think that it is likely. I could read the following text on its website:
"In addition, through FNFV we own majority and minority equity investment stakes in a number of entities, including American Blue Ribbon Holdings, LLC, Ceridian HCM, Inc., and Digital Insurance, Inc."
In my opinion, it will try to push the Board of Directors to sell the business to another financial buyer.
The company is buying back shares
The directors sitting on the Board of Directors know that the company is undervalued. They found a very simple way to increase its price: buy back the shares.
In the last 8-K, I found the following:
"During the fourth quarter of 2016, we repurchased 303,187 shares of common stock for $4.8 million under the authority provided by our Board of Directors in October 2014."

8-k
A few months ago, I believe that the directors on the Board understood that this method was not enough to make the stock price recover, and they had to change the CEO.
The new CEO has private equity experience
On November 21, 2016, Mark S. Mednansky, the CEO, announced his retirement. He is 59 years old. The Board automatically elected a new CEO having private equity experience, Norman J. Abdallah, who is 53 years old. I want to note that he was already a director of the Board.
The new CEO has been a partner in CIC Partners. I could find the following information about this fund:
CIC Partners is a middle-market private equity firm that invests in growth-oriented companies primarily in the food, restaurant, healthcare and energy industries.

CIC Partners website
I believe that the company elected someone with this kind of experience to sell the company, or to find another way to pay back the shareholders. He has the required skills to negotiate with potential bidders and understands how the market works. I don't know if the company is looking for a buyer at the moment, but I think that if a bidder contacts the Board of Directors, the company will know what to do.
On the day of his election, the new CEO commented the following about his role in the company:
"As a Board member over the last several years, I have witnessed Mark's limitless passion for his people and dedication to operational excellence while being both team and guest obsessed. Mark has built an exceptional platform and his positive impact on this organization will always be remembered. As we look toward the future of Del Frisco's, I am honored to lead and steward this Company and its highly regarded brands, and I will leverage the tremendous operating culture Mark built to ensure our strategic initiatives deliver meaningful shareholder returns and continue to make Del Frisco's the Employer, Provider and Investment of Choice."
To sum up, the company did not say that it is trying to sell the business, so it is not "officially" in play. However, the election of this new CEO, his profile, and the fact that he mentioned in the "strategic initiatives" of the company make me think that a sale is likely.
Insider and institutional ownership
I appreciate studying what other investors and insiders think about this company: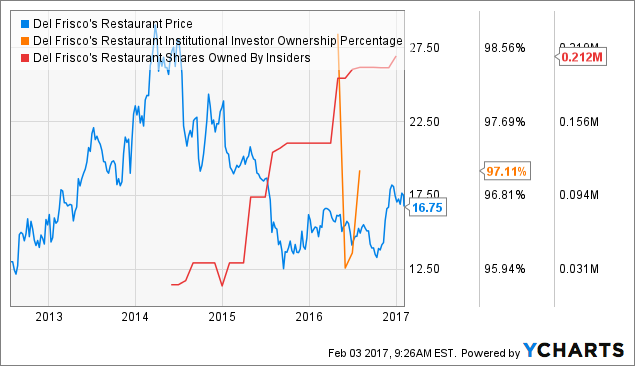 The amount of institutional investors and insiders that bought Del Frisco's in the past 2 years is quite high. Maybe they know something that the public ignores or expect the sale of the company. In any case, I think this company is, at the moment, a great pick.
Conclusion
Many indicators suggest that this company will look for a buyer or find another way to pay back to the shareholders. Firstly, due to its bad performance, the sector is currently being pressured by activists' investors. If the competitors make a move to increase their margins, then the company will have to do the same to remain competitive.
Furthermore, the low valuation of the company and its lack of debt make it a very interesting target for private equities. In addition, the new elected CEO has private equity expertise and therefore negotiation skills necessary to execute the sale of the business. Finally, the company, institutional investors and insiders are buying shares. It has become evident that something is going to happen.
Disclosure: I/we have no positions in any stocks mentioned, but may initiate a long position in DFRG over the next 72 hours.
I wrote this article myself, and it expresses my own opinions. I am not receiving compensation for it (other than from Seeking Alpha). I have no business relationship with any company whose stock is mentioned in this article.