If you believe in the accuracy of EIA's model in the weekly report, then the record crude oil build for this week, despite being the third largest in history, is substantially less bearish than that of the preceding week. Half of the build is due to increased imports, and unlike in the previous week, gasoline and distillates did not increase.
We will comment on the numbers based on EIA's reported numbers, but for those who don't believe in the accuracy of EIA's models there are essentially three variables that can explain the record crude oil stock increase this week: 1) an increase in net imports, as reported, 2) a larger increase in domestic production than modeled, or 3) substantially weaker demand for refined products.
Crude oil prices (NYSE: USO) dropped by a small amount after the report was released, then jumped by about $1.00/bbl after digesting the numbers.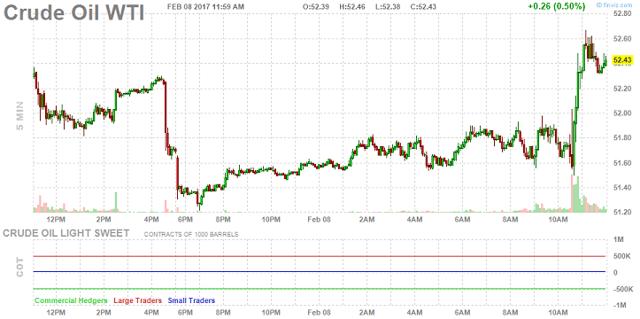 Source: Finviz.com
Stocks:
* Crude oil inventories increased by 13.8 million barrels.
* Gasoline inventories decreased by 900,000 barrels.
* Distillate inventories remained unchanged.
Although the rise in crude oil stocks this week is the third largest since April of 1985, with the largest being in October 2016, the increase in crude oil stocks + gasoline + distillates is about the same than the preceding week.
Taking into account the increase in net imports, which were reported to be about 1 mmbpd above normal for this week, the increase in crude oil stocks is reduced by half. Unfortunately, the figures for net imports have almost no hard data behind them, and may or may not represent an actual increase in net imports.
As such, while we can be certain that crude oil stocks increased by a record amount this week, the reason for the increase is subject to debate since the EIA report contains a lot of noise. Besides an increase in net imports, a higher increase in domestic production than modeled or a decrease in demand for gasoline and/or refined products could have also been used to balance the numbers.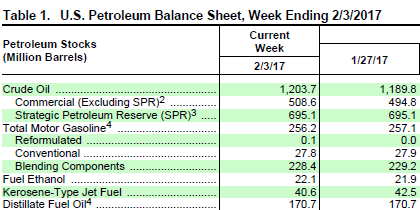 Source: EIA
Production and Refinery Utilization:
* Domestic production increased by 63,000 barrels per day. This is simply the monthly adjustment following the recently published EIA Short Term Energy outlook. It does not represent an actual increase in production.
As we have mentioned several times in the past, weekly production numbers are so unreliable that last week for example, the EIA reported a drop in production of 46,000 bpd in order to balance its model; just a week later, the EIA had to reverse that adjustment and report a weekly increase of 63,000 bpd.
In reality, neither production increased by 63,000 bpd this week, nor it decreased by 46,000 bpd the previous week. Instead, the current weekly increases in domestic production seem to be just short of 10,000bpd.
* Production in the Contiguous United States (excluding Alaska) increased by 73,000 barrels per day; this reverses de decrease of 45,000 bpd reported the previous week. As in the domestic production case, the change for this week simply matches the weekly numbers to the monthly model.
* Net imports increased by 1,082 mbpd to a level that is around 1,000 mbpd higher than normal. While net imports could have in fact increased this week (we don't know since the EIA figures are not backed by actual data), we don't see any particular reason for the increase as crude oil prices are not particularly low, demand has not increased, and inventories are still near historical highs.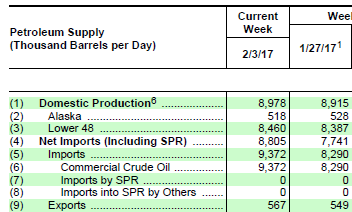 Source: EIA
* Refinery utilization decreased by 50 bps. We remind our readers that we are very close to the start of refinery maintenance season, where utilization drops even more and crude oil stocks surge. With stocks of crude oil and refined products at record levels, we are starting to get into dangerous territory.

Source: EIA
Cushing, Oklahoma:
* Cushing, OK inventories increased by 1.2 million barrels. We still believe that Cushing is essentially at maximum operating capacity.
* Gulf Coast inventories increased by 10.9 million barrels. Along with Cushing, also at very high levels.

Source: EIA
Conclusion:
The third largest increase in crude oil stocks in the history of the EIA's data series. Although very bearish, the numbers are actually not that much worse than those of the preceding week as gasoline stocks decreased, distillates remained flat, and an increase in net imports accounts for half of the increase. Unfortunately, net import figures have limited basis in reality, and as such, there are other variables that could explain the increase in crude oil stocks which could be very bearish to crude oil prices in the medium term.
Disclosure: I/we have no positions in any stocks mentioned, and no plans to initiate any positions within the next 72 hours. I wrote this article myself, and it expresses my own opinions. I am not receiving compensation for it (other than from Seeking Alpha). I have no business relationship with any company whose stock is mentioned in this article.