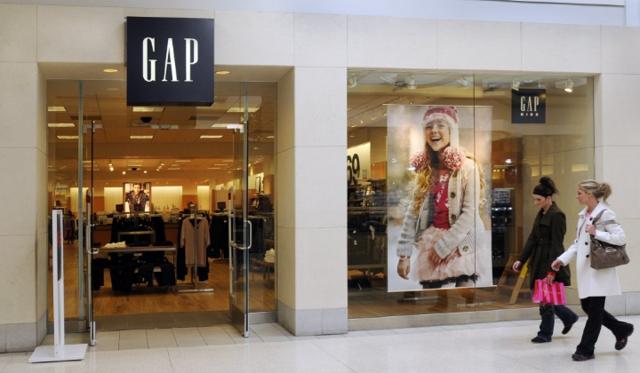 Gap (NYSE:GPS) has been a tough stock to be bullish on for a very long time. The company's struggles have been huge and protracted and recent evidence would suggest they are going to stick around for yet more time. I was bullish on GPS at times in the past but quarter after quarter of frustration and disappointment broke me of that habit. Now, Gap has reported January sales as well as an update on Q4 and some investors are excited. And at 11 times earnings, the stock certainly looks cheap. But all is not well and I still think there are lots of challenges ahead.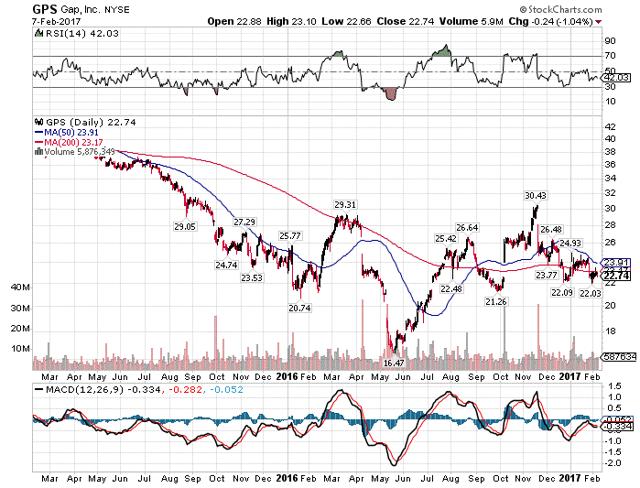 Gap's consolidated comp sales have been horrendous for many quarters now and in Q4, management's updated guidance suggests at +2% print against the -7% one we saw in last year's Q4. That's fine, and it's progress, but is it enough? Gap was still flat against a -3% showing last year while perpetual anchor Banana Republic was off another 3% against a 14% loss in last year's Q4. These were offset only by a +5% showing from Old Navy against its 8% loss last year and while the total number was positive, it is very clear that GPS has problems.
The thing is that we've been waiting and waiting and waiting for a turnaround from GPS but it has never come. Banana Republic continues to find new lows in terms of sales productivity and Q4 was no exception. That brand is in very serious trouble and now that BR's president is out, who knows what strategic direction it may take. This could be a turning point for BR and it may not necessarily be a good one. If GPS can figure BR out it would go a long way towards fixing its comp sales issues. But BR is in a very deep hole and this is not going to be an overnight resurrection.
Q4's results were bolstered by a one-time tax benefit so I don't care so much about the EPS "beat" but from a sales perspective, I think GPS is still in a lot of trouble. That said, 2016 was awful and so was 2015 so at some point, GPS should at least stop seeing its sales move down, although I'm not sure we're even near the point where we may see comps begin to move up in a meaningful way.
January's comp sales were slightly better than expected but when a +1% showing against a -8% number last year looks good, something is wrong. Old Navy and Gap were both up in January but BR was once again negative. BR's January comp last year was-17% and yet, it was lower still this time around. The lack of productivity from this brand is astounding and it would take a superhuman effort from the other two in order to salvage the consolidated company's results.
Old Navy continues to be the leader of the group, although I'd use that term in a relative sense only. Progress was clearly made in January at Gap and that's great, but it has a very long way to go to get back to some semblance of growth instead of just arresting enormous declines. BR isn't there, or even close for that matter, and I don't know when or if it may get there. GPS still has plenty of problems as they relate to comp sales and with no visible turnaround strategy, I'm not sure what may get it there.
The other thing we don't know is how the positive comp sales number was achieved in January. Struggling retailers often discount and promote in order to boost comp sales but that comes at the expense of margins. There was no read on margins for January so I'm cautious; what if GPS simply promoted and discounted its way to a positive comp sales number? That possibility is very real and if that is the case, it means demand isn't really picking up. Unfortunately we'll have to wait and see but for now, even if there was no pressure on margins, the increase in comp sales wasn't exactly huge and doesn't even get GPS close to where it was last January, which itself was a huge decline on 2015.
The yield is still huge at 4% and the valuation is reasonable at 11 times earnings but remember that there is literally no growth here. Even if analysts are right and GPS grows EPS by 3% or 4% in 2017, you're still paying a bunch for that growth. Given that GPS has so many problems, I certainly would not be surprised to see it at 8 or 9 times earnings instead of 11. In other words, I think a rosy scenario for 2017 is already priced in and while I'm not saying it won't improve in 2017, I am saying that I think upside is limited even if that happens. The stock hasn't fallen enough to offset what looks to be continued weakness in comp sales numbers and if I'm right about margins, the stock is definitely overpriced. January's sales number reiterated the idea that GPS is a sell to me so I remain on the sidelines.
Disclosure: I/we have no positions in any stocks mentioned, and no plans to initiate any positions within the next 72 hours.
I wrote this article myself, and it expresses my own opinions. I am not receiving compensation for it (other than from Seeking Alpha). I have no business relationship with any company whose stock is mentioned in this article.