Several days ago, the WGC (World Gold Council) published their year-end report for 2016. For the full year 2016, gold (NYSEARCA:GLD) (NYSEARCA:GDX) (NYSEARCA:GDXJ) demand gained 2% to a 3-year high of 4,308 tons.
The three most important highlights for the year were:
Gold inflows in ETF and similar products was the second highest on record.
Jewelry gold demand was the lowest in 7 years.
Central bank demand was the lowest since 2010, but nevertheless, it was the 7th consecutive year of net purchases.
As I have said in the past, investment demand for gold is what really drives the price of gold. At the margin, outside of investment demand, most other demand components change little Y/Y, and are not drivers for the price of gold.
However, with jewelry demand trending lower, investment demand is not a dependable demand component anymore. In order for gold to see respectable appreciation, investment demand has to increase by a lot. And I am skeptical if this will happen in 2017.
Saved by investment demand
Investment demand for gold is very volatile, and it's not easy to forecast. If it was, guessing the price of gold would be a lot easier.
Investment demand inflows were witnessed for the most part of 2016. However, in Q4'16, investment demand went into reverse, and outflows characterized Q4, especially after the U.S. presidential election.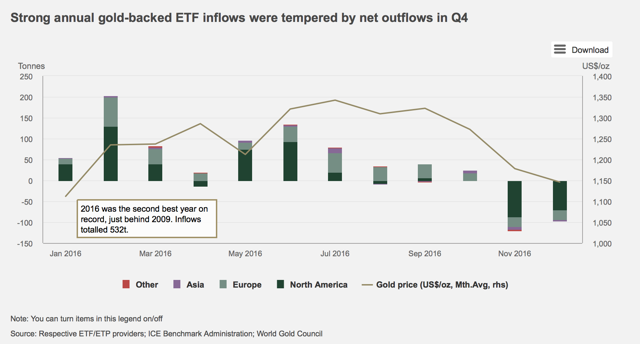 As to why investors reversed course in November, I think it has to do with the rally after the U.S. presidential election. I assume everyone sold gold ETFs to buy equities.
Can investment inflows continue in 2017? Probably, if the market buys the idea that the Fed will be raising interest rates 3 times. Personally, I do not buy it. I do not think it will happen. However, to the extent that inflationary expectations continue, then inflows will probably continue.
And if investment inflows in ETFs continue, I think gold has a good chance to see some good appreciation in 2017.
In 2016, the price of gold was saved by investment demand. Can this continue in 2017?
The thorn in gold appreciation
As for Jewelry demand, the main problem was India, where demand was lower by 22% in 2016. Chinese demand also declined in 2016.
The WGC said "Indian demand was 148.3t lighter than 2015 - the biggest yearly decline recorded in our historical data series."
The reason for the decline in India, as per the WGC was, "the government's clampdown on undeclared income, that drove an element of gold demand into the shadier grey market."
However, the WGC admits that:
Circumstances in India during 2016 created a very challenging environment in which to collect accurate data on gold demand. In Q1, the nationwide jewelers strike effectively shut down the gold industry.
and
Should further information regarding demand come to light, we will revise the data accordingly.
In other words, they are not really sure. But if you ask me, these are not the reasons. In fact, it is more than likely that the WGD itself does not know.
As far as I'm concerned, jewelry demand in India is in a long-term decline. And if I am right, Indian jewelry demand will continue to decline indefinitely!! Please read my take on the topic in a recent article: Why Gold Jewelry Demand Will Continue To Decline Indefinitely.
The question is, if I am right and gold demand for jewelry in India will continues to decline, can investment demand save the day, and make up for the void that Indian demand will create?

If we look at the above data from the WGC, we will notice that jewelry demand was lower by 347 tons, and investment demand was higher by 660 tons. So demand was lower across the board except for investment demand.
If I am right and jewelry demand continues to trend lower in 2017, then that means investment demand must be sustained in 2017. In fact, investment demand has to be sustained indefinitely, in order for the price of gold to stay around current prices.
Because if see the outflows from ETFs witnessed in 2013, 2014 & 2015, and jeweler demand falls by another 200 tons in 2017, then we might see a shortfall in demand by up to 800 tons. That's a lot of demand folks. And if something like this happens, gold prices might collapse.
However, if such a scenario for 2017 does arise, I suspect central banks will come in and fill the demand gap. In my mind, central banks are in tune together in order not to let the price of gold collapse. Then again, this is only speculation on my part, and is not a given.
Bottom line
Like I said on a previous post, I think gold demand for jewelry from India and many Arabic countries, as well as China, is in a long-term decline.
The slack from jewelry demand in 2016 was picked up by investment demand (ETF demand). Investment demand has to be sustained in 2017, otherwise we will see a very big shortfall in demand in 2017.
Inflation expectations are one of the reasons for continued inflows in ETFs, but personally, I do not buy the inflationary pressure argument. I also do not buy the argument that the Fed will raise interest rates 3 times in 2017.
So the way I see it, betting on continued ETF inflows is not a sure thing this year, especially given the outflows of the last 2 months of 2016.
However, at the end of the day, I think central banks will probably pick up any slack in gold demand. But like I said, central bank purchases are a wild-card and we cannot bet on them.
Disclosure: I/we have no positions in any stocks mentioned, and no plans to initiate any positions within the next 72 hours.
I wrote this article myself, and it expresses my own opinions. I am not receiving compensation for it (other than from Seeking Alpha). I have no business relationship with any company whose stock is mentioned in this article.