In part 1 of this series, I have tried to explain some of the reasons why I believe AbbVie (NYSE:ABBV) can be a good investment option in 2017. In this article, I will continue my commentary and list some more factors that are expected to drive the future growth story for AbbVie.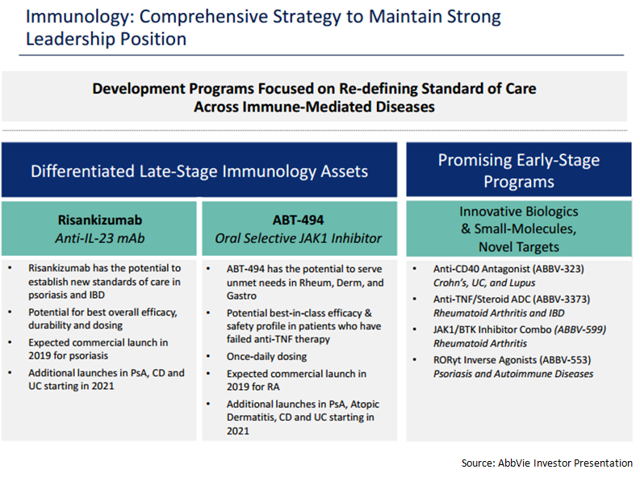 AbbVie has expanded its immunology presence beyond Humira
AbbVie is currently testing its selective JAK-1 inhibitor, ABT-494, in phase 3 trials as a therapy for rheumatoid arthritis or RA. The research program is currently progressing much ahead of schedule and is expected to release data in late 2017.
AbbVie is confident of the robust benefit-risk profile of ABT-494 and expects to benefit the most from it while treating difficult-to-treat and inadequately responding RA patients. Accounting for a significant 35% of the total RA population, this segment can be a solid growth opportunity for ABT-494. Further, ABT-494 is also being studied in phase 2 program for Crohn's disease. Data from this trial is expected in 1H 2017. In 3Q17, AbbVie also plans to initiate phase 2 program studying ABT-494 for ulcerative colitis. ABT-494 is also being explored as treatment option for atopic dermatitis in Phase 2 program.
AbbVie has entered into a collaboration with Boehringer Ingelheim for developing and marketing IL-23 inhibitor, Risankizumab. So this drug has the potential to be an effective therapy in multiple immune-mediated conditions. Being dosed one a quarter, the reduced dosage frequency can greatly aid overall patient compliance. AbbVie is studying the drug in multiple indications such as psoriasis, psoriatic arthritis, and Crohn's disease.
AbbVie anticipates data from three pivotal studies for risankizumab in psoriasis indication by end of 2017. The company has further projected commercialization timeline for the drug to be 2019. The company also expects Phase 2 data for risankizumab in Crohn's disease indication in 2017. This will give way to the initiation of Phase 3 program in late 2017. AbbVie has also projected commencement of Phase 3 programs for risankizumab in psoriatic arthritis in 1H 2018. Risankizumab will also be explored for ulcerative colitis in Phase 2 program, scheduled to commence in 2H 2017.
If you want to know in detail about AbbVie's ABT-494 and risakizumab research programs, I will urge you to read Why Is AbbVie A Strong Buy In 2016? Part 1
Imbruvica continues to be a major growth opportunity for AbbVie in 2017
In 2016, Imbruvica posted a solid rise of 67% in total sales, which reached approximately $1.8 billion. Chronic lymphocytic leukemia or CLL continues to be the major revenue driver for Imbruvica. Imbruvica is also used by around half of the total CLL patient population with 17p deletion, which together form a market worth $300,000 million.
Based on data presented at the American Society of Hematology or ASH meeting 2016, it was seen that nine out of ten CLL patients have demonstrated partial or complete response after using Imbruvica for five years. This highlights the potential of Imbruvica to become long-term therapy for CLL patients.
Imbruvica is also being compared with other preferred regimens for CLL as a monotherapy or in combination with multiple agents. Success in these head-to-head trials will further increase access for the drug. AbbVie and Janssen Biotech, a subsidiary of Johnson & Johnson (NYSE:JNJ), are also trying to study long-term effects of Imbruvica in different population segments such as young and fit CLL patients or watch and wait CLL patients. These studies expected to unravel information about those patients who will benefit most from Imbruvica therapy.
The companies are also exploring other labels for Imbruvica in areas such as blood cancers and non-hodgkin's lymphoma or NHL. At ASH, AbbVie has also presented favorable data reiterating Imbruvica's potential in two major types of NHL, follicular lymphoma and diffuse large B-cell lymphoma.
On January 19, 2017, Imbruvica proved to be the first oral therapy to be approved for marginal zone lymphoma, another type of NHL. This therapy is indicated for those MZL patients who have previously undergone at least one anti-CD20-based therapy and require systemic therapy. Hence, Imbruvica can provide a chemotherapy free treatment option to MZL patients. This is the fifth major approved indication and the seventh overall approved indication for Imbruvica. It marks the success of AbbVie's and Johnson & Johnson's strategy of aggressively expanding Imbruvica's label.
Imbruvica also managed to demonstrate complete or partial response in 66% of the patients suffering with chronic graft versus host disease who failed to respond to previous systemic therapy. The application seeking pproval for the drug in this indication is expected to be filed in 1Q17. With no approved therapies currently in the market, this area represents significant growth opportunity.
AbbVie also expects Imbruvica to fetch $2.4 billion in sales in 2017, with $2.0 billion coming from USA. If you want to know more about Imbruvica, I will urge you to read Why Is AbbVie A Strong Buy In 2016? : Part 2
With more approved indications, Venclexta will become a major growth driver for AbbVie beyond 2018.
Throughout 2016 and starting 2017, AbbVie and Roche Genentech (OTCQX:RHHBY) have been actively seeking regulatory approval for Venclexta as a therapy for CLL patients with 17p deletion across multiple geographies. The drug has also managed to secure conditional regulatory approval as a treatment option for CLL patients with TP53 mutation or for those CLL patients who failed to respond to B-cell receptor pathway inhibitor or chemotherapy, in Europe.
In the ASH 2016 meeti8ng, AbbVie presented Phase 1 data related to Venclexta in indications such as multiple myeloma and acure myeloid leukemia or AML. Further, data from Phase 2 trials studying Venclexta in follicular lymphoma and diffuse large B-cell lymphoma was also presented in ASH meeting.
AbbVie has projected sales worth $125,000 million for Venclexta in 2017. This estimate is based on the expectation of Venclexta gradually building up market share in CLL segment with 17p deletion. Since patients starting on a therapy are dosed at lower strengths in the initial weeks, revenues from Venclexta are expected to rise gradually throughout 2017. Venclexta has been adding 80-90 patients on a monthly basis in 2016. The drug has managed to capture 20% to 22% of the CLL market with 17p deletion in USA. Together with Imbruvica, AbbVie plans to dominate this nice opportunity. If you need more details about Venclexta, please read Why Is AbbVie A Strong Buy In 2016? Part 3
Now in the last part of this series, I will discuss how veliparib can differentiate from other PARP inhibitors. I will also talk briefly about women's health drug, Elagolix, as well as AbbVie's differentiated alzheimers' research program. These factors together are making AbbVie a solid buy in 2017.
Disclosure: I/we have no positions in any stocks mentioned, and no plans to initiate any positions within the next 72 hours.
I wrote this article myself, and it expresses my own opinions. I am not receiving compensation for it (other than from Seeking Alpha). I have no business relationship with any company whose stock is mentioned in this article.
Editor's Note: This article discusses one or more securities that do not trade on a major U.S. exchange. Please be aware of the risks associated with these stocks.