Johnson & Johnson (NYSE:JNJ) has pulled the trigger on buying up Actelion (OTCPK:ALIOY) for $30 billion, an effort to boost its drug discovery capabilities. This is a bet that pharma can be a growth driver for the $310 billion market cap company. With all this, the likelihood of an activist investor getting more aggressive at JNJ is becoming less likely.
JNJ is becoming its own activist, of sorts - looking to undergo some strategic alternatives for its diabetes business and beating 4Q 2016 earnings. This should help keep more calls for an activist to break up JNJ at bay.
Still, that doesn't change the fact that JNJ has underperformed the iShares Dow Jones US Healthcare ETF (NYSEARCA:IYH) by more than 45 percentage points over the last decade. And some may see the move to buy Actelion as an overpayment for the acquisition.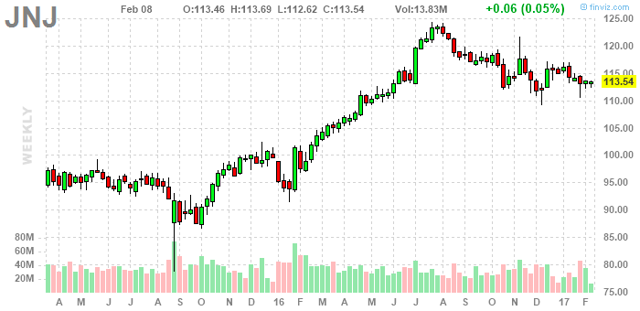 An activist push.
The previous activist push was to break JNJ into three companies and become hyper focused. However, many of the large passive investors that own the stock likely enjoy the diversification of its business model, which adds to the stability of its dividend. They'll take perennial underperformance for that safety.
Yet, with the large price tag for the Actelion buyout, maybe some passive investors begin to realize the wealth destruction going on at JNJ. An activist could step in and help take advantage of the Actelion buyout. This includes the potential plan to spinoff the Actelion R&D unit.
The Actelion CEO, $1 billion in cash and several dollar dollars in assets will be spun off with the R&D unit. There's an opportunity to negotiate a better deal. Right now, JNJ will get 16% of the spinoff and have the potential to buy another 16%. The key part of Actelion was its strong early stage pipeline, but JNJ's exposure to this will remain capped. Even still, the Actelion growth might not live up to expectations, already seeing flaws as its promised blockbuster drug Opsumit failed its key late stage trial.
A potential headache for JNJ as its pharma segment shows signs of slowing. Still, the growing global healthcare market is a bull thesis for JNJ. It has a rather diversified business model, serving the medical devices, pharma and consumer staples market. But Actelion might not be the saving grace and perhaps it will be the catalyst to convince passive investors to join activists in a push to unlock value. In the end, an activist push for a breakup, or at least a spinoff of capital intensive or underperforming businesses, could help finally close the valuation arbitrage gap with its sum of the parts valuation.
Disclosure: I/we have no positions in any stocks mentioned, and no plans to initiate any positions within the next 72 hours.
I wrote this article myself, and it expresses my own opinions. I am not receiving compensation for it (other than from Seeking Alpha). I have no business relationship with any company whose stock is mentioned in this article.
Editor's Note: This article discusses one or more securities that do not trade on a major U.S. exchange. Please be aware of the risks associated with these stocks.