General Electric (NYSE:GE) does billions of dollars of work in Iraq that the Iraqis can ill afford to cancel or delay. Trump's Travel ban will not have a material effect on GE operations, so any price reaction could represent an opportunity.
What's the bad news?
David Alton Clark just published an article on GE stating that he thinks the Executive Order banning entry by people from seven nations including Iraq could hurt GE's business in Iraq. There is no doubt that for the next 90 days or so, depending on what happens with court challenges to the order, travel by Iraqi's to the US will be more difficult than in the past. There is also no doubt that the Iraqi government, especially some legislators, will not be happy about the actions of the US government. But how bad a development is this for GE?
How important is Iraq to GE?
As David pointed out in his article, GE and Iraq just signed a $1.4 billion deal. While that might not be a huge deal for GE, which did $8.4 billion in revenue in 4Q 2016, it's still not a small deal. And this isn't the only deal GE is working on with Iraq.
As this article shows, the new work in Iraq is a big project. Each of the new plants will have 8 GE 9E gas turbines. And after the gas turbines are installed, waste heat from them will be used to drive a stream turbine for additional power generation. Also mentioned in the article is a similarly sized project from last year and on-going work maintaining and upgrading other power plants in Iraq.
This page from their website shows the 40 year investment that GE has made in Iraq. I think it's safe to say that Iraq is an important market for GE and that problems there would be a material issue for GE.
How important is GE to Iraq?
To understand how various political issues in the US might impact GE, I think we need to examine the other side of the coin. So exactly how important is GE to Iraq?
Well, according to this article, many Iraqis get only a few hours of power from the public grid. Conditions were so bad that this lead to demonstrations demanding change. The Iraqi government is clearly under pressure to build more electric capacity.
GE has also been important in getting these deals financed. That is an important consideration if the Iraqi government were to try and replace GE for any of the existing work. And since it has helped put financing in place for past deals, GE is likely positioned well to continue to line up financing further deals. I don't see that Iraq can afford to slow the work on its plan to increase capacity. Replacing GE on existing deals would have a huge impact on that progress. Not dealing with GE going forward would likely have a lesser but still significant negative impact.
This article shows the scope of GE's turbines in Iraq. This article also indicates the scope of recent agreements for future work. These two articles provide further support for the idea that Iraq needs GE in order to provide electric power that its citizens are demanding.
I think the evidence is clear, that despite whatever issues the Iraq government might have with the Trump Administration, it will continue to work with GE on many projects in the country. I think any statements by Iraqi diplomats are mere saber rattling and perhaps designed to help Iraqi negotiation positions in future or ongoing contract talks.
What about future deals?
The Politico article cited by David doesn't indicate any specific deal that Iraq put on hold. The State department apparently wanted to issue a warning but didn't want to specifically identify contracts. In the article I think this quote frames the issue better:
"That sounds pretty implausible, although there may be individual lawmakers that have expressed this for domestic political consumption," said Ali Al-Mawlawi, a former Iraqi official who is now a research fellow at the independent Iraqi Institute for Economic Reform in Baghdad.

He added that it "wouldn't make sense" to end such cooperation, "particularly since enhancing power generation is such a critical issue."
My take on the issue is that while some inside Iraq will make comments to satisfy local political needs, and that the Iraqi government will likely try to use it to strengthen its bargaining positions, that beyond the short 90-day period where the travel ban will impact travel, this will have no material effect on GE. Even in the short term, I don't see GE having problems, as they can just move where meetings happen or get waivers (the Pentagon has already moved to get waivers for Iraqis they work with for instance).
Another thing to keep in mind is that a lot of GE's business in Iraq is in Kurdistan, and that work isn't controlled by the central government. They are much more likely to be friendly to the US and so any hostility won't impact work there as much as in the rest of Iraq.
What's a good price?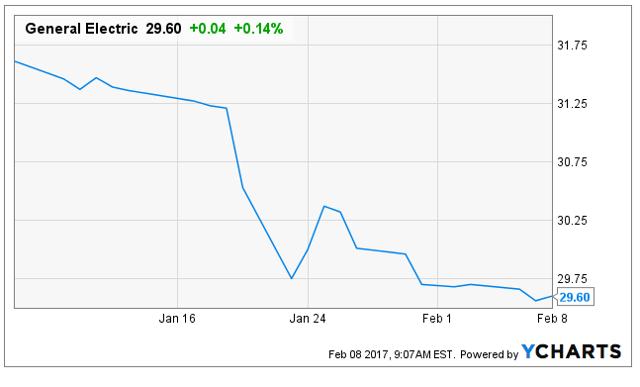 I don't see much reaction to the Iraq news in price action on GE stock. Since I think this news won't have any material effect on GE's actual operations, I was hoping the news would offer an opportunity to pick up shares at a bargain.
I last figured out a price to pay for GE in this article. I still think the price I calculated of $30 is still a good place to buy it. With the market price still below that I still think this is a good time to buy the stock.
Conclusion
I see GE as well positioned to weather any short term issues that Trump's travel ban might cause in its Iraq work. I had hoped to see that the news would have pushed the share price lower so that a better bargain would be offered, but so far the market seems to be inclined to think as I do.
Note: I hope you all got something out of this article. I do appreciate the time you took reading it. If you are one of those who follow me here, I appreciate it; if you'd like to include yourself amongst those individuals, please hit the "Follow" button next to my name as well as following other contributors whose work you enjoy. As always, please leave any feedback and questions you may have in the comments below.
Disclaimer: This article is intended to provide information to interested parties. As I have no knowledge of individual investor circumstances, goals, and/or portfolio concentration or diversification, readers are expected to complete their own due diligence before purchasing any stocks mentioned or recommended. The price I call fair valued is not a prediction of future price but only the price at which I consider the stock to be of value for its dividends.
Disclosure: I/we have no positions in any stocks mentioned, and no plans to initiate any positions within the next 72 hours.
I wrote this article myself, and it expresses my own opinions. I am not receiving compensation for it (other than from Seeking Alpha). I have no business relationship with any company whose stock is mentioned in this article.