A few weeks ago, Netflix (NASDAQ:NFLX) had a positive quarterly earnings release. Although the top line was where analysts expected, $2.47 billion (+35.7% y/y), NFLX was able to beat on the bottom line, posting Q4 EPS of $0.15, slightly edging out estimates by $0.01.
Quick Recap of the Release
After the release, the shares surged around 5% and are now up approximately $12 per share from before the release, trading at $144.30 at the time of this writing. The main driver of the rise was not just the positive revenue, and EPS numbers, but the subscriber growth. Netflix ended the year with 93.8 million members, with 19 million net additions in 2016, compared to 17.4 million in 2015.
Just in the last quarter alone, NFLX was able to add 7.05 million net new members globally, which was significantly above their forecast of 5.20 million, and is above last year's Q4, when they had 5.59 million net additions. Domestically, NFLX added 1.93 million members, exceeding their forecast of 1.45 million and the 1.56 million added in the same period last year. This new member growth coupled with the 15% average sales price growth led to revenue in this segment expanding 27% y/y to $1.4 billion.
In Q1, NFLX projects 5.2 million net additions, with 1.5 million in the U.S. and the rest coming from international additions. Management is projecting quite a decline in the net adds from this quarter and in the press release cited "strong Q4 results likely pull[ing] forward some net adds from Q1'17 to Q4'16." Management also gave positive guidance with respect to the international segment. Although they said they plan on investing heavily in 2017 and expect an international contribution loss in the year, they did say that loss should improve substantially on a y/y basis and this segment will likely be slightly profit positive in Q1.
Netflix continues to invest heavily in content and guided that in 2017 they will continue to ramp up investments, expecting to invest over $6 billion on content, up from $5 billion in 2016. Such substantial investments is crimping free cash flow. In Q4, free cash flow was -$639 million vs. -$276 million in Q4 last year and -$506 million in Q3'16. Management also guided that free cash flow will be around -$2 billion in 2017.
With such a free cash flow drain, management said they are funding their working capital needs through the debt market. In October, they raised $1 billion by issuing senior notes with a 4.375% coupon. Then, a week after the release, NFLX announced they will issue $2 billion in senior notes to fund its content spending this year. With interest rates increasing, it will become more expensive for NFLX to finance itself moving forward. Moreover, with competition heating up, there is no end in sight to the substantial investments in increasingly more expensive content. Therefore, NFLX will have to continue to load up on debt in future quarters.

Source: Press Release
Headwinds
Competition
By being the first major player in the industry, Netflix enjoyed relatively high purchasing power. Licensing of titles is typically done through multi-year exclusive subscription video-on-demand licenses (SVOD). Through this method, Netflix was able to lock in content at attractive prices. Unfortunately, with the recent heightened competition from a wide range of companies such as Amazon (NASDAQ:AMZN), Hulu, Microsoft (NASDAQ:MSFT), and AOL (NYSE:AOL), these costs are set to rise dramatically.
Moving forward, Netflix will have to pay substantially more for content, which will impinge upon margins. Evidence of this trend is percolating as the divergence between free cash flow and net income continues to increase. (I'll further explain this trend below).
Amazon has been considered its biggest competitor to date. However, Hulu, which is co-owned by Disney (NYSE:DIS), Comcast (NASDAQ:CMCSA), Fox (NASDAQ:FOX), and Time Warner (NYSE:TWX), has been becoming a bigger player in the market and has gained a number of exclusive rights of late. For example, in late December, Hulu signed a multi-year deal to be the exclusive streaming home of dozens of movies such as Mulan, Pocahontas, and Hercules.
Netflix's management even discussed the heightened competition in the industry in the press release:
Internet video is a global phenomenon. Amazon Prime Video expanded recently to match our territory footprint, while YouTube remains far larger than either of us in terms of global video enjoyment minutes. Video consumption is growing on Facebook, and Apple is rumored to be adding video to its music service. Satellite TV operators are moving to become internet MVPDs, such as ViaSat to ViaPlay in the Nordics, DISH to Sling, and DirecTV to DirecTV Now. Insurgent firms such as Molotov.tv in France and Hulu are building native-internet interfaces for TV network bundles. CBS is releasing a major original series (Star Trek) exclusively on its domestic SVOD service (with us as international partner). Finally, the BBC has become the first major linear network to announce plans to go binge-first with new seasons, favoring internet over linear viewers. We presume HBO is not far behind the BBC. In short, it's becoming an internet TV world, which presents both challenges and opportunities for Netflix as we strive to earn screen time.
With increased competition, Netflix will face margin pressure from increasing costs to its content as well as pricing pressure on subscriptions. Competition will constrain Netflix from both ends.
Reduction in Domestic DVD Business
NFLX's DVD business has continued to shrink. As of December 2016, it only had 4.03 million DVD subscribers, which is down significantly from 4.9 million just one year ago. Many investors may not worry about this dwindling business segment since NFLX has pivoted towards streaming as its primary area of focus. However, investors do have cause for concern when one considers that the DVD business segment contributed over half (52% to be specific) of NFLX's operating profit in the last quarter.
The reason for this business constituting such a large segment of NFLX's profit is because it has already taken out its competition in this segment, Blockbuster. However, in the streaming market, NFLX faces a growing amount of competition, which increases its content acquisition costs and puts pricing pressure on what NFLX can charge for a subscription. This heightened amount of competition has made it difficult for NFLX to generate significant profits from its streaming business.
Saturation of Domestic Market
In the US Domestic Streaming Segment, total memberships as of December 2016 was 49.43 million. NFLX guided that they will only add 1.5 million new customers in this segment in Q1. With such a substantial base of users already, it will be difficult for NFLX to generate significant growth off of this base. With this segment accounting for over one third of NFLX's profit, 38.2% last quarter to be exact, that decelerating growth should be concerning to investors.
International Streaming Segment
NFLX's international business presents a larger opportunity and NFLX appears to be adding subscribers at an accelerated rate. In the last quarter, it added roughly 5.12 million subscribers, which represents a marked increase in the added subscriber rate from a year ago. Nonetheless, the international market still contributed a loss in the quarter of $67 million. Moreover, NFLX did guide for net additions to decline to 3.7 million in the next quarter.
I believe that the fragmented state of the international market is to blame for the continuing losses. Unlike the domestic market, entering these smaller markets is much more expensive, as the preferred content varies greatly. The US has a much more homogeneous taste in shows compared to the various smaller international markets. Investments in content do not generate the same return in these fragmented markets.
Furthermore, Netflix faces more competition from Amazon in international markets. In mid-December, it was announced that Amazon had expanded Prime Video to more than 200 countries. Importantly, Amazon has priced Prime Video at a significant discount to Netflix's global pricing of $9.99. The first six months cost $2.99 per month and only $5.99 after that.
Additionally, Amazon has increased the number of countries that will get Prime Video included with its existing Prime service such as Belgium, France, Canada, India, Italy, and Spain.
Although NFLX guided for a Q1 profit from this segment, they also expect to increase content investments heavily and the overall contribution from this segment will be a loss in 2017. Increased competition in an already fragmented and unprofitable market spells trouble for NFLX moving forward, especially when considering the saturation of the domestic streaming market and declining DVD business.
Debt
As of December 2016, NFLX held only about $1.47 billion in cash and $3.4 billion of senior notes with interest rates varying from 4.375%-5.875%. These notes mature between 2021 and 2025. Note that NFLX also issued $2 billion in senior notes a week after this release.

(Source: 10-K)
This level of debt relative to its assets is not too alarming. However, when considering that NFLX's free cash flow has been declining, this does become somewhat concerning. In the last quarter, free cash flow was $572 million lower than net income. This represents an increased gap between free cash flow and net income than in the quarter when the gap was $557.9 million.
The major driver for this divergence has been the onslaught of competition, which has required larger investments in content. Cash outlays for content have been increasing and spending more cash than its streaming amortization expense has been the primary driver of this divergence.
With its cash burn rate increasing, NFLX will have to go to the market to borrow more debt, which will make NFLX a riskier investment. Moreover, with interest rates set to increase, NFLX will likely have to pay more in interest expenses.
Off-Balance Sheet Risks - Streaming Content Obligations
Additionally, the balance sheet alone does not show the true nature of NFLX's liabilities. As of December 30, 2016, NFLX had a staggering $14.7 billion in content obligations. However, only $6.5 billion were recognized on the balance sheet. The reason for this is because the rest did not meet the criteria for recognition. In the 10-K, management explained that "once a title becomes available, a content liability is generally recorded..."
With a market capitalization of roughly $62 billion, that $14.7 billion in streaming content obligations represents nearly one fourth of the company's value. Having that level of off-balance sheet liabilities should be alarming to NFLX investors. If NFLX begins to lose subscribers and is required to incur these content liabilities, the company can generate substantial losses.
In the past year alone, NFLX has increased these content liabilities from $10.9 billion to $14.7 billion. I believe that competition for an increasingly scarce amount of content has led to this development. Management must take longer-term risks in order to secure content away from several competitors, such as Amazon and Hulu.
Net Neutrality Risk Under Trump
A policy change regarding Net Neutrality also presents a serious risk to NFLX. Net Neutrality is a rule that the FCC promulgated which prevents internet providers like Comcast and Verizon (NYSE:VZ) from charging websites like Netflix for a fee to reach internet users at faster speeds. Netflix, which uses 35.2% of the North American broadband, as of June 2016, is the most vulnerable company to a change in the Net Neutrality rule.
With speculation swarming that Trump is a proponent of a rule change, this presents a significant risk to NFLX. Moreover, NFLX finally allowing for downloading some content for offline viewing is evidence that management is considering this risk to be significant. Management did discuss the impact of net neutrality in their press release, but brusquely brushed it off by saying it is unlikely to materially affect their domestic margins or service quality because they believe they are "popular enough with consumers to keep relationships with ISPs stable."
However, the risky assumption with that premise is that they will have to keep and grow its domestic footprint to maintain this leverage on ISPs. With an increased amount of competition for content, as discussed above, the cost of retaining customers will drive higher. If NFLX wants to maintain its large user base, it will face margin pressure from increasing investments. If NFLX doesn't spend enough to thwart off competition, and begins to lose users, the threat of net neutrality impacting its business becomes greater. Netflix is between a rock and a hard place.
Impact of Anticipated Tax Rate Changes on NFLX
Taxes can have notable impacts on how investors make decisions. For example, investors with losses can mitigate their taxable income by selling stocks with losses, a practice known as tax-loss harvesting. (More can be read about this practice in my article on Glu Mobile (NASDAQ:GLUU)).
However, today, taxes are more impactful on investors' decisions than during previous years. The reason for this is the anticipation of a reduction of both ordinary income tax rates and the capital gains tax rate under a Trump administration. This anticipation of a reduced tax rate leads investors with gains to hold on to their stocks until the introduction of those lower rates.
As shown in the chart below, NFLX has generated substantial gains for investors in the past 10 years, with the most significant portion of those returns coming in the past few years. With NFLX at all-time highs, there are innumerable investors with huge gains. Many prudent investors, with gains in NFLX, have held onto their stock, but once reduced tax rates are effective, these investors will sell their holdings, and lock-in these gains, which will cause downward pressure on NFLX's share price.
Valuation
Netflix trades at a pricey valuation. Its price-to-sales ratio is 9.25 and its price-to-book value is a staggering 24.38. With cash of only a few billion, which is significantly dwarfed by its debt of $5.4 billion, and tremendous number of liabilities (both on the balance sheet and off the balance sheet) NFLX appears to be a risky investment. With last quarter's net income only $67 million, it does not appear that NFLX will justify its lofty $62 billion market capitalization, especially when considering the numerous risks that I outlined above.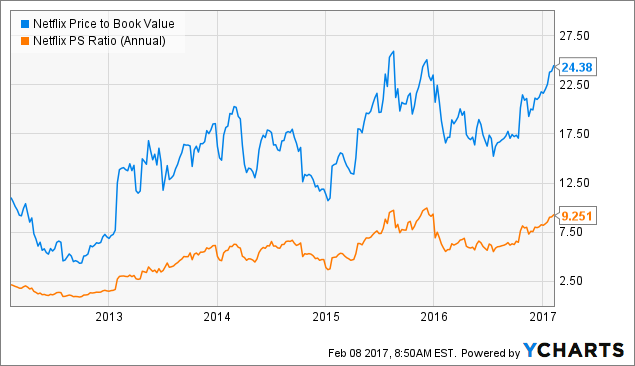 Conclusion
There is no doubt that Netflix has been a wonderful investment over the past decade. Management deftly pivoted NFLX's business model away from DVDs and into the burgeoning streaming market. However, when considering the significant risks that I outlined above, such as a saturating US market, increasingly competitive environment, and chance of a Net Neutrality policy shift, NFLX appears to be overvalued and poised for a meaningful pullback. I believe that NFLX will trade much lower than its current level when 2017 ends.
Note: To get my latest updates, just click on my profile and hit the "Follow" button.
Disclosure: I/we have no positions in any stocks mentioned, and no plans to initiate any positions within the next 72 hours.
I wrote this article myself, and it expresses my own opinions. I am not receiving compensation for it (other than from Seeking Alpha). I have no business relationship with any company whose stock is mentioned in this article.