If the economy were picking up bonds (NYSEARCA:TLT) should sell off after the Fed was on hold last week. Instead bonds went up. If investors were worried that the Fed is behind the curve then inflation worries and growth expectations would have driven higher yields. That they did not tells another story. Bonds agree with the Fed.
Bonds After The Fed

Source: Interactive Brokers
Above you see the 20-Year Treasury ETF TLT. Bonds were undecided forming a blue bar (a doji as traders call it). Such a blue bar means two things - indecision and a potential reversal.
After all the trading that day bonds went nowhere. We can't say there was no news. The Fed came out and held rates steady and they held their heaping position of bonds ("QE") steady. That is news.
That news should have flamed fears that the Fed is behind the curve. Keeping rates low too long could spark inflation.
But that's not what bond traders said on Wednesday.
Here's what bond traders said last Wednesday (an exclusive quote),
" "
You saw what they said? Nothing. That's the blue bar going nowhere. I did hear a few crickets.
But really their amazing quote of " " really means the downtrend may have stopped and they wanted to start buying. Remember an indecision day was after bonds were headed lower. It marked a reversal.
By bond traders unanimously saying " " they were really getting bullish.
Turned Bullish On TLT January 31st Premarket

In the premium service we said the following premarket (Pay Wall),
"We are turning short term bullish.... While the non-farm payrolls numbers should be stronger on Friday, the more recent jobless claims slowed in the last week. This could help bonds catch a bid."
Non-farm numbers were stronger but bonds did catch a bid.
Let's turn to jobs last Friday.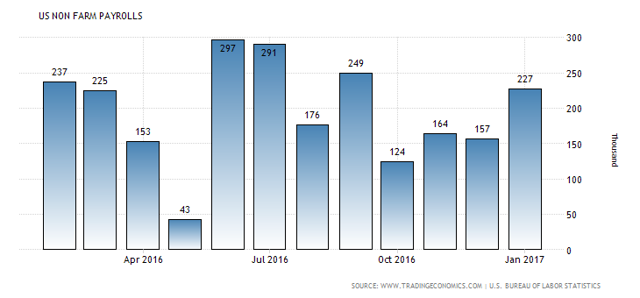 Source: Trading Economics
Look at the January non-farm payrolls. Incredible. Barn-burner. Amazing. It broke the downtrend.
This also should have killed bonds. Strong economic numbers usually hit bonds because investors would want exposure to earnings growth. Not so.
Bonds went flattish for the day. Let's see.

Source: Interactive Brokers
Here too, what should have been interpreted as negative news for bonds had bond traders echoing their emphatic calls of Wednesday,
" "
You can picture the screams of " " in the bond trading pits. Again, just a few cricket chirps.
Really, again, bond investors had nothing to say. Bonds did nothing.
Really the wage number was weak which must have been bond investors' focus. But the story could have just as easily been "bonds down on strong jobs." But it was not.
Now Bonds Moving Up
Bond traders, if you can believe it, actually agree with the Fed.
Why would the Fed hold off from rate hikes or guiding to rate hikes? Because they don't have confidence in the economy. Bond investors in unison also showed the same lack of confidence buying bonds after two bearish bond market events.
The Fed's main inflation gauge (PCE) was slow in its last reading. CPI reports mid month. Bonds and the Fed agree, the economy is slower than investors may have hoped.
Conclusion
We were impressed by the "no action" on bearish bond news. "No action" is "good action" when you match it to "bad bond news." That "good action" speaks volumes that the Fed and bond traders think the economy may not be that strong. Risk for bonds is reduced.
Premium Service Price Rise March 1st. Lock In The Lower Price.
Catch market moves over the next few days and weeks. Enhance trading performance and skills. SPY, Gold, Oil and more.
Click here for a free trial of Elazar's Pro Trader on Seeking Alpha.
If you liked our work scroll to the top and click "Follow."
Disclaimer:
ETFs reported by Elazar Advisors, LLC are guided by our weekly and monthly methodologies. We have a daily overlay which changes more frequently which is reported to our premium members and could differ from the above report. Portions of this article may have been issued in advance to premium members. All investments have many risks and can lose principal in the short and long term. This article is for information purposes only. By reading this you agree, understand and accept that you take upon yourself all responsibility for all of your investment decisions and to do your own work and hold Elazar Advisors, LLC and their related parties harmless. Any trading strategy can lose money and any investor should understand the risks.
Disclosure: I/we have no positions in any stocks mentioned, and no plans to initiate any positions within the next 72 hours.
I wrote this article myself, and it expresses my own opinions. I am not receiving compensation for it (other than from Seeking Alpha). I have no business relationship with any company whose stock is mentioned in this article.