Twilio (NYSE:TWLO) just reported one of the biggest earnings beats this reporting season, yet the market hasn't reacted much. The general investor is likely perplexed as to why the stock isn't making a move to recapture the highs from last year.
The stock trades just above $30 per share, far from the days when it was trading at $70. Ultimately, the question is whether the updated guidance and expectations alter my previous investment thesis.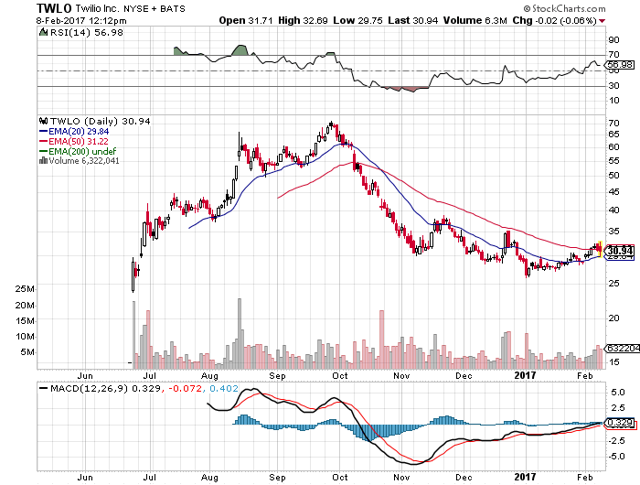 The cloud communications provider is absolutely on fire from a business perspective. The company saw revenues surge 60% YoY and easily soared past revenue estimates of around $74 million by over 10%.
Understanding this key dynamic is important when considering management's Q1 guidance. The company forecasted Q1 estimated revenues of $83 million and a loss of at least $0.06 based on 88 million shares outstanding.
First and foremost, the market isn't very fond of management's flat sequential guidance. Despite the huge beat in Q4, the company appears to be pulling forward revenues to end the year.
Second, the small quarterly profit highlights the effect of its diluted share count, which is far above the amount used in guidance. Twilio actually has over 100 million outstanding shares placing the real value of the stock at roughly $3.1 billion.
The guidance can easily be dismissed as the company has a history of issuing conservative forecasts. In the two reported quarters since the IPO, Twilio has beaten estimates each quarter by at least $0.04 and $4.75 million. A similar Q1 beat would place the company with revenues reaching $88 million.
The other issue is valuation. One can clearly see how the market was off base when valuing the company at $7 billion, especially when Twilio guided to 2017 revenues of only $368 million. The stock amazingly traded at nearly 20x these forward revenues estimates in September of last year.
Now the valuation becomes more compelling. In comparison to other cloud and software-based stocks like ServiceNow (NYSE:NOW), Workday (NYSE:WDAY) and Splunk (NASDAQ:SPLK), Twilio is more reasonably priced. Factoring in the full share count, Twilio trades at roughly 6.7x forward revenue estimates, which is in line with these market leaders.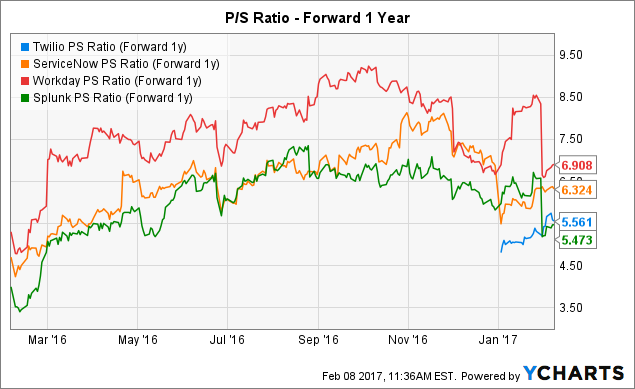 TWLO PS Ratio (Forward 1y) data by YCharts
The key investor takeaway is that the valuation of Twilio is more in line with reality and the market now. The stock could easily rally to a premium multiple from this group of companies, but investors need to stick to reality and avoid the stretched valuation at the peak.
Disclosure: I/we have no positions in any stocks mentioned, but may initiate a long position in TWLO over the next 72 hours.
I wrote this article myself, and it expresses my own opinions. I am not receiving compensation for it (other than from Seeking Alpha). I have no business relationship with any company whose stock is mentioned in this article.
Additional disclosure: The information contained herein is for informational purposes only. Nothing in this article should be taken as a solicitation to purchase or sell securities. Before buying or selling any stock you should do your own research and reach your own conclusion or consult a financial advisor. Investing includes risks, including loss of principal.