Prior to the conclusion of the election, when the odds were high in favor of a Clinton victory, gun stocks were soaring as a result of the likelihood of increased regulation. The correlation is this, higher regulation later means stockpiling now, which is good for firearms companies, at least in the short-term. Given the Trump win, the fear of higher regulations dissipated and firearms stocks have fallen, quite sharply. Gun stocks have significantly underperformed the S&P and are now trading at or below their post-election results.
Looking at the chart below we see a large disconnect between American Outdoor Brands (NASDAQ:AOBC) in yellow and Sturm, Ruger & Co (NYSE:RGR) in blue. Historically these stocks have tracked each other much more closely. The reason for this disconnect is several moves made by AOBC (at the time Smith & Wesson) to reposition its brand, ahead of a likely Clinton win, to an outdoors company rather than a firearms company. AOBC gained shareholder approval to change its name to American Outdoor Brands Corp and has made several acquisitions including knife, flashlight, and camping equipment makers. This moves AOBC into the larger recreational sports market and away from a pure-play firearms company. Given the result of the election AOBC has underperformed RGR as the upside of the diversification under Clinton reverses itself under Trump.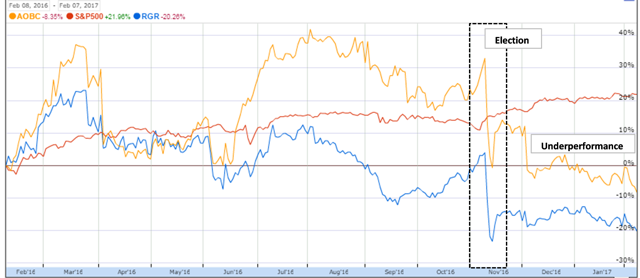 Source: Google Finance
The monthly NICS data over the subsequent months has not actually been supportive of the sell-off, in our view, as 2016 was a record year of background checks, and the pace of checks did not slow-down following the election. The January data released earlier this month again added pessimism to the market sending the firearms stocks even lower. The chart below is a cumulative chart which highlights how big of a year 2016 was in terms of NICS checks.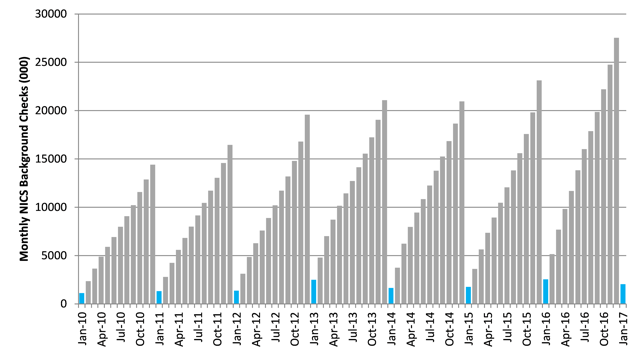 Source: Data from FBI.gov
Breaking out only the January months since 2010 below, we can see there was a 20% decline in NICS checks which at first pass sounds very negative, and the market reacted in that way. But 2016 was not a run-rate year and should not be used as the basis for interpreting future data. Compared to 2015 the sales were actually up 15% and up 23% since 2014. The trend, after removing the 2013 and 2016 outlier years, has been consistently positive. The issue comes down to a difficult lap period, one that will continue to make NICS checks appear weak every month this year. We think these times of weakness are buying opportunities for the firearms stocks, as the underlying trend is positive.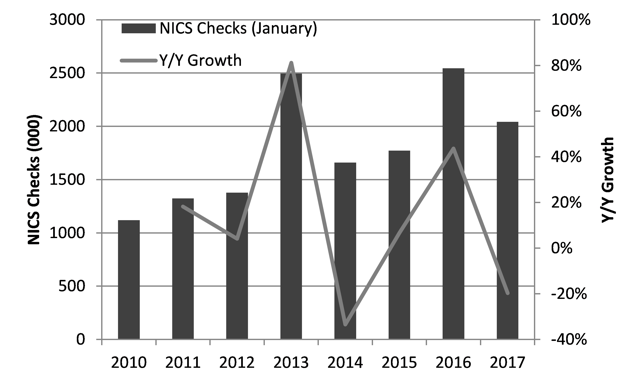 Source: Data from FBI.gov
We still favor RGR over AOBC for a simple reason, the dividend. If you have read my previous articles you will know that I focus on finding high quality names to add to my income portfolio or to place on the watch list as potentials to be added at a later time. Since I seek an average yield in this portfolio of at least 3%, AOBC simply does not fit the portfolio. On the other hand, RGR has a very attractive dividend currently at 3.3% well above that of the average dividend aristocrat, we plan on adding RGR to the income portfolio this month when we update our numbers.
Disclosure: I/we have no positions in any stocks mentioned, and no plans to initiate any positions within the next 72 hours.
I wrote this article myself, and it expresses my own opinions. I am not receiving compensation for it (other than from Seeking Alpha). I have no business relationship with any company whose stock is mentioned in this article.