Guyana Goldfields (OTCPK:GUYFF) released an updated feasibility study last week for its Aurora Gold Mine, and the results are quite positive. The company's plan to increase operations from 5,000 tonnes per day to 8,000 tonnes per day is seeming more like a reality, and reserves are up 15%. This is a very important development for the company as this shows that they are able to offset depletion at the mine, and can now potentially move to a larger scale operation. Based on the updated PFS, the company should be able to transform itself into a 220,000 ounce producer as of next year. Not only will this represent 50% production growth from its 2017 guidance, it should also help the stock receive a re-rating. Despite the company having a very impressive reserve base and exceptional all-in sustaining cash costs, being a sub-200,000 ounce producer has been a weight on the company's valuation. I believe now that the company is moving over this mark, it can begin to be valued as a mid-tier producer rather than a junior producer. To avoid confusion, all share prices are in Canadian dollars unless otherwise stated.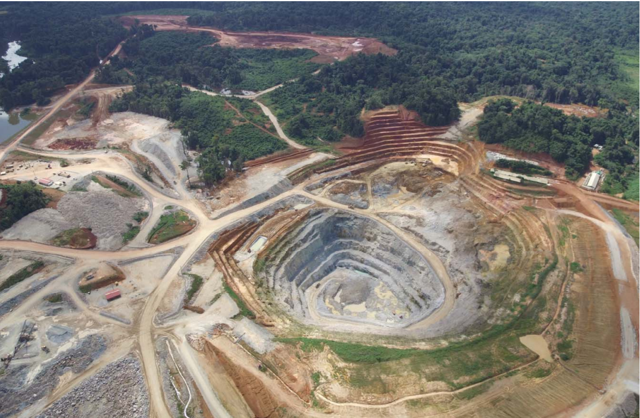 (Source: Company Presentation)
Those who have been following me know that I'm no stranger to Guyana Goldfields and featured the company a couple times late last year. Guyana Goldfields was my #3 gold producer featured in my article, "Top 2 Gold Producers for 2017", and I went into more detail in "2 Undervalued Gold Juniors". I entered a new position on the stock in December, and it has been one of my best performers since. The stock is up 62% over the past 30 trading days and has been a large contributor to my year-to-date gains.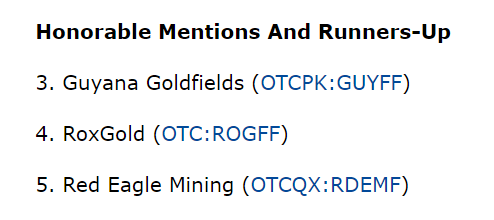 I featured Guyana Goldfields in my premium service in late December, but elected to also share it on Seeking Alpha as an early Christmas present for my loyal readers. I had no idea the stock would see anywhere near the move its had, but felt that at a sub-$800 million valuation, there was significantly more upside than downside. For those who were able to pick up shares near the bottom with me, I applaud you for sticking your neck out when it was not easy to do so. Most didn't want to even prod gold stocks with a ten-foot pole in late December, so kudos for being brave enough to be the minority.
Ok, back to the feasibility study and what it means for Guyana.
Below is a comparison of feasibility studies released over the past five years and how the mine plan has changed. As we can see, the mine life has dropped from 22 years to 15 years since 2012, but the net present value has nearly doubled. This is an extremely impressive feat by the company and is a testament to its desire to optimize the project. Underground mining costs have dropped nearly 30% from previous estimates which is a welcome improvement going forward. This means that costs will stay relatively stable as the mining moves underground, and Guyana Goldfields will be able to remain within the top quartile for all-in sustaining cash costs.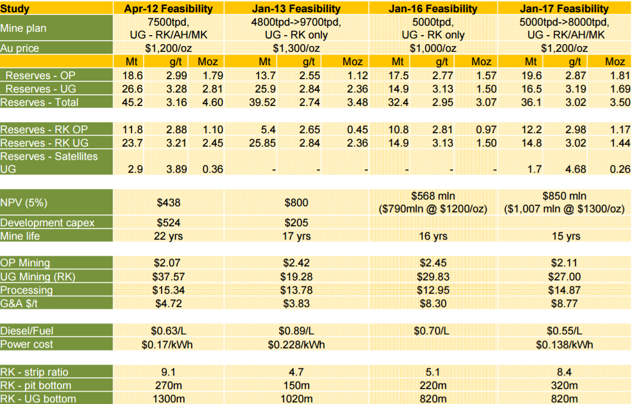 (Source: Company Presentation)
The mill expansion is expected to be completed by early 2018, which will allow Guyana Goldfields to move to an 8,000 tonne per day operation. This is being done at a modest capex of $21 million, and the company will have no problem funding this internally. The below chart is the new mine plan for recovered ounces and shows us what the current growth profile looks like. As we can see, investors can expect an average of 220,000 ounces going forward until 2031. This is assuming that there is no more reserves found to draw upon, and exploration efforts come up hitting blanks. All-in sustaining cash costs will remain very low over the next decade, and should average $750/oz over the mine life.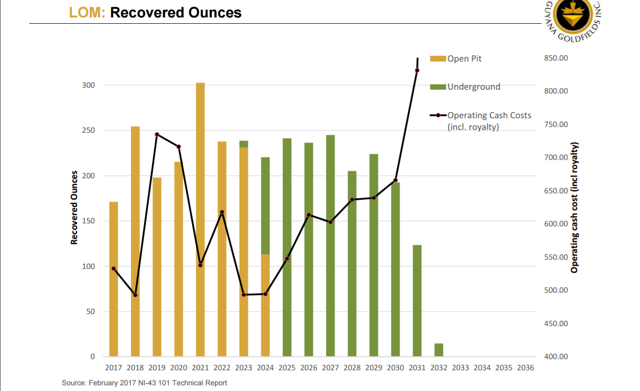 (Source: Company Presentation)
The results of the feasibility study are a positive development for shareholders, and the company has bolstered its operations going forward. Investors now know that we a have a 15-year mine life on our hands, and Guyana can graduate to the 200,000 producer club. I expect that this should result in a re-rating in the company's shares over the next year as we move towards to the mill expansion.
How about the technicals?
While the fundamentals are very bright for Guyana Goldfields, the technicals have been hard to get too aggressive on. As my readers know, I started a position at $4.80 CAD in my Canadian accounts, but did so with only 2/3 size as the stock was below its 200-day moving average. As of today's close, Guyana Goldfields has completed several positive developments.
As we can see from the below chart, the stock is back above its 200-day moving average which tells me it has entered into a new bull market. The stock has also cleanly broken out of the downtrend in place since June of last year, which is another very positive development. Finally, the stock is back above horizontal support which was resistance in early January at $6.85 CAD.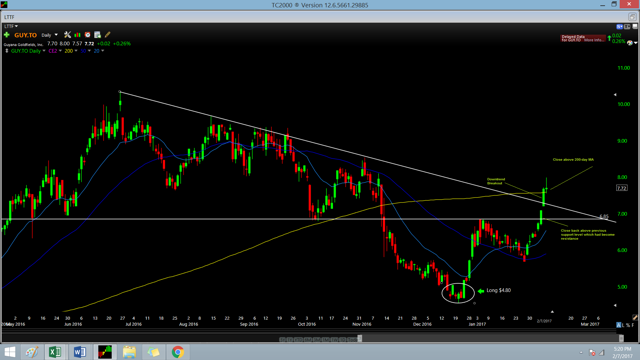 (Source: TC2000.com)
Based on all of these positive developments, the stock is very attractive and I would consider averaging up on any dips. I will be averaging up with 1/3 size at most, and bringing my average cost to near $5.50 per share. If I was not long already here, I'd be adding a starter position (1/2 size) with a stop below the 50-day moving average.
So where am I looking to buy the dip to add to my position?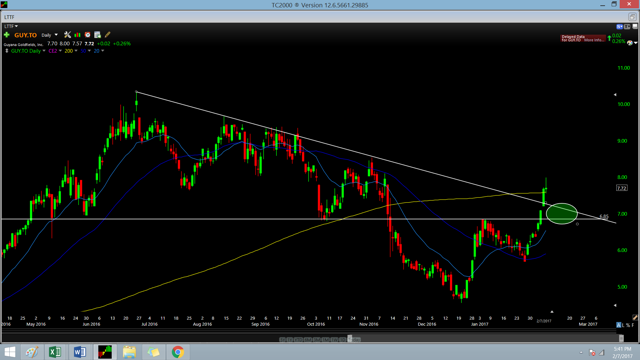 (Source: TC2000.com)
The $7.10 level looks like a strong support level and where I will be putting my bids to add to my position. This would coincide with a back-test of the downtrend line, a back-test near the old horizontal support, as well as a test of the rising 20-day moving average. The 20-day moving average is trending higher at a pace of $0.12 cents per day, so it should be at $7.10 within 5 trading days. This does not mean I expect a pullback, this is just where I would consider taking on more shares of Guyana Goldfields. I already have what I consider a perfect entry in the stock, so I have no reason to add more risk. If I were able to get a pullback to $7.10 (CAD), the equivalent of $5.40 USD, I would add.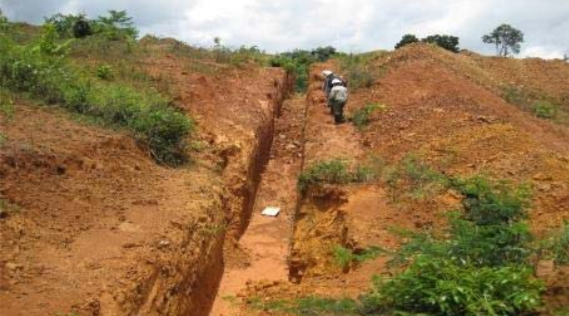 (Source: Company Presentation)
Guyana Goldfields remains one of my favorite producers and I have not taken any profits on this position. I am up roughly 60% since December but have no interest in selling one of my top 3 producers as it confirms its breakout even further. The last bull market for Guyana Goldfields was a wild one and the stock nearly quadrupled in value. If gold can hold and close above $1,270/oz, I see the possibility for new all-time highs for the stock by early 2018.
Disclosure: I am/we are long GUYFF, GLD.
I wrote this article myself, and it expresses my own opinions. I am not receiving compensation for it (other than from Seeking Alpha). I have no business relationship with any company whose stock is mentioned in this article.
Additional disclosure: If you liked this article and found it useful, please feel free to follow me by clicking on my name next to my avatar at the top of this article. I also invite you to follow me at www.twitter.com/TaylorDart01 where I routinely share my entries, exits, and stops on new positions, as well as updating followers on sentiment data on markets I am following.
Editor's Note: This article discusses one or more securities that do not trade on a major U.S. exchange. Please be aware of the risks associated with these stocks.