I don't have the amazing cost basis that some investors have in Starbucks (NASDAQ:SBUX), but after owning this stock for a number of years, it is easily my best-performing long-term holding.
However, the stock has endured a number of months of stagnation, up just 2% over the past year and down about 3% over the past 18 months. While some long-term investors may be a tad disappointed over the company's inability to spur the stock price higher, it is still up 25% over the past two years, 50% over the past three years, and a whopping 130% over the past five years.
It's hard to be disappointed when you consider its five-year CAGR of more than 18%.
For more recent investors, however, the stock's action has to be a bit deflating. So let's consider why we want other investors to sell their shares - so that we can buy them for the long term.
Howard Schultz
It is perhaps the biggest reason for investors to now be skeptical of the stock. It was a day that we all knew was coming: Starbucks CEO Howard Schultz is stepping down in April. Last time this happened, the company did not perform as well as hoped.
Perhaps I am somewhat blinded by my semi-unwavering trust of the Starbucks' boardroom, but I feel like this time around is different.
For starters, Starbucks has evolved into more of a technology play than a pure bricks-and-mortar outlet. The investments in its app and mobile order and pay have clearly paid dividends, as retail continues to erode while Starbucks' sales and earnings keep growing.
The fact that its new CEO, Kevin Johnson - who currently serves as the COO - worked 16 years at Microsoft (NASDAQ:MSFT) and 5 years as CEO of Juniper Networks (NYSE:JNPR) will help on this front.
More so, one would hope that Schultz learned a number of lessons from his first time stepping down from the helm. Additionally, he isn't leaving the company. Instead, Schultz, 63, will assume the role of executive chairman, shifting his focus to the company's budding 'Reserve Roastery' business.
Another big note? While Schultz first stepped down in 2000, he returned when the company needed him most - in 2008. But in 2008, in the midst of a financial crisis, what company didn't need help?
Of course, things were going terribly at Starbucks, as most companies were suffering at the hands of the financial meltdown. Hopefully, we won't see a similar event in our lifetime, and hopefully, not in the next few years. Assuming that doesn't happen, the company should continue to operate just fine with Schultz as its executive chairman.
Valuation
With Schultz still in the boardroom, what else do we have to look forward to as shareholders? Admittedly, growth has been slowing for the company, but that doesn't mean it's no longer growing at an impressive clip. However, it does mean that perhaps such a lofty valuation is no longer warranted.
With that said, however, the valuation has already declined notably. From January 2016, Starbucks' P/E ratio has declined by nearly 25%, falling from 37.5 to its current 28.5x, despite shares trading about flat at that time.
While 28.5x last year's earnings may not be cheap, it's not so horrendously expensive I would automatically take a pass on it. Consider the stock's historical valuation from 2013, excluding 2014, where it rocketed following an acquisition.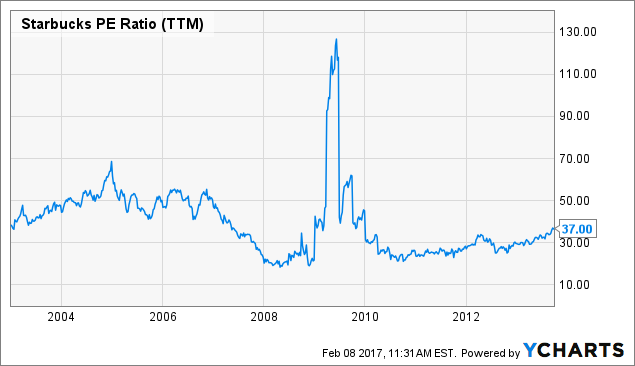 SBUX PE Ratio (TTM) data by YCharts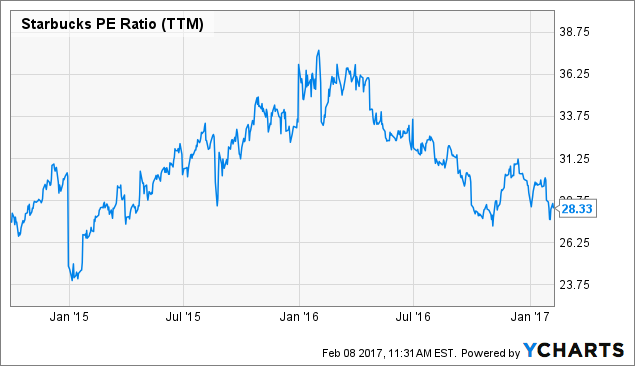 SBUX PE Ratio (TTM) data by YCharts
Between these two charts, you'll see that today's valuation isn't too egregious compared to the past. And while one could argue that that doesn't necessarily make Starbucks cheap today, I would counter by pointing out the stock's longer-term performance, which I noted at the top of the article. For perspective, though, shares are up 223% over the past 10 years.
A premium company deserves a premium valuation.
Past Performance Is Not an Indicator of Future Results
While its long-term performance is impressive, it doesn't mean it will continue into the future. But with Starbucks' focus on buybacks - repurchasing roughly $2 billion worth of stock in fiscal 2016 and with 110 million shares still left on its current plan, valued at more than $6 billion at current prices - along with plans to continue rolling out its China business at a robust pace, I'm confident for the long term.
Management says it's opening about 500 stores per year over the next five years, with the goal of more than doubling its footprint in the country. They've even created a CEO for the initiative.
This will help pave the way to strong sales growth and long-term earnings growth. Even for 2020 - I know, a ways off - analysts expect the company to earn $3.34 per share. That's roughly 50% more than what Starbucks is expected to earn this year.
Nothing is a guarantee and I certainly don't hold anything against investors who don't find Starbucks to fit their risk profile. But if you've got a number of years to wait and are capable of sitting on your hands, Starbucks is a name to consider. It's got some headwinds, but its long-term situation remains ideal. Once it takes its foot off the gas pedal in China, there will be plenty of extra cash to disperse to shareholders - both from profits and lower expenditures.
That will help boost the dividend, which has grown exceptionally over the past five years. This is something I will cover in greater detail in the not-too-distant future.
Disclosure: I am/we are long SBUX.
I wrote this article myself, and it expresses my own opinions. I am not receiving compensation for it (other than from Seeking Alpha). I have no business relationship with any company whose stock is mentioned in this article.