Thesis
In looking at the difficulty of specialty retail both in terms of long term operation and investing in the sector, I am exploring other ways to capture strong US economic growth and consumer discretionary spending. One idea is the vacation and travel leisure plays, like Carnival Cruise Lines (NYSE:CCL).
Introduction
Carnival is the worldwide leader in cruises. It has a 48% share of the cruise market.
It operates around the globe using a host of brands. These different brands target different segments of the market such as the large casual cruises, intimate and expensive cruises, and everything in between.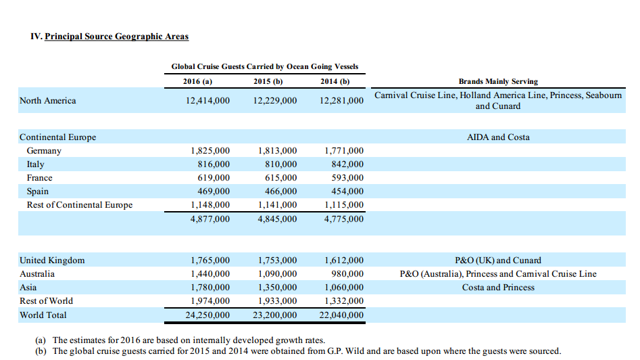 (Source: CCL 2016 10k)
The company has successfully grown capacity and innovated to improve the cruise experience while using technology to increase personalization. It will soon have 3 ships powered by LNG in operation.
Financial Results - Income Statement
When I look at 3 year results for Carnival, the big thing that stands out to me income statement-wise is fuel. Fuel costs in 2016 were $1.1b less than in 2014. For 2015 and 2016 combined the company saved $2b on fuel. If you add back in losses on fuel hedging derivatives the savings is only $1.1b, but still a sizable amount.
Using the same fuel costs as 2014, net income for 2016 would have increased $500m over 2014 rather than the reported $1.3b. Not to belabor the point, but just to have another perspective, net margins in 2016 were 18% versus 11%.
Moving on we see some modest growth. Looking out longer revenue growth has been choppy to say the least.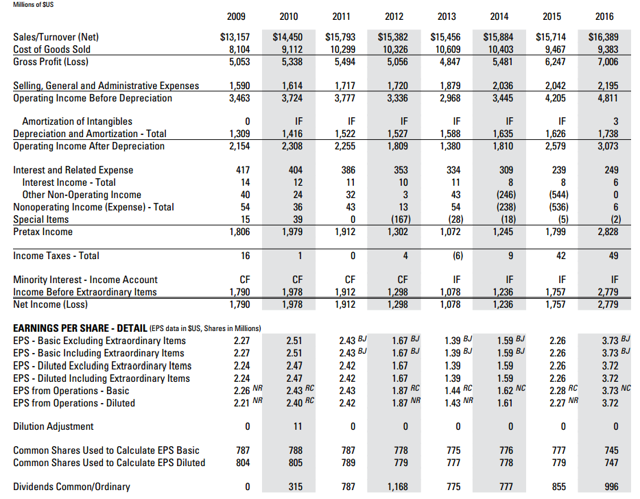 (Source: S&P Capital IQ/Fidelity)
Some other positives to note are that shares have been trend downwards. The big jump came when the company restarted their share buyback program. The interesting thing is that when the company benefits from the huge fuel savings it saw, it reports strong earnings which makes the stock jump higher and then they repurchase shares with that extra cash.
In a perfect world the company would buy back when its shares are floundering, not when they are skyrocketing, but imperfect share buybacks are something we have to accept with public companies. And it does help the EPS line, even if they are relatively ill-timed.
Looking back even further the company shows its true colors, as without fuel benefits in 2015 and 2016 EPS would have been below numbers posted 10+ years ago.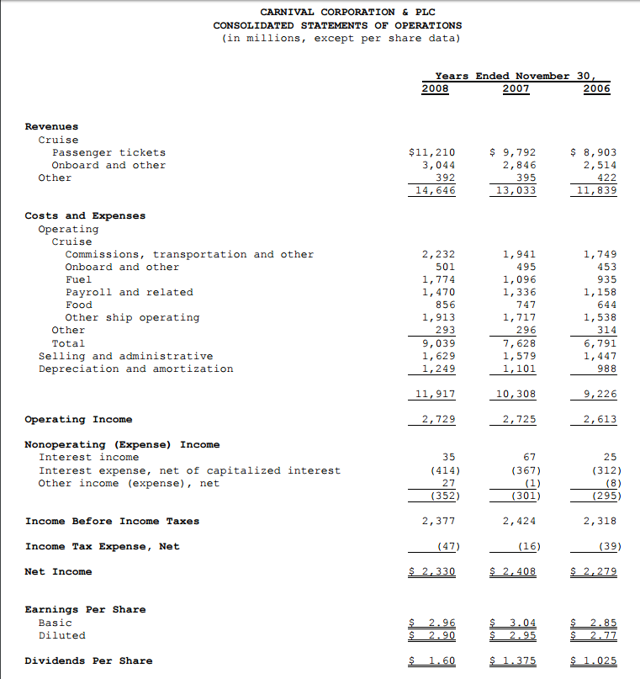 Balance Sheet
Balance sheet wise there is not much to see or hate. The company's leverage is not all that unreasonable given the industry it operates in. Debt to equity stands at 72%. To get an idea of the spectrum, technology stocks might be under 10% while utilities are above 200%, meaning that they have more than 2x liabilities than they do equity.
Carnival's leverage is in line with historical leverage for the company.
Cash flow wise, the company's high capital requirements are the first thing I would like to direct your attention to. In 2014, capex was 75%. In the bonanza years of 2015 and 2016, capex was 50 and 60%.
To give some context to this number, General Mills (NYSE:GIS) and Facebook (NASDAQ:FB), a food and tech company, spent 27% of operating cash flow on capex. Delta (NYSE:DAL), an airline, spent 37% in 2015.
Pros, Cons, Business Model, etc.
When thinking about Carnival, I classify in my mind as a "good" business, but nowhere near a great one.
It has strong brands that capture different markets of the cruise market, its market share of 48% is excellent, it has operated profitably in many environments for decades.
The negatives, on the other hand, include the capital requirements outlined above. Those giant cruise ships and everything on them are not cheap, and to maintain your brand image they must be constantly renovated, updated, and replaced.
The other way this manifests itself for me is in the return on equity and return on assets metrics.

(Source: S&P Capital IQ/Fidelity)
You can see that in a normal year ROE would be somewhere in the 5-8% range. ROA in the 2-5% range. The return on equity is deceiving because that is calculated by taking net income and dividing it by equity. Keep in mind though, that a large part of that net income is needed to simply sustain the business and while a portion of cap ex is used to fuel growth.
The less capital needed for a business the more it is able to return to shareholders and increase the value of the company. Increasing revenues with more ships is great but I have showed above how those increased revenues have not necessarily translated into better bottom line performance as costs have risen as well.
Over the long term, a company will return close to what it earns on its capital, which is not the same as ROE, but it close in Carnival's case.
Based on these factors, it simply means that Carnival is less valuable than a business that achieves higher returns. It does not mean it is a bad stock to own or that you should never buy it, but that it needs to be at the right price.
Valuation
Carnival's surface level PE at the moment looks attractive. 14.8 in a market at 18-19? Sign me up. But by now you should be suspicious.
I struggled to find 2017 estimates of earnings that were not "adjusted". Of course using adjusted earnings of 3.50 or so from the company makes the stock look amazing. In reality I think the company trades at much closer to a market multiple at 18-20.
At 14 times earnings, its earnings yield is ~7%, about what the company can earn on its equity and its capital. Ideally, to achieve a stronger return over the long term and with a margin of safety, one would buy at a discount to this.
At 18-19 times earnings the company might really be valued at, that is a earnings yield of 5%-5.5%, well below what the company can return.
Its long-term chart tells an interesting story.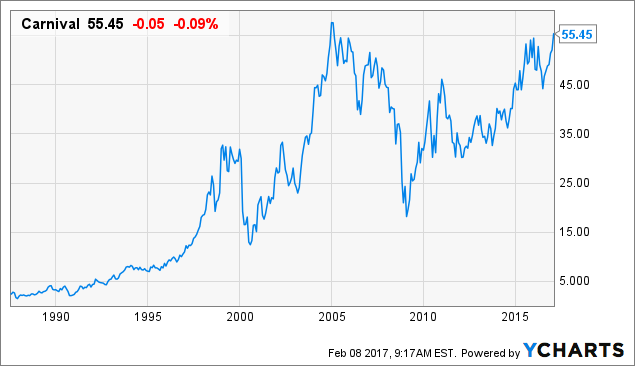 Carnival is kind of cyclical. Not as cyclical as a miner or an oil and gas offshore driller, mind you, but certainly flows with the overall economy. The stock has seen big drops, as most did, during times of stress or recession but has bounced back quickly. The actual results of the company were strong during these times.
Going back to income statements from above, 2008 and 2009 results were strong and indicated the recession barely even happened. The company remain well in the green and revenue dropped only $1b in 2009.
But those were the times to buy. I find it hard to justify buying the company up here, near its all time high, when everything seems rosy and bullish for the US economy, where Carnival gets a big chunk of its business.
I file Carnival under companies that at would like to own, but at the right price. Carnival is not a company you can by at any time, any day of the week as long its valuation is not totally out of whack and at 50x earnings bubble level.
Trump Effect
In most of my articles I like to examine any potential impact the new US president will have on the stock being evaluated.
First, I do not expect the controversial travel "ban" that is now in a holding pattern to have any material effect on carnival. I have not heard any suggestions that it prevents people from leaving on a cruise and the number of people affected remains small when compared to Carnival's target audience and ridership numbers.
Tax wise, it does not appear Carnival has a high US tax burden it is looking to escape. It modest a tiny negative tax expense the last three years, and being a global operator, does not appear to have a 30%-40% tax rate that a US only retailer would.
Conclusion
Carnival is, by all accounts, a well-run cruise line. Its has strong brands, strong innovation, and has been running its business at a large profit for many years now regardless of economic conditions.
But focusing on the business and the stock, it is a low returning company because of high capital requirements. This means that even though it is not as cyclical as one may imagine, it needs to be bought an appropriate price if one is to have a high chance of receiving a satisfactory return.
I personally believe now is not that time. 2015 and 2016 results have made the company appear cheap at a surface level due to bloated earnings from fuel savings, while on a going forward basis the company appears overvalued at a near market multiple.
Disclosure: I/we have no positions in any stocks mentioned, and no plans to initiate any positions within the next 72 hours.
I wrote this article myself, and it expresses my own opinions. I am not receiving compensation for it (other than from Seeking Alpha). I have no business relationship with any company whose stock is mentioned in this article.