Investment Thesis
I previously wrote an article about Glacier Bancorp, Inc. (NASDAQ:GBCI), and one of the commenter's mentioned that they hold a position in Oritani Financial Corp (NASDAQ:ORIT). After an initial review of the company's financials, I felt compelled to write an article that digs into their finances because it looks like a solid value at first glance. I believe that ORIT demonstrates a principled business that will lead to consistent returns. I also believe that the strong yield and issuance of special dividend give investors a good reason to add this as part of an income generating portfolio.

Oritani Financial Corp. - Corporate Overview
Oritani Financial Corp. is actually the holding company for Oritani Bank, which is a small bank that has been in operation within the state of New Jersey since 1911 . With 27 full-service branches, ORIT offers a full lineup of residential and commercial products, ranging from deposit accounts to loans. The counties within New Jersey that it has operations in includes Bergen, Hudson, Essex, and Passaic.
ORIT's approach to dividends is interesting, because they appear to have changed policy from regular increases in 2009 through 2012, to a policy that favors special dividends while maintaining a regular quarterly payout of $.175/share. Over the last two years, ORIT has issued two special dividends for $.50/share.
ORIT's year end comes in June, so the financials can take a little more effort to follow. Additionally, I will admit that ORIT's reporting for the average investor is not what I consider to be user friendly. This isn't a bad thing, but it can also help explain why this stock is under-followed. Currently, annual dividend for ORIT is $.70/share, which represents a yield of approximately 4.11% and a payout ratio of 59.32% (2016 Full year earnings were $1.18/share).
I had to manually calculate this based on the full-year of income/shares outstanding using the most current FY numbers from June 30th, 2016. I have to say, I am not entirely fond of ORIT's reporting, as it does not clearly show EPS. I also used company announcements on Seeking Alpha's Earnings tab to confirm my calculations were in the ballpark. If we consider the special dividend, ORIT is sitting at $1.20/share for 2016, and a yield of 7.05%, and a payout ratio of 103.8%.
While this would normally be concerning, I have to emphasize that a company like ORIT would not issue a special dividend of this size unless it had some wind in its sails, and even if they struggled with maintaining a higher payout, they could always eliminate it. I have not encountered financials like this, but I believe we can use other information to figure out the health of the company.
Rapidly Growing Fundamentals

Above snapshot of the companies assets, net loans, and total deposit growth for the last year from the financial highlights page. Based on these numbers, we are seeing ORIT's operating metrics improve and grow at a rapid pace. I have prepared the following chart to show how these numbers are growing on a quarter over quarter basis.

I like to see a healthy deposit growth to help support continued future lending. At the credit union where I work, we have literally gotten to the point where deposits have become more of a focus than lending. However, just like any lender, loans for the sake of loans are not good enough, because we really need to have a strong spread to generate a strong ROA or ROAA.
Peer Analysis
Looking at ORIT in comparison to its peers, I see both positives and negatives.

On the positive side, we can see that ORIT is a strong performer in the area of ROAA and ROAE. As I mentioned in the previous article on GBCI, an ROAA of 1.5 is considered to be the gold-standard for companies in the banking industry.
The efficiency ratio is also a positive for ORIT. Efficiency ratio looks at the overhead costs of the bank as a percentage of its revenue, so the higher the overhead costs, the higher percentage of revenue lost as a cost of doing business. ORIT's 40.30% is about 2/3 of it peer median, and is therefore operating with lower overhead costs relative to competitors its size. I would expect a smaller bank to struggle at this, because it cannot typically achieve proper efficiencies (scales of economies) until it reaches a more meaningful size.
On the negative side, ORIT is underperforming on net interest margin, which is a pretty big concern for a bank. I think its important we look into these numbers more to see what direction they are trending. Upon further research, I found that the net interest margin has been rapidly decreasing over the last several years and is sitting at all time lows when compared to the last four years. This decrease is deeply concerning, because it has been a steady trend downwards.
I would have personally expected a steady trend going up because of rate increases and other economic factors. This could even potentially indicate that ORIT is being too conservative with its loan portfolio, or paying out to much on deposits. Either way, by avoiding risk, they are missing out on growing net interest margin returns.
It is likely that ORIT has taken measures to become risk-averse, and this is indicated by a tremendous drop in non-performing assets (NPA). From 2013 to 2016, these assets have dropped from .98% of assets down to .30% of assets. This shows that while ORIT is growing its lending portfolio and asset-base, that it is not encountering an increase of "bad loans".
Strong Insider & Institutional Ownership
I do like ORIT's tear sheet, located in the investor relations drop down, because it provides a fair amount of information in a concise way. Below is a copy of the ownership trends among insiders and major traders.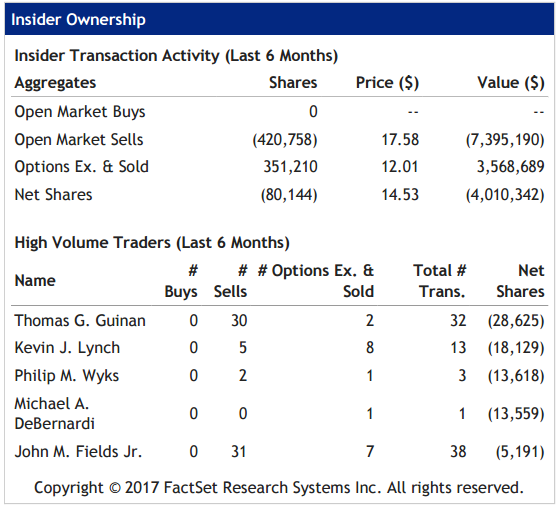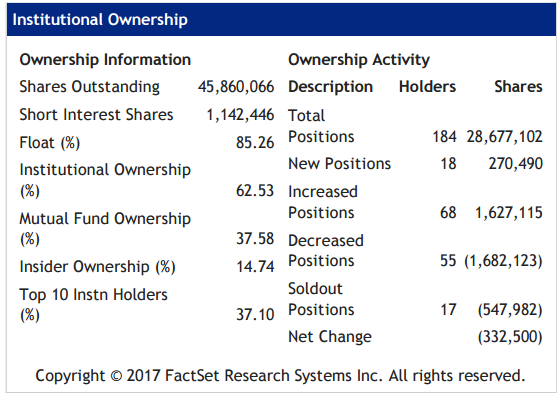 While the most current numbers show that 14.74% of shares are owned by insiders, we can see that a number of sales have been executed over the last 6 months. Although inside ownership is strong, this could mean that shares are over-valued. Institutional ownership shows a similar trend, as the net institutional ownership has dropped by approximately 1.2%. Although these both support a negative trend, I personally believe that it is nothing worth "reading into" because trades like these happen all the time. It is fair to say the company's stock became overvalued, so future trends of growth among insiders and institutional ownership would be great indicators that show the stock is a compelling buy again.
Dividends and Shareholder Returns
ORIT's history indicates that it is very shareholder friendly, and with the exception of the financial crisis, ORIT has maintained a strong payout of earnings for its shareholders. While ORIT hasn't shown consistency in its growth of dividend, it more than makes up for this with its special dividend, since this juices the yield into a payout-level that is unprecedented for a bank. I like the idea of maintaining a very lean dividend while decreasing the payout ratio for the standard dividend. Maintaining this kind of flexibility will be what keeps ORIT flexible to take advantage of future opportunities, while also giving them the option to increase the special dividend when possible. ORIT demonstrates consistency that bucks the trend of the average dividend champion, but it is perfect for the income investor yearning for yield.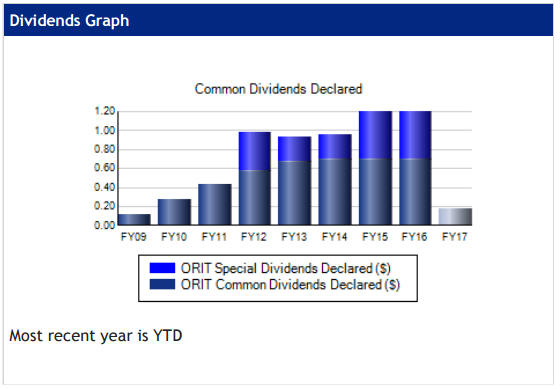 Even without the special dividend, ORIT's 4%+ yield is enough to satisfy most income investors appetite.
Conclusion
My only real concern with ORIT is a steadily decreasing net interest margin, and I believe this is happening for two reasons:
Paying for deposits - ORIT does not show the composition of deposits (non-interest bearing, savings, certificates, etc) and I have to believe its because they are paying out a higher rate to buy deposits. A review of a current deposit sheet shows that they pay some very competitive rates on CD's and Money Market Accounts that are comparable to non-brick-and-mortar lenders who can afford to pay more because they have minimal expenses.
Conservative loan portfolio - ORIT's loan rates and types show that they are being an extremely conservative lender, with their only personal loan types being for mortgages, home equities, and home equity lines of credit. Additionally, they cap the maximum loan to value at 75% for first liens, 75% for second liens, and they do not allow investment properties at more than 70% loan to value. (To put this into perspective, Numerica is willing to lend on homes at up to 95% of the value of the residence).
By understanding what is causing the net interest margin decline, I feel more comfortable knowing that it is a conservative lending portfolio and higher cost of deposits that has contributed to this. With that being said, I would like to see ORIT expand its loan operations to more than homes and commercial properties, and to get into unsecured closed-end loans for consolidating debt, etc. Adding loans like this would help diversify their interest base and reverse this trend.
The final complaint I have is the complexity of ORIT's financial report when compared to other banks. This isn't a huge problem, but it would paint a bad picture for an investor who has not done a higher-than-normal amount of due diligence.
At this point I believe ORIT is a hold, but I would be an interested buyer closer to $15.50 or $16.00/share. With solid fundamentals and a growing business I see a company that is positioned to perform well over the next several years. For the income investor who needs to generate income I believe that ORIT would be an excellent addition to their portfolio.
Final Note: If you enjoy my articles please take the time to follow me. While I enjoy performing analysis, following me is the best method for showing me that SA subscribers are finding my work useful.
If you have any suggestions to improve my articles or if you would like me to perform analysis on a stock please feel free to message me and I will do my best to make it happen.
Disclosure: I/we have no positions in any stocks mentioned, and no plans to initiate any positions within the next 72 hours.
I wrote this article myself, and it expresses my own opinions. I am not receiving compensation for it (other than from Seeking Alpha). I have no business relationship with any company whose stock is mentioned in this article.
Additional disclosure: This article reflects my own personal views and is not meant to be taken as investment advice. It is recommended that you do your own research. This article was written on my own and does not reflect the views or opinion of my employer.